Western Michigan 2008
An okay debut from a team with a solid offense that will continue to get better on defense.
It's interesting that the best defensive player on the field for NU wasn't even on that side of the ball last season. The Cody Glenn Experiment continues to look like a good move. I also liked the effort from Dillard, Turner, and the cornerbacks.
Personally, I think Jake Wesch probably had the most outstanding play of the game for his hold on Alex Henery's first field goal. It's nice to see us making 40+ yard field goals like that, despite adverse conditions. Heck, after the Callahan years, it's nice to see us even attempting 40+ yard field goals.
The tight ends like McNeill and Young showed they can be weapons when integrated into this offense. Combining them with Holt and Swift (plus Lucky out of the backfield), we have a very powerful receiving corps. Perhaps the most explosive—and balanced—in years.
Speaking of the passing game, Ganz makes plays that no Husker quarterback has made since Osborne's early seasons. He throws on the run so well, it's remarkable to watch. Comparing him to our recent past with Zac Taylor or Sam Keller (or Joe Dailey)…it's not even close.
Ganz just needs to learn not to force things to try to compensate for the D giving up points. There was just a hint of panic and pressing in the second half as the lead dwindled.
A few other miscellaneous tidbits and pleasant surprises from game one:
* Niles Paul blocks really well. Great timing on run plays. Very physical.
* Prince Amukamara's closing speed on his end-zone pass breakup was quite amazing. It reminded me (a little) of Barron Miles.
* The defensive line is stunting with all kinds of different, crazy schemes from what we've seen in recent seasons. Turner ends up in the middle a lot, garnering lots of attention and freeing up others on the outside.
* The defensive package with Amukamara blitzing from the left corner spot had Western Michigan totally off balance and forced them into a penalty, then an interception.
* Interesting that for all the Roy Helu talk, it looked like Quentin Castille got the bulk of the action whenever Lucky rested. Actually, Watson even used a formation where both Castille and Lucky were in the backfield.
Anyway, a nice win. Lots of room for improvement.
THIS WEEK
San Jose St. will spread the field and test our defense way more than Western Michigan did. The Husker D will need to cut down on the big plays. Hopefully, the team will also get the running game back on track, cut down on penalties, get better returns on special teams, and fewer interceptions from the star quarterback. If the Huskers can get just a few of those areas improved, a 2-0 start is in the cards.
I'll be in the stands this week with my father, screaming for the home team and remembering the 1998 Holiday Bowl. Dick Tomey's defenses have typically been well-coached and well-regarded. We'll see how they fare in Lincoln against this year's Husker offense.
---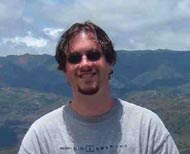 The voice of the Scarlet Commentary is Jeffrey Leever, a Nebraska native who now writes for an advertising agency in Kansas City. He is a 1994 graduate of the University of Nebraska (Kearney) and author of the suspense novels
Dark Friday
and
Even in Darkness
. He has been known to include a tribute to Tommie Frazier and other Nebraska references in his novels. His website is
www.jeffreyleever.com
. Contact Jeff
here
.