Pre-Spring 2007
Ah, spring football looms in just a few short weeks. And questions abound…
If someone used the Da Vinci code to crack Bill Callahan's "we're on schedule" assessment of the program, what would it translate to for 2007? Will Sam Keller beat out Joe Ganz at quarterback? And how many more player parents will Dan Hawkins rip into at a press conference?
Okay, the final one doesn't have much to do with Husker Nation, but it's still good column fodder. If you haven't heard the audio clip, ESPN.com still has it. ("One of the great rants in sports history," according to the commentators.) Worth a laugh, in that glad-it-wasn't-our-coach way.
Yes, in case you were wondering, I haven't written a Scarlet Commentary in some time. Actually, my last post got lost in cyberspace. And between book deadlines and writing projects, another column hasn't been in the cards until now. If you were missing me, I'm sorry. If you weren't, I'm even more sorry.
Speaking of 2007…looking ahead to this year's schedule: wow.
Here's how it stacks up. Our non-conference schedule includes games against three bowl teams from 2006 (Nevada, Wake Forest, and USC). These are our first three games, in fact. And our fourth non-conference game is against Div. 1-A Ball State—a team that narrowly missed out on bowl eligibility last season and only lost at Michigan by 8 points. Wake will be defending ACC champs.(!) And USC will still be USC.
It's worth emphasizing how huge these first three games will be: a 2006 Bowl team coming to Lincoln for the season opener; then a road game against the reigning ACC champs and last year's #17-ranked team; followed by a home game against last season's #4-ranked team—one of the early favorites for preseason #1.
Gee, I think I might plan to get tickets for that last one…
Whoever ends up as our starting QB better be ready. Talk about getting thrown into the fire. The conference schedule is going to be rough, too, particularly in October: at Missouri, then Oklahoma St. and A&M at home, then at Texas. All three games against the Big 12 South are on consecutive weeks. Coming off of last year's disappointing finish, it will be interesting to see if our coaches and players demonstrate a hunger (and belief in themselves) to reach the next level.
Last year's season-ending losses to Oklahoma and Auburn were all-too-similar; two top-tier teams beating an opponent that just didn't seem quite at the same level, coaching included. In the Cotton Bowl, Callahan going to the razzle dazzle with Todd and Shanle on the fake punt ranks up there as one of the strangest gaffes in modern Husker bowl history.
The Scarlet Commentary's wish list for '07: a tight end receiving threat, healthy running backs, receivers who don't pout or fumble at critical times, a punt returning threat, Octavien and Ruud on the field at the same time, a good kicker, and a return to form for Zack Bowman.
We might have a better team than '06 but end up with a worse record in '07 simply because of the schedule. I don't recall that ever happening at Nebraska before. For that not to be the case, the Huskers will need better pass defense (a place where we finished 79th nationally last year), improved special teams, a running game that doesn't disappear in big games, and more consistent play at QB against top opponents.
Can some new players and assistant coaches get us over the hump? Spring will be an intriguing "Prologue" to the Husker story of 2007.
---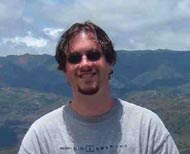 The voice of Scarlet Commentary is Jeffrey A. Leever, a Nebraska native also stuck behind enemy lines in Jefferson County, Colo. He is a 1994 graduate of the University of Nebraska (Kearney) and a freelance writer and author. Some of Jeff's writings of the nonfootball kind can be found online at Barnes & Noble (1, 2), Amazon.com (1, 2), and MenofIntegrity.net (1, 3, 4, 5). Contact Jeff at this email.