Nevada 2007
A nifty debut for a team that will only get better.
I was watching this game with someone who isn't normally a Husker fan but pretty knowledgeable about football. Early in the game (while the Huskers were on defense), this astute gentleman asked me, "Who is #15? He looks like he should be in the NFL."
I had to smile. Yes…it's good to have Octavien back.
Other good omens from Saturday: The return of Bowman, a healthy Marlon Lucky, a pass completion to a tight end, fullbacks involved in the offense, the addition of Castille, booming kickoffs, and a lot of good, young players on the defensive line and in the secondary.
As recently as two years ago, I wondered if the days of "garbage time" during blowout games was a thing of the past. It seemed we could never get over the hump in nonconference games. Nevada is a team that was coming off two pretty good years, and we simply overpowered and outran them. A nice change. It's hard not to notice the improved depth this team has, particularly on defense.
Keller had some shaky moments. In theory, he'll get better at calling plays in the huddle in less than 20 seconds. I'm looking forward to seeing what this offense can be like with Purify back. Keller's numbers would have been better if not for a number of drops…by many of the usual suspects at WR. At times, we looked like an offense that was missing its go-to guy in the passing game.
The D had a nice debut. If Murillo is going to be the starter at one corner, he's going to get thrown at a lot. It appears that this year a cornerback who plays soft and gives up yards will get yanked and replaced with a pretty good backup. Again, a welcome change from last year.
How long will this team remain relatively healthy? So far, so good. Glenn still isn't right, but overall the team is in its best shape in years. Healthy enough for 52-10 in the season opener—I'll take it.
THIS WEEK
Before the first kickoff of the season, I was worried about this game. We looked good in our opener and Wake didn't. Now I'm less worried. But we shouldn't discount the difficulty of playing on the road against a good team that doesn't want to fall to 0-2. Their starting QB will probably not play. That helps.
If we run the ball well and don't lose anyone to injury, this game is ours. Wake's D will be tougher than Nevada's. But Wake's offense isn't likely to score a lot of points on us. Keller needs to avoid the "unforced" turnovers and errors. That's the only thing that could put us in jeopardy this week.
---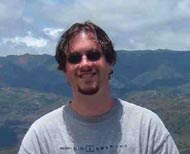 The voice of the Scarlet Commentary is Jeffrey Leever, a Nebraska native who now writes for an advertising agency in Kansas City. He is a 1994 graduate of the University of Nebraska (Kearney) and author of the suspense novels
Dark Friday
and
Even in Darkness
. He has been known to include a tribute to Tommie Frazier and other Nebraska references in his novels. His website is
www.jeffreyleever.com
. Contact Jeff
here
.