Kansas State 2007
And thus it has come to this. We arrive at what will likely be the final week of Bill Callahan's career at Nebraska.
I'm extremely happy for the team getting the big win in their home finale. We saw a glimpse of the Huskers at their best. Kansas St. was a team on a slide. Still, 73-31 is a nice change. My dear brother (and his fiancée, who hails from Kansas) attended the game but left at halftime due to the blowout. Not that I would ever do such a thing, but I remember when the temptation was much more common.
Grixby finally got the kickoff-return-for-TD he's long deserved. Hardy had his best game as a senior and the best game of his career since KU last year. Lucky and Purify were great. Ganz was Heisman-like. The D had some sacks and was pretty good. Too bad Freeman couldn't have been the opposing quarterback every week this year.
That was the best performance of the season for the 2007 Huskers, and one of the best, if not the best, offensive performances of the Bill Callahan era. And it still might not be enough to save Callahan's job. He seems to know this. It apparently galls him to no end and he has difficulty disguising it.
What coach calls one of his own players "a product of the system"? Isn't that a phrase normally used by third-party critics to knock players who excel for teams they don't like?
Joe Ganz, a guy who has brought much-needed passion and talent to the table—a backup QB on the verge of a 1,000-yard season after starting two games—seemingly deserves better.
And is it just me, or did Callahan treat Zack Bowman like he has some mysterious grievance against him, then refuse to talk about it? Bowman: he, the senior co-captain. Now, for the record, it's good to see young guys like Blue getting a shot. Bowman's struggled this year, along with the rest of the defense (in part, because the guy can't cover people forever). But without Bowman saving the day against Wake, the team would be 4-7 right now with no shot at a bowl game.
"I'm just going to talk about the starters and the players who did well," the coach tells us. Now, if Blue or someone else really beat out Bowman, why not just say that?
It's interesting to see how Callahan refers to the athletic department as "the higher-ups." (Shouldn't it be "Tom" or "Randy"?) It kinda reminds me of how Joe Dailey talked about him toward the end of their coach-player relationship.
Turner Gill's season ends on Saturday and, win or lose, Buffalo isn't going to a bowl. I guess there's a couple of different ways you can look at that. Admittedly, I'm fond of the guy and think he'd be a great choice to replace our current coach if/when he goes. But I don't say that to the exclusion of all other candidates. Pelini's season will still include (presumably) an SEC championship game that isn't until December. He won't be available for awhile. Personally, I'm still trying to figure out what the "link" is between Osborne and Pelini—other than being mutually admired by Husker fans.
AGAINST COLORADO
If the Buffaloes play like they did toward the end of the OU game, we're in trouble. Fortunately, they haven't replicated that effort all year. Colorado doesn't have many strengths, other than their linebackers. Still, the more the CU defense is on the field (and ours isn't), the better shot we have in Boulder.
Honestly, I think Ganz cares more about winning this game than Callahan does at this point. (Maybe he could coach the bowl?)
In any case, here's to better days and leftover turkey.


---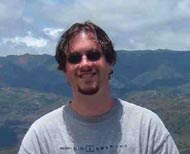 The voice of the Scarlet Commentary is Jeffrey Leever, a Nebraska native who now writes for an advertising agency in Kansas City. He is a 1994 graduate of the University of Nebraska (Kearney) and author of the suspense novels
Dark Friday
and
Even in Darkness
. He has been known to include a tribute to Tommie Frazier and other Nebraska references in his novels. His website is
www.jeffreyleever.com
. Contact Jeff
here
.