Well, we have discovered an undisclosed perk to Callahan's 2005 version of the West Coast offense: Getting off the field quickly so the defense can come out and score.
The Wake game has motivated me to do something I rarely do, which is write a short column. Honestly, there weren't that many differences between what happened here and what happened in game 1.
The punt returns were worse, which isn't good. (Why do the coaches send Grixby out there to fumble again when Nunn was much better against Maine?) On the good side, Ross didn't fumble, which is what you expect out of your senior RB and team captain. It was good to see him get the one long run, because other than that, the running game is underwhelming. In the passing game, the offense could use some better protection and fewer dropped passes. Although he did have the one TD pass to Hardy, Taylor seems to get worse the closer he gets to the goal line. He continues to play at times like a player "surprised" by the speed of opposing defenses. One might harbor a disturbing suspicion that that could prove to be a problem once he faces a good team.
I heard from a fan last week who enlightened me that the reason our offense looked so…uh, "conservative" against Maine was because we were saving our good stuff for later. We must still be saving it. I eagerly await this promised development.
On defense, our linebackers still rock, and the line wreaks major havoc. We're going to continue to need this kind of play, because--barring improvement from the offense--right now it's the only legitimate hope the team has for a good season this year. The run support from Bullocks against Wake was about as good as I've ever seen out of a Husker safety--and that's saying a lot. The coverage ability of the rest of the secondary continues to look like our one defensive weakness.
THIS WEEK
Who'd have thought Pitt would be winless coming in? Not the folks at ABC, that's for sure. Pitt was actually ranked at the beginning of the year, and now they look…worse than us. Imagine that. Solich took Ohio-level talent and beat them. You'd think Callahan could take Nebraska-level talent and win, too. You'd think…
The outcome of this game depends on if we get an angry, determined version of 0-2 Pitt, or a downtrodden version. Their QB had a nightmare game against us last year, but then went on to have a very good season against nearly everyone else. Can our D pressure him silly again? This is what needs to happen, if we are to come out on top again. The game against Pitt was uncomfortably close last year, with a gift pass interference call kinda bailing us out at the end.
This weekend is the first in a three-game stretch of our schedule that gets progressively harder (with Iowa St., and then Texas Tech). Taylor better get the offense moving more smoothly or Ganz won't just be warming up on the sideline because of an injury.
---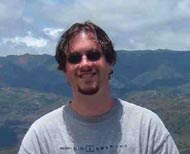 The voice of Scarlet Commentary is Jeffrey A. Leever, a Nebraska native also stuck behind enemy lines in Jefferson County, Colo. He is a 1994 graduate of the University of Nebraska (Kearney) and a freelance writer and author. Some of Jeff's writings of the nonfootball kind can be found online at Barnes & Noble (1, 2), Amazon.com (1, 2), and MenofIntegrity.net (1, 2, 3, 4, 5). Contact Jeff at splasheditorial@hotmail.com.