USC 2006
Let's see…what can I say about the loss to USC that hasn't already been said?
During the game's television broadcast, the announcers were about as an astute a group as I've ever heard. You had Brent Musburger chafing that Nebraska seemed to be playing it safe, content to not get embarrassed. You had Kirk Herbstreit almost trying to will us to a better performance. You had Bob Davie knocking the NU coaches for everything from not passing on first down, to trying to run the ball east-west on the USC defense, to our corners giving their receivers such a huge cushion.
Near the end of the 3rd quarter, Musburger yelled, "Send in another play, Bob!" after Davie made a comment and Nebraska finally passed on 1st down, completing a nice gain to Nunn. It was a statement that would almost qualify as mockery if it weren't so dead on. It was almost like the broadcast team had a greater sense of pride for what Nebraska should represent on the field than some Husker coaches.
In general, I think the players gave a pretty good effort. There were some key moments in the first half that doomed us. After the fake punt, our drive stalled after a penalty.
Then on USC's ensuing drive, Bradley nailed Booty for a sack. The ball was on the ground, Ruud went to his knees…and USC picked it up and ran for 13 yards. A few plays later, Jarrett burned Andre Jones for a TD.
After getting down 7-3, we were moving the ball pretty well and into their territory…until a holding call. One of the weird things I noticed in this game was that Taylor was off on simple out patterns. This, with minimal-to-no pressure. He threw way high to Hardy early, then low to Purify later in the game (on a 4th down play, no less).
Much has been made of the punter having more yards passing at the half than our starting QB. All told, Zac Taylor, the 70% passer coming into the game, had 8 completions for 115 yards. To put that in perspective, Joe Dailey had 8 completions in our 30-3 loss to Oklahoma in Callahan's first season.
Once we trailed 14-3 with 2:52 left in the first half, I thought we might get down the field for another score, or at least a FG attempt. Silly me, the naïve fan. The play calling was exactly the same as one would expect if we were ahead 14-3. We didn't have to fire Frank Solich to run four straight running plays at the end of a half in a game like this.
Here's the thing: In our first two games of the year, we've scored just before the half (with 7 and 23 seconds left, respectively). Is this not a pattern we wish to replicate throughout the season? Yeah, I "hear" the rhetoric from Callahan about the importance of working on the running game. My question: Is the 2-minute drill not also important to execute against good teams? Aren't we going to need that down the road?
Okay, back to the game. We had three chances at second half interceptions, all dropped. Grixby's could have made the game 14-10. Shanle's would have stopped a drive that instead resulted in a touchdown—with Shanle himself later missing a tackle inside the 5-yard-line, as the USC RB went in to score.
Our corners were made to look bad and we missed Zack Bowman terribly. Then again, most everyone saw that coming. We tried to cover Jarrett and Smith man-to-man. Coach Elmassian swears that a scheme adjustment would have been "the worst thing you could do." Now I was in the stadium ten years ago (man, has it been that long?) and watched the 1996 Blackshirts double-cover stud wideout Rae Carruth throughout a hard-fought victory over CU. I'm just a fan, but I know what I saw back then. It can be done. Of course, that 1996 scheme was designed by Osborne and McBride. (I realize our safeties aren't that good this year, either, which is part of the problem.)
Speaking of Elmassian, words like "bristled" and "testy" were used by the media to describe NU coaches' answers to post-game questions. I could write a whole column on how strange some of the quotes were. Above all, I particularly love Bill Callahan lecturing the Nebraska football media that you need to "run the football to win championships." Wow, it's almost like he thinks that would be news to the Nebraska media—reporters who have covered the NU program for years. Now, I'm not a reporter or a journalist, but if I was I'd have to wonder: How many championships has Bill Callahan won at this level? Who's he talking down to and why?
These coaches have insulted the collective intelligence of the Nebraska fans with some of their comments. A shrug and a "yeah, our gameplan was not effective, but it was a gameplan we believed in" leaves one ill at ease. I have received e-mail prior to this post that tells me some people are so ticked they don't even want to read Huskerpedia.com any more.
I have to say, watching this game, it's hard to see how we can ever "out-USC" the USCs of the college football world. We used to win because we ran a different style of offense and recruited a different mold of player to fit our offense. Now, those in charge of our program have collectively decided we can try to be just like the glamour boys. Our coach is finding it difficult. What did they expect?
It's hard to blame the players' effort. Nunn and Bradley both looked like they belonged on the field with USC. Without Lucky's fumble, who knows. I hope Jarrett turns pro after this season and Bowman returns to full speed for us next year.
THIS WEEK
Troy is a good opponent and we cannot afford to go into a funk, post-USC. Ideally Carriker, Moore, and Turner can get back into the groove of things defensively. On offense, we need to get Swift, Glenn, Hardy, Herian, and Purify back into the arsenal for the long haul. As a fan, I still love these players and want to see them achieve great things this year. After Troy, the Big 12 schedule looms. We need a shot of confidence to move forward.

---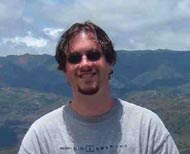 The voice of Scarlet Commentary is Jeffrey A. Leever, a Nebraska native also stuck behind enemy lines in Jefferson County, Colo. He is a 1994 graduate of the University of Nebraska (Kearney) and a freelance writer and author. Some of Jeff's writings of the nonfootball kind can be found online at Barnes & Noble (1, 2), Amazon.com (1, 2), and MenofIntegrity.net (1, 2, 3, 4, 5). Contact Jeff at splasheditorial@hotmail.com.