Forgive me for the late post. My DSL and phone service has been in and out these past couple days because of snowy weather here in the Denver area.
In a quarter-century of following the Huskers closely, I've never seen us lose a game on a fumble from a defensive player late in the game. The point isn't that it's Smith's "fault," but rather that it took an extremely freak play for us to lose to a Top 15 team. This is a positive. The top offense in the nation had to score on a fourth down play in the last 30 seconds against us to win. In a way, our defense being so unwilling to give up the final TD is why we ended up with hardly any time left on the clock to come back and score.
The good news: the NU team that played Tech would have hammered Pitt. If we play like we are capable of (especially the way we did after getting down 21-0), this team can have a great season. I truly hope the Huskers don't get deflated because of this loss.
On offense, Taylor had too many turnovers, and his throws were short early. But he seems to settle down as games wear on. Nunn made some great catches. Ross played like Ross. Using Glenn down near the goal line is wise, but we went to the well too many times with him and it cost us at the end. The O had the chance to score and put the game away late in the 4th, but settled for a field goal. That was big, and regrettably so.
The defense looked listless early, but then started to play like the Blackshirts we all know and love. Tiedke simply can't cover a good receiver as long as he was forced to on that last play. Again, our secondary, other than Bullocks, is the weakness of this defense. Green running down Tech's RB Henderson was fantastic, but this highlight came on a running play, not a pass. We got some great sacks but could've used one more. Defensive lineman aren't usually the players who wind up catching interceptions…the costly fumble isn't all that surprising from that standpoint. I'm sure Smith would take a knee if he had it to do over.
Seeing Octavien and Herian on the sideline during this game "reminds" me of how good we could be if we were fully healthy. The future seems brighter than it did a few weeks ago. I will be interested to see how Tech fairs the rest of the year. Is this the team that shredded Top-5 Cal last year, or is it a team that will wilt against Texas and Oklahoma?
THIS WEEK
Baylor is a good football team and I can't believe I just wrote that. They took A&M to OT and beat Iowa St. It should be interesting to see how the Huskers react on the road, after a loss. I'm beginning to envision being able to watch NU in a bowl this season, but we need to win games like this Saturday's. It doesn't get any easier from here (at Missouri, then home against Oklahoma).

---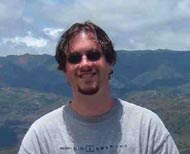 The voice of Scarlet Commentary is Jeffrey A. Leever, a Nebraska native also stuck behind enemy lines in Jefferson County, Colo. He is a 1994 graduate of the University of Nebraska (Kearney) and a freelance writer and author. Some of Jeff's writings of the nonfootball kind can be found online at Barnes & Noble (1, 2), Amazon.com (1, 2), and MenofIntegrity.net (1, 2, 3, 4, 5). Contact Jeff at splasheditorial@hotmail.com.