Well I don't think I've ever cheered so hard for NU to make it to a bowl game before. Weird feeling…
I should apologize for the lateness of this column. This week I have been "liberated" from a cast I'd been wearing on my right hand and wrist. Nevertheless, the writing has come more slowly than normal. Many of you have sent me some pretty interesting e-mails over the past couple of weeks, and I'm sorry I have been unable to respond.
Back to the K-State game. Usually, a team doesn't win a game when they get nailed for two safeties, lose their starting QB, and fumble the ball away in their own territory multiple times. Fortunately, we prevailed.
Spotting the other team the first touchdown for the fifth straight game has to be some sort of record (though we only got down 6-0 this game). I'm very happy for Congdon in particular, and also Beck. Anyone recall seeing a freshman QB lead us down the field for the game-winning FG booted by a freshman kicker? Yeah…me neither.
Reviewing the names of players associated with key moments against K-State, it's hard not to notice something: Many of them are going to be around for quite awhile.
Regardless of what happens in the next two games—or what the consensus view is about Callahan's coaching—it's the roster that encourages me the most. Congdon, Beck, Lucky, Glenn, Swift, Murtha, Slauson, Turner, and Potter are all freshmen. Nunn, Hardy, McKeon, Ruud, Grixby, and Green are sophomores. Octavien, Bradley, and Herian were all injured this year and will hopefully be back at some point. Somehow I find myself believing (admittedly, because I am a fan and "want to") that these players aren't going to lose 40-15 to the likes of Kansas again in seasons to come.
The big question: Can great recruiting make up for questionable coaching? Imagine what our team could be if we got both great recruiting and good coaching.
Changing gears here a little…
It is interesting to see what has happened at K-State, even before the Snyder retirement announcement. Just a couple years ago (back when we finished 10-3), they spanked us at home and hammered Oklahoma in the Big 12 championship game. If you were a K-State fan, imagine how baffled you would be with a team that goes from first in the league to last in the North in two short years. All this, with the same coach at the helm…who has now said he's had enough. Kinda makes Congressman Osborne's "defying gravity" comment about NU and the college football world all the more poignant. Defying gravity just isn't natural.
AGAINST COLORADO
The Buffs are beatable. Then again, so are we. I don't particularly care for Gary Barnett, but he seems to get the most out of his players. Colorado doesn't appear to have any real difference-maker on offense. And their defense doesn't really impress me, either. Still, before their meltdown against Iowa St. last week, they'd won all the games they were supposed to win this year (and often handily). But there have been some chinks in the armor along the way. Like us, Colorado needed a last-second FG to beat K-State. Iowa St. got lots of hits on their QB. If they have problems blocking Carriker like K-State did, we could make it interesting.
Earlier in the year when we had the off week (before Iowa St.), it really seemed to help the offense. Hopefully the extra time helps us, especially with Ross and the running game. Taylor should only go into Boulder as the starting QB if he is truly healed and ready. It's going to take one of the best games of Taylor's career, some inspired D, Ross playing like he did in Boulder two years ago, and maybe some turnovers for us to win. Frankly, if we win either this game or the bowl, I'll be pleasantly surprised.
---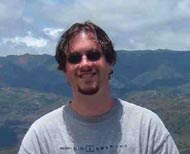 The voice of Scarlet Commentary is Jeffrey A. Leever, a Nebraska native also stuck behind enemy lines in Jefferson County, Colo. He is a 1994 graduate of the University of Nebraska (Kearney) and a freelance writer and author. Some of Jeff's writings of the nonfootball kind can be found online at Barnes & Noble (1, 2), Amazon.com (1, 2), and MenofIntegrity.net (1, 2, 3, 4, 5). Contact Jeff at splasheditorial@hotmail.com.