Although worse things have happened than the team I bleed red for not making a bowl game, suffice it to say this past Friday's outcome was a monumental disappointment. The streak being over hurts, but I think it would've happened before, in 2002, if not for some padded scheduling (an added BCA Classic game and an extra non-conf. home game against McNeese St.) which, of course, Callahan didn't have to work with.
Ross didn't seem right to me against Colorado even before he got crunched near the goal line. Our good running game went out the window, which put the offensive production squarely on Dailey's shoulders. As this season has shown, that's never a good idea.
The bad defense in this game was depressing. Letting a generally lame offense like CU's drive the field 90 yards on their first series set the tone. I felt bad watching Jason White sit back and pick us apart—seeing Joel Klatt do the same thing was revolting. Why can't we make opposing quarterbacks run for their lives anymore? I was at the NU-CU classic 10 years ago, and saw Kordell Stewart just wilt from our D's pressure. How far we have slid.
Spotting Colorado 17 points before getting on the scoreboard, and then getting down 26-7 through three quarters…well, that was just dreadful. Colorado isn't even good. And we should have been playing with even more intensity than we came out with against Missouri.
Like Thanksgiving leftovers, I think I want to put the CU loss in my rearview mirror. I'm sure they'll have a nice time against OU. What will follow at this point is a Scarlet Commentary review of the 2004 season.
What Went Right:
COREY ROSS. The best running back we've had since Ahman Green. The other young running backs we have now are good, but Ross has moves better than anyone I've seen since Congressman Osborne's previous career.
BARRETT RUUD. In most of our lousy defensive games, Ruud was the lone bright spot. One of the ABC announcers remarked against CU that it was a shame it was up to Ruud to make every play. It would have been great to see what he could've accomplished in another year with Pelini.
THE O-LINE MINUS INCOGNITO. When Incognito was finally sent packing, I thought we were in a lot worse trouble here than turned out to be the case. The line didn't play flawlessly, but overall they blocked well. Wagner has these guys well-coached.
RECRUITING. Maybe the staff focused more on this than building player morale with the current roster. This year will be one of the first I can remember where our recruiting will end up so much more highly ranked than our team.
What Went Wrong:
JOE DAILEY. My friend Reed has attended games at home and on the road this year and watched Dailey make warm-up throws before the games. At the games Reed has been at, Dailey has probably completed about 25% of his throws, missing receivers by yards at a time, throwing off the wrong foot, throwing it sidearm, etc. This, against no defense. He thinks Dailey is so paranoid about throwing interceptions that, once the game starts, for Dailey an incompletion is a successful play.
Against Kansas St., Iowa St., and Colorado, Dailey's play seemed to only awaken after we were two or three scores behind. He plays "well enough" to keep the game close enough to end it with a key turnover. Since Baylor, he really hasn't had a good game. And when a performance against an opponent like Baylor is your key achievement, that says a lot.
I know many people thought Dailey would improve as he learned the system. Yet in his final game of the season, he throws four picks (and nearly a fifth on a key 4th down), and generally demonstrates the same bad habits he's had all year. The end result is another loss. If Dailey is the starter all next year, we will again be in serious trouble.
JORDAN ADAMS. It has been posited that the JUCO transfer was Callahan's Plan A at quarterback. And when Plan A went the way of the Hindenburg, the course for 5-6 was set.
The problem with Adams's spleen is something they say has a 1 in 5,000 chance of occurring. Wouldn't you know it?—that's what happened this year. The line between success and failure is often a fine one, in sports and also in life. As much as I'm looking forward to star recruit Harrison Beck's arrival, I look forward to seeing Adams healthy.
COACHING. Cosgrove as defensive coordinator and Elmassian as secondary coach have me baffled. If it wasn't for the fact that Elmassian supposedly had a hand in recruiting Beck, I'd think the guy would have no merit at all. Taking this year's defensive backs and making them look as bad as they did was probably the worst coaching job I have ever seen in my life, at any level. I refuse to believe that Lornell McPherson is as bad a corner as he has played toward the latter end of the season. (I don't know if he was hurt or what, but the guy played better as an underclassman than he did as a senior.) The Bullocks brothers have talent. Ditto Fabian Washington. The ousted Marvin Sanders didn't seem to have a problem coaching these guys to excellence.
Both Cosgrove and Elmassian have come out and given the "oh, they played more zone coverage last year and this year we're more man-to-man" rationale, or vice versa. The obvious question is, why, if they were so good at one approach, would you have them constantly in another?
While our run defense was better statistically than our pass coverage, it's not like there were no problems there. Depending on the game, we looked hideous at times. The pass rush was nil far too often. Tackling and getting lined up right were also problems.
The special teams coaching was shaky this year, too. On offense, I'm not sure what to think about Callahan and Norvell. Why they didn't yank Dailey and try Goodman on occasion will forever remain a mystery to me. (It's not like we came back and won any games with Dailey…ever.) Norvell, especially, seems a little annoyed anything he'd do would be questioned. The Iowa St. gameplan was terrible. No one had been stopping Ross, and yet they called pass after pass. Our third and short (and fourth and short) calls are almost always passes (which Dailey misses). If I can figure that out, I'm sure opposing coaches who study film can.
All that said, I would have liked to have seen what this offense could've accomplished with Plan A. Somebody does seem to be coaching young players like Brandon Jackson and Terrance Nunn well. I suspect a quarterback throwing the ball to our open receivers 60% of the time (rather than sub-50) and not leading the nation in pick percentage on-and-off during the season would make the offensive coaching look a little less inept. A healthy Matt Herian would help, too. Alas, hope springs eternal.
BEING ON THE SIDE OF GOOD. One of the things that bothers me the most now, when I think about Nebraska football, is how far away we seem from the Osborne legacy. It's kinda been trashed. Canned coaches, bad football, players not buying in. It's sad. Maybe Dr. Tom's character example will never be matched, but Callahan's "expletive hillbillies" comment toward the OU fans was just unbelievable. Whether or not it was justified is beside the point. Callahan backing away from the statement doesn't really undo the reality that he seems like, at best, a work-in-progress.
I'll say it again because it bears repeating. Osborne had character. Character matters. The Nebraska program was once intertwined with the character of its coach, and in a positive way. Solich was a decent man, but we have been in a downward spiral ever since Osborne left. There were glimpses of problems under Solich (DeAngelo Evans saying the program was different than the one he'd originally joined, some of the other player stuff), but nothing like what happened down at OU. I guess I just expect more out of Nebraska's head coach than what Callahan has shown so far. I'll extend him some grace, though, and hope for better things and less trying years.
The Future:
It feels weird to not be looking forward to a bowl for the first time in my life as a fan. I know some of you look at my picture and think I'm 20, so that might not seem like that big of a deal. For whatever it may be worth, my first bowl memory was us losing to Clemson in 1981. (Perhaps you can ballpark my real age based on that.) My favorite bowl ever was the Orange Bowl after the 1994 season. Maybe I'll get that tape out and watch it again, if for no other reason than to listen to NBC announcer Tom Hammond quote the poet Longfellow ("Learn to labor…and wait.") and waxing fondly about Osborne finally having won his first national championship.
The one good thing about hitting a low is that there is nowhere to go but up. At some point, we will be a bowl team again. Other people around the nation see a 5-6 season and think that's pretty normal to have on occasion. If by 2008, we're still losing games we should win, have lesser talent than ranked teams, have players getting arrested for assaulting non-players during games, and coaches using expletives about opposing fans, maybe then I'll say, "make a coaching change."
By the grace of all things good, decent, red, and right, that day will never come.
I believe.
Have a good Christmas, and thanks for reading me this year.
---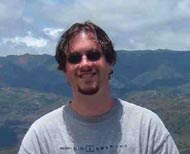 The voice of Scarlet Commentary is Jeffrey A. Leever, a Nebraska native also stuck behind enemy lines in Jefferson County, Colo. He is a 1994 graduate of the University of Nebraska (Kearney) and a freelance writer and author. Some of Jeff's writings of the nonfootball kind can be found online at Barnes & Noble (1, 2), Amazon.com (1, 2), and MenofIntegrity.net (1, 2, 3, 4, 5). Contact Jeff at splasheditorial@hotmail.com.