Finally a game where the offense looked good against a Div. 1-A opponent. I truly hope "The Fluellen Factor" is here to stay. It has taken six games with two losses for this element of our offense to make a real impact. Fluellen himself is a marvelous talent. This is a guy who got on the field last year because Pelini spoke up and pointed out that he was the one player our defenders were afraid of in practice. Amos and LeFlore both can offer a similar dimension to our offense, if Dailey can hit the passes, taking it from ho-hum to explosive.
As for Dailey, Baylor's defense gave us the opportunity to see him at his best. When the running game is going well, and Dailey, off of fakes, can drop back and set his feet before throwing, his ball placement is excellent. The question is, will he have the confidence (and get the time to throw) to put deep balls in these same spots against Kansas St., Missouri, Oklahoma, and Colorado?
Ross continues to be a marvelous player. Ace Callahan recruit Brandon Jackson will hopefully continue to make us even better. It was nice for our team to be the one getting long kickoff returns for a change.
Sadly, the defense is now a serious problem. It's rare to see a defensive team seemingly get worse as a season progresses, but that is now where we are. 400 yards of offense and 27 points given up to Baylor is, well…not good. After the Bears started shredding us in the third quarter, I began to wonder what happened to the D that refused to give up a TD against Kansas. I think part of the problem is that a few weeks back, no opposing team had film from the Texas Tech game. Now everyone does. And every opponent from here on out will know what plays our D and Cosgrove's schemes seem to have no answer for.
Exhibit A would be the short pass, which against us usually ends up going for 9+ yards when it should be stopped for 2 or 3. Cosgrove went to Ruud the younger at one of the linebacker spots as the game went on, but it didn't seem to help. Pass defense and open field tackling on the outside aren't Sievers's strong suit. He seems to be playing like a middle linebacker out of position, which he is. I'm glad the coaches want the best eleven players on the field, but when you move one to a new position to make that happen, sometimes the player at the new position isn't as comfortable and his play drops a notch. That seems to be the case with Sievers. Ditto Stewart Bradley. Both of these guys are excellent against the run, but, alas, teams aren't shredding us with the run. I think Ira Cooper needs to be on the field on the outside. He's not going to solve everything, but he seems to be more comfortable out there against the passing game.
Overall, our pass coverage continues to struggle, even with our best secondary guys. They seem to be merely good enough to be in position to make a tackle after the completion, not actually break a pass up. This was a secondary that was supposedly one of the best in the nation, if not the best, when the season started. Now we don't even look so hot against the likes of Baylor. Yeah, they need more help from the D-line pressuring the opponent's QB. Who's actually going to step up and provide it?
This is what a good defense (from last year) looks like when you take away their difference-making player (Demorrio Williams). Cosgrove's part of the problem, but not all of it. Teams have figured out how to pass us silly while minimizing the risk of a Josh Bullocks INT. Ruud is a fantastic player—I mean, how many more tackles can a guy make?—but a true difference-maker we are lacking. Our D-line doesn't exactly strike fear into opponents. They didn't last year, either, but we had Williams coming off the corners on third and long. Maybe Cosgrove can pull something out of a hat like this, but looking up and down the roster, it's hard to see from where.
THIS WEEK
For most of their game against Oklahoma, Kansas St. looked like they were going to win before eventually succumbing. At the worst, they seemed to be pretty equal to OU. Their QB got rocked late in the game, so it's anyone's guess how well he'll play if he does.
Don't look now but we haven't won at Kansas St. since Dr. Tom's pre-Congress days. Unfortunately, this year's Wildcats seem to move the ball more through the air than on the ground, so our defense is going to have to come up with something big—perhaps Muhammad, Carriker, or Thomas coming up with a special effort—to win. Another turnover-free performance from Dailey would give us a shot. Deep balls to Fluellen et al will help. K-State may be, despite their record, the most talented team from the Big 12 North we'll line up against.
---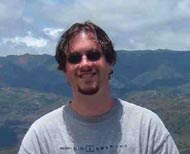 The voice of Scarlet Commentary is Jeffrey A. Leever, a Nebraska native also stuck behind enemy lines in Jefferson County, Colo. He is a 1994 graduate of the University of Nebraska (Kearney) and a freelance writer and author. Some of Jeff's writings of the nonfootball kind can be found online at Barnes & Noble (1, 2), Amazon.com (1, 2), and MenofIntegrity.net (1, 2, 3, 4, 5). Contact Jeff at splasheditorial@hotmail.com.