My 2 Cents
11/11/07
Kansas State Game
Commentary by David Max
Surreal, unbelieveable were terms that were used after the Kansas game last week and they apply again this week in describing the Kansas State game. It was like a time machine blast to the past of the scoring explosion team of 1983. Joe Ganz for Heisman. May not be out of the realm of possiblities for 2008. I sat with Jason Peter and he agreed it felt like the Nebraska of old.
Yesterday's game was a thank you game. There are a lot to go around. Thank you to the 29 seniors for going out there and playing their hearts out in their final game in Memorial Stadium. What a way to go out. They have been on a roller coaster ride for their Husker careers and it is wonderful to exit Memorial Stadium with their best game of the season and their careers. Thank you also needs to go out to the veterans in attendance on this Veterans Day weekend. Thank you for your service to our country.
Thank you goes out to all the players on the team for putting all the coaching situation distractions aside and playing the game for themselves. Thank you to the fans for supporting the team "in all kinds of weather". The stadium was full until the end of the game and the only empty space at the end was the Kansas State section in the southwest corner. What a great way to show our support no matter what.
Thank you to the coaching staff for staying focused in spite of all the incessant media attention, rumors, criticism, etc. that intensified with last week's record loss. Coach Callahan said at his press conference last week that he wanted to stay at Nebraska. My only advice to him if he really wants to stay is to show up at his press conference on Tuesday wih a Nebraska logo shirt on and advise his agent to not take any more calls from a media outlet.
Thank you to Johnny Rodgers, Willie Harper, and Larry Jacobson for stopping by the Husker Nation tailgate and signing autographs and visiting with the fans. For those of you that are wondering what Willie is doing after his pro football career with the 49ers, he is a minister in Tracy, CA. A special thank you to the ultimate Husker fan Betty Graham for stopping by with her family. It was a real pleasure to meet someone in person that has been to a home game in 1923 when Memorial Stadium first opened. Thank you to the NC+ group for sharing your tailgate location/grill/chairs/etc. during the season. I look forward to tailgating with you next year.

A very special thank you to Dan Whitney, aka Larry the Cable Guy for the tickets to his sky box that allowed my mother Margaret to attend her first game in person in two years. It will be a memory that wil live forever in my mind. I can't express enough how much I appreciate your generosity. You are a true Nebraskan. Thanks also go to Tom Osborne for taking time for this picture. He called her on her birthday last year and that was another highlight. I sold my regular tickets and will donate that money to the Thunder Bear Foundation, a Nebraska based non-profit supported by former players that provides hunting and fishing access to the handicapped. You can say thank you by sending them a donation as well.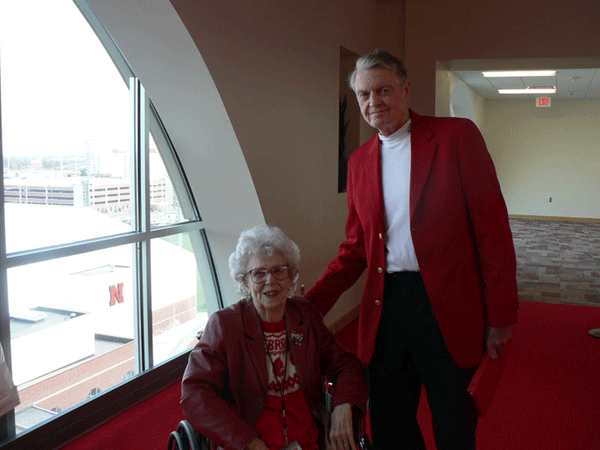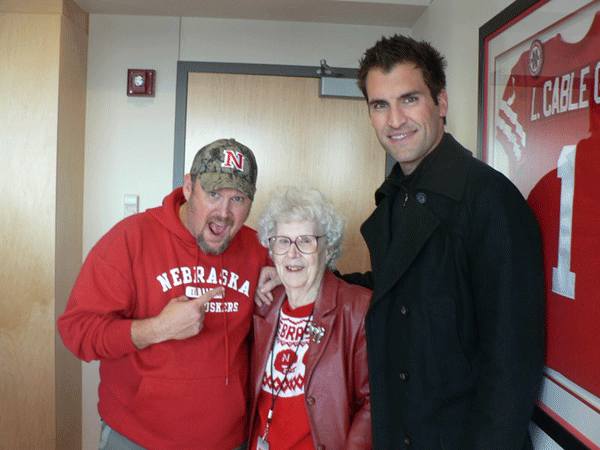 Another true Nebraskan is Jim Rose who just resigned as the voice of the Huskers to be able to spend more time with his family. I was fortunate enough to run into him briefly Saturday and got the opportunity to thank him in person. Thank you Jim for being a genuine ambassador for the program. Keep smiling and enjoy the time with your family. You are a class act and you deserve it.
What happens next obviously remains to be seen. All the scenarios have been laid out in the various commentaries in the media. This is the going to a bowl, Bowl for NU and CU. Will we beat Colorado? Will we go to a bowl game if we do? If we win, will we keep the coaching staff? If we don't, who will we hire? A Hollywood screenwriter couldn't come up with a better script than what is unfolding this season. All I know for sure is Nebraska fans will support the program.
Just my 2 cents. What about yours? More pictures are here.
GO BIG RED!!!