Huskers rally into title match
The Huskers roared back from an 0-2 deficit in the national semifinals Thursday night to force a fifth set against Illinois. A reversed call on a Nebraska challenge gave the Huskers a two-point edge in the final set at 13-11, and the Huskers held serve the rest of the way for the victory.

The set scores: 22-25, 16-25, 25-23, 25-20, 15-11.

Nebraska will face Stanford in Minneapolis as the Huskers try for their second consecutive national championship Saturday night.

• Coverage: HV | LJS | OWH* | Huskers.com | VB Mag | KLIN
• Stats: PDF | HTML
• Photos: HV | Huskers.com
• Video recap
• Set-by-set breakdown
• HuskerMax volleyball page
COMPLETE MATCH


POST-MATCH
What a night. 🎉#NCAAVB pic.twitter.com/maN37TwD9E

— NCAA Volleyball (@NCAAVolleyball) December 14, 2018
Resiliency. 💪 pic.twitter.com/KvB7pBKXxQ

— Husker Volleyball (@Huskervball) December 14, 2018
"I knew this was going to be a five-gamer. This is the @bigten, baby."

It didn't come easy, but @huskervball and head coach John Cook are headed to the national championship. #NCAAVB pic.twitter.com/CH2l8nbYyx

— NCAA Volleyball (@NCAAVolleyball) December 14, 2018
There was never a doubt in senior Mikaela Foecke's mind. @Huskervball is in good hands following her lead.#NCAAVB pic.twitter.com/yfzDtEo8q6

— NCAA Volleyball (@NCAAVolleyball) December 14, 2018
SET 5
Down 0-2?

IT AIN'T NO THANG FOR @HUSKERVBALL!!#NCAAVB pic.twitter.com/wyzaNlK7mF

— NCAA Volleyball (@NCAAVolleyball) December 14, 2018
THE DEFENDING CHAMPS ARE HEADED BACK TO THE 'SHIP! pic.twitter.com/vqqUok2teM

— espnW (@espnW) December 14, 2018
Big time Foecke 💪#NCAAVB pic.twitter.com/BaQL1p1cjO

— NCAA Volleyball (@NCAAVolleyball) December 14, 2018
SET 4
Doesn't look like @HuskerVball is going away tonight.

Bring on the fifth set.#NCAAVB pic.twitter.com/GcVCDLbQSi

— NCAA Volleyball (@NCAAVolleyball) December 14, 2018
That's an ♠️‼️

Timeout Illinois.#NCAAVB pic.twitter.com/gjWz0Xdxz0

— NCAA Volleyball (@NCAAVolleyball) December 14, 2018
.@huskervball's Lexi Sun out here shining. #NCAAVB pic.twitter.com/zU9XwT515u

— NCAA Volleyball (@NCAAVolleyball) December 14, 2018
SET 3
OH MY MIKAELA FOECKE!

(Wait for it).#NCAAVB pic.twitter.com/k5aahhyXa3

— NCAA Volleyball (@NCAAVolleyball) December 14, 2018
Still not sure how @IlliniVBall kept the ball up…twice! 😳#NCAAVB #SCtop10 pic.twitter.com/TfaoYpFuLD

— NCAA Volleyball (@NCAAVolleyball) December 14, 2018
SET 2
After two sets, it's been all @Illinivball. @sportsiren brings us more insight from senior Jordyn Poulter. #NCAAVB pic.twitter.com/NamvRD49b0

— NCAA Volleyball (@NCAAVolleyball) December 14, 2018
SET 1
Nebraska has won 22 consecutive sets dating back to November 16. That streak is over.#NCAAVB pic.twitter.com/6vTXzduFAG

— NCAA Volleyball (@NCAAVolleyball) December 14, 2018
Tell us if you've seen this before….an incredible rally ended by a Jordyn Poulter dump. #NCAAVB #SCtop10 pic.twitter.com/xVoeOg6IId

— NCAA Volleyball (@NCAAVolleyball) December 14, 2018
One of the many reasons you don't want to be on the opposite end of a Mikaela Foecke attack. 😱#NCAAVB #SCTop10 pic.twitter.com/aCtwBIMBJd

— NCAA Volleyball (@NCAAVolleyball) December 14, 2018
The long rallies are starting early. 👀#NCAAVB pic.twitter.com/oSSYHDg39m

— NCAA Volleyball (@NCAAVolleyball) December 14, 2018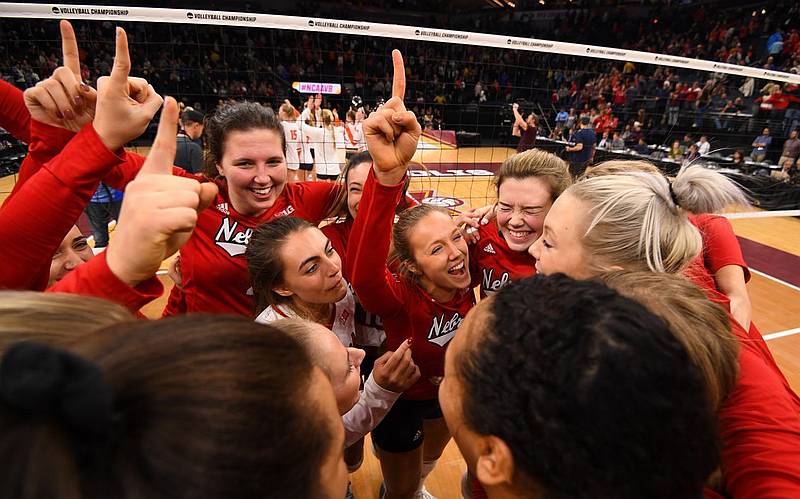 ---