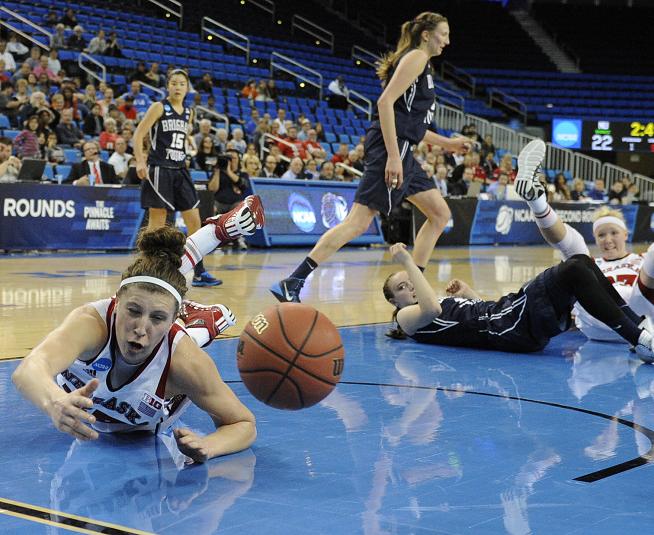 Kelvin Kuo-USA TODAY Sports
Jordan Hooper dives for a loose ball during the first half against BYU.
March 24, 2014
Cougars clip Huskers,
advance to Sweet 16
Los Angeles —
Brigham Young got a series of three-pointers from unexpected shooters and survived a furious second-half rally, as the 12th-seeded Cougars advanced to their second NCAA Sweet 16 by beating No. 4 seed Nebraska, 80-76, on Monday in the second round of the 2014 NCAA Women's Basketball Tournament.
With the loss at Pauley Pavilion, No. 13 Nebraska finished its season with a 26-7 overall record, while BYU improved to 28-6 overall.
In her final game as a Husker, senior All-American scored 20 points and grabbed four rebounds to finish her historic career with more than 2,300 points and more than 1,100 rebounds.
Junior forwards Emily Cady and Hailie Sample, who both started the 100th games of their career with Hooper on Monday night, both notched double-doubles for the Big Red. Cady finished with 13 points and 10 rebounds for her 14th double-double of the season and second of the NCAA Tournament. Sample added her third double-double of her career with 10 points and 10 rebounds, while helping the Huskers start their comeback after trailing by 17 points late in the first half.
Tear'a Laudermill led the Huskers with 22 points, including 12 in the last 2:17 to give the Huskers a chance in the final seconds. Laudermill went just 6-of-18 from the floor, but boosted the Big Red with 3-of-9 three-point shooting and a 7-for-7 effort at the free throw line.
LINCOLN REGIONAL

The Cougars will advance to the NCAA Lincoln Regional to take on the winner of Tuesday night's game between tournament No. 1 overall seed Connecticut (35-0) and No. 9 St. Joseph's (23-9).
 
No. 7 DePaul also punched its ticket to the NCAA Lincoln Regional with an upset Monday night by beating No. 2 seed Duke on the Blue Devils' home court. The Blue Demons will face the winner of Tuesday night's clash between No. 3 seed Texas A&M and 11th-seeded James Madison.
 
All-session and single-session tickets for the regional are available at Huskers.com.
---
NCAA bracket
Rachel Theriot just missed a double-double of her own with 11 points, nine assists and five steals, but went just 4-of-15 from the floor.
BYU came out firing on all cylinders in the first half building a 17-point lead on two occasions in the final four minutes. The Big Red outscored the Cougars 10-4 in the final four minutes, including six big points from Sample to cut the margin to 41-30 at the half.
Light scoring point guards Kylie Maeda and Stephanie Rovetti did the most damage for the Cougars. The duo combined for four three-pointers, including 2-of-2 shooting by Maeda and 2-of-4 shooting from long range by Rovetti, who entered the game just 2-of-13 on the season.
Those 12 points provided the difference in the first half, as the Cougars hit 5-of-13 threes compared to just 2-of-9 shooting for the Huskers, with both of those threes from Laudermill.
Morgan Bailey added 12 points on 6-of-8 shooting around the rim for the Cougars, while Lexi Eaton pitched in nine points. BYU's top scorer, 6-7 center Jennifer Hamson had five points on 2-of-2 shooting in the first half, while leading the Cougars' defensive efforts with nine rebounds and three blocks.
As a team, BYU hit 15-of-28 shots and 6-of-7 free throws while outrebounding the Big Red 19-15. The Huskers won the turnover battle 6-3, but hit just 11-of-33 field goals in the first half. NU also went 6-of-7 from the line. Laudermill and Theriot led the Huskers with eight points apiece in the first half, while Hooper managed just five points. Cady was held to two points and three boards while playing a significant stretch in the first half with two fouls.
After trailing by 17 in the first half and 11 at halftime, the Huskers got BYU's lead to just one point twice midway through the second half. The second time coming after Sample forced the fourth foul on Hamson with 10:22 left and hit both free throws. Nebraska appeared to have all the momentum with BYU's leading scorer, rebounder and shot-blocker on the bench.
However, BYU hit six of its next eight shots, including a trio of three-pointers by Xojian Henry, who hit just four threes during 18 games in WCC play. The Cougars pushed the lead back to 12 points at 69-57 with 6:24 left and appeared to be in control. BYU maintained an 11 points lead with 3:30 left and nine points with 2:17 remaining.
But Nebraska refused to quick. Laudermill led Nebraska back with 12 points and several huge defensive plays to cut the Cougar margin to 78-76 with 4.4 seconds left. But Hamson hit a pair of free throws with 2.8 seconds left to seal the BYU win.
Hamson finished with 15 points, 14 rebounds and four blocks, while going 5-for-5 from the field and 5-of-7 at the free throw line. Bailey led the Cougars with 18 points on 9-of-15 shooting, while Eaton added 15 points and six boards.
Harry finished with 11 points in just 17 minutes off the bench on 4-of-6 shooting, including 3-of-5 success from long range. Rovetti added six points on a pair of threes. Maeda finished with nine points on 3-of-3 three-point success.
BYU outscored Nebraska 17-0 off the bench and 17-3 in second-chance points, although NU got nine offensive boards compared to just eight for BYU. But the Cougars finished with a sizzling 50.9 percent shooting (28-55), while hitting 43.5 percent (10-23) three-pointers. BYU also hit 14-of-20 free throws and outrebounded the Big Red, 40-31.
Nebraska won the turnover battle 15-6, including several huge turnovers down the stretch. But the Big Red hit just 25-of-66 shots, while going just 6-of-21 from long range (.286). NU did convert 20-of-23 free throws.

----------------------------------------
                       1st   2nd   Total
Brigham Young           41    39      80
Nebraska                30    46      76
----------------------------------------