Super Bowl Huskers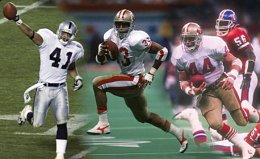 Eric Johnson, Roger Craig, Tom Rathman
Former Husker players
on Super Bowl rosters
There have been 73 roster appearances by 57 former Husker players in 38 of the 53 Super Bowls. Only those on the active roster for the game are listed here. (The Athletic Department's far more lenient list is here.) Twenty-six Huskers have been starters (35 starts in all).


Click on column headers to sort

Key: * Starter; ^ Did not play

| Yr | Player | Pos | Team | – | – |
| --- | --- | --- | --- | --- | --- |
| 2019 | Burkhead, Rex | RB | Patriots | | W |
| 2019 | Suh, Ndamukong | NT | Rams | * | L |
| 2018 | Burkhead, Rex | RB | Patriots | | L |
| 2018 | Gerry, Nathan | LB | Eagles | | W |
| 2017 | Valentine, Vincent | DT | Patriots | | W |
| 2013 | Koch, Sam | P | Ravens | | W |
| 2012 | Amukamara, Prince | CB | Giants | | W |
| 2011 | Jackson, Brandon | RB | Packers | | W |
| 2010 | Nicks, Carl | G | Saints | * | W |
| 2010 | Shanle, Scott | LB | Saints | * | W |
| 2010 | Glenn, Cody | LB | Colts | | L |
| 2009 | Brown, Ralph | CB | Cardinals | | L |
| 2008 | Smith, LeKevin | DT | Patroits | | L |
| 2008 | Hochstein, Russ | OL | Patroits | | L |
| 2006 | Brown, Josh | PK | Seahawks | | L |
| 2006 | Wistrom, Grant | DE | Seahawks | * | L |
| 2005 | Hochstein, Russ | G | Patriots | | W |
| 2004 | Rucker, Mike | DE | Panthers | * | L |
| 2004 | Minter, Mike | SS | Panthers | * | L |
| 2004 | Hochstein, Russ | G | Patriots | * | W |
| 2003 | Treu, Adam | C | Raiders | * | L |
| 2003 | Johnson, Eric | S/LB | Raiders | | L |
| 2003 | Parrella, John | DT | Raiders | * | L |
| 2002 | Wistrom, Grant | DE | Rams | * | L |
| 2001 | Peter, Christian | DT | Giants | | L |
| 2000 | Wistrom, Grant | DE | Rams | * | W |
| 2000 | Colman, Doug | LB | Titans | | L |
| 1999 | Booker, Michael | CB | Falcons | * | L |
| 1999 | Smith, Neil | DE | Broncos | | W |
| 1998 | Smith, Neil | DE | Broncos | * | W |
| 1998 | Veland, Tony | CB | Broncos | | W |
| 1998 | Williams, Tyrone | CB | Packers | * | L |
| 1997 | Williams, Tyrone | CB | Packers | | W |
| 1997 | Jones, Calvin | RB | Packers | | W |
| 1996 | Stai, Brenden | G | Steelers | * | L |
| 1996 | Jones, Donta | LB | Steelers | | L |
| 1995 | Parrella, John | DT | Chargers | | L |
| 1994 | Turner, Nate | RB | Bills | ^ | L |
| 1990 | Munford, Marc | LB | Broncos | | L |
| 1990 | Craig, Roger | RB | 49ers | * | W |
| 1990 | Rathman, Tom | RB | 49ers | * | W |
| 1990 | Williams, Jamie | TE | 49ers | | W |
| 1989 | Skow, Jim | DE | Bengals | * | L |
| 1989 | Rathman, Tom | RB | 49ers | * | W |
| 1989 | Craig, Roger | RB | 49ers | * | W |
| 1988 | Davis, Brian | CB | Redskins | | W |
| 1986 | Fryar, Irving | WR | Patriots | | L |
| 1986 | Waechter, Henry | DT | Bears | | W |
| 1985 | Craig, Roger | RB | 49ers | * | W |
| 1985 | Barnett, Bill | DE | Dolphins | | L |
| 1984 | Nelson, Bob | LB | Raiders | * | W |
| 1984 | Humm, Dave | QB | Raiders | | W |
| 1983 | Franklin, Andra | RB | Dolphins | * | L |
| 1982 | Horn, Rod | NT | Bengals | | L |
| 1982 | Harper, Willie | LB | 49ers | | W |
| 1981 | Nelson, Bob | LB | Raiders | * | W |
| 1981 | Phillips, Ray | LB | Eagles | | L |
| 1980 | Andrews, George | LB | Rams | | L |
| 1980 | Ferragamo, Vince | QB | Rams | * | L |
| 1977 | Humm, Dave | QB | Raiders | | W |
| 1977 | Johnson, Monte | LB | Raiders | * | W |
| 1977 | Dumler, Doug | C | Vikings | * | L |
| 1977 | Bonness, Rik | LB | Raiders | | W |
| 1977 | Tingelhoff, Mick | C | Vikings | * | L |
| 1975 | Tingelhoff, Mick | C | Vikings | * | L |
| 1975 | Blahak, Joe | CB | Vikings | ^ | L |
| 1974 | Tingelhoff, Mick | C | Vikings | * | L |
| 1973 | Vactor, Ted | CB | Redskins | | L |
| 1973 | McDole, Ron | DE | Redskins | * | L |
| 1973 | Fischer, Pat | CB | Redskins | * | L |
| 1970 | Tingelhoff, Mick | C | Vikings | * | L |
| 1968 | McCloughan, Kent | CB | Raiders | * | L |
| 1968 | Powers, Warren | SS | Raiders | * | L |
RECORD SETTER:
In 1985, Roger Craig became the first Husker to score in a Super Bowl — and in that game he set single-game Super Bowl records for touchdowns (3) and points (18). Both records have since been tied but not broken.
REPEAT CONTENDERS: Mick Tingelhoff has the most Super Bowl appearances (4) among Huskers but never played on the winning team. Roger Craig has the most wins (3) of any Husker.
NU vs. NU: Twelve Super Bowls have featured Huskers on both teams. According to play-by-play logs, the only time a Husker has tackled a Husker was in 1990, when Marc Munford had tackles against Roger Craig and Tom Rathman. Jim Skow recovered a Craig fumble in the 1989 game. Defensive stats for all ex-Huskers here.

Below are all official box-score entries involving former Huskers. Tackles and other defensive stats are listed separately here.

2019 (LIII)
Patriots 13, Rams 3
Rushing
New England        No.   Yds.   TD   LG
 REX BURKHEAD       7     43     0   26

Receiving
New England        No.   Yds.   TD   LG
 REX BURKHEAD       2     15     0    8

2018 (LII)
Eagles 41, Patriots 33
Rushing
New England        No.   Yds.   TD   LG
 REX BURKHEAD       3     18     0    9

Receiving
New England        No.   Yds.   TD   LG
 REX BURKHEAD       1     46     0   46

Kickoff returns
New England        No.   Yds.   TD   LG
 REX BURKHEAD       0      0     0   -1

2013 (XLVII)
Ravens 34, 49ers 31
Scoring plays
 BAL - Safety, SAM KOCH out of bounds in
       endzone, 0:04 left in 4th Qtr.

Rushing
Baltimore          No.   Yds.   TD   LG
 SAM KOCH           1     -8     0   -8


2011 (XLV)
Packers 31, Steelers 25
Receiving
Green Bay          No.   Yds.   TD   LG
 BRANDON JACKSON    1     14     0   14


2006 (XL)
Steelers 21, Seahawks 10
Scoring plays
 SEA - JOSH BROWN 47 field goal,
       0:22 left in 1st Qtr.
 SEA - Stevens 16 pass from Hasselbeck
       (JOSH BROWN kick) 6:45 3rd


2003 (XXXVII)
Bucs 48, Raiders 21
Scoring plays
 OAK - ERIC JOHNSON 13 return of blocked punt
       (pass failed) 14:16 4th


1990 (XXIV)
49ers 55, Broncos 10
Scoring plays
 SF - TOM RATHMAN 1 run (Cofer kick)
      7:15 2nd
 SF - TOM RATHMAN 3 run (Cofer kick)
      14:57 4th
 SF - ROGER CRAIG 1 run (Cofer kick)
      13:47 4th

Rushing
San Francisco      No.   Yds.   LG   TD
 ROGER CRAIG       20     69    18    1
 TOM RATHMAN       11     38    18    2

Receiving
San Francisco      No.   Yds.   LG   TD
 ROGER CRAIG        5     34    12    0
 TOM RATHMAN        4     43    18    0
 JAMIE WILLIAMS     1      7     7    0


1989 (XXIII)
49ers 20, Bengals 16
Rushing
San Francisco      No.   Yds.   LG   TD
 ROGER CRAIG       17     71    13    0
 TOM RATHMAN        5     23    11    0

Receiving
San Francisco      No.   Yds.   LG   TD
 ROGER CRAIG        8    101    40    0
 TOM RATHMAN        1     16    16    0


1988 (XXII)
Redskins 42, Broncos 10
Interceptions
Washington         No.   Yds.   LG   TD
 BRIAN DAVIS        1      0     0    0


1986 (XX)
Bears 46, Patriots 10
Scoring plays
 NE  - IRVING FRYAR 8 pass from Grogan
      (Franklin kick) 13:14 4th
 CHI - Safety, Grogan tackled in end zone
       by HENRY WAECHTER, 5:36 4th
 
Receiving
New England        No.   Yds.   LG   TD
 IRVING FRYAR       2     24    16    1

Punt Returns
New England       No.  FC  Yds.  LG  TD
 IRVING FRYAR      2    0   22   12   0


1985 (XIX)
49ers 38, Dolphins 16
Scoring plays
 SF - ROGER CRAIG 8 pass from Montana
      (Wersching kick) 11:34 2nd
 SF - ROGER CRAIG 2 run (Wersching kick)
      2:05 2nd
 SF - ROGER CRAIG 16 pass from Montana
      (Wersching kick) 6:18 3rd

Rushing
San Francisco      No.   Yds.   LG   TD
 ROGER CRAIG       15     58    10    1

Receiving
San Francisco      No.   Yds.   LG   TD
 ROGER CRAIG        7     77    20    2


1983 (XVII)
Redskins 27, Dolphins 17
Rushing
Miami              No.   Yds.   LG   TD
 ANDRA FRANKLIN    16     49     9    0


1980 (XIV)
Steelers 31, Rams 19
Rushing
Los Angeles        No.   Yds.   LG   TD
 VINCE FERRAGAMO    1      7     7    0

Passing
Los Angeles       Att  Cmp  Yds  TD  Int
 VINCE FERRAGAMO   25   15  212   0    1

Kickoff Returns
Los Angeles        No.  Yds.   LG    TD
 GEORGE ANDREWS     1     0     0     0


1973 (VII)
Dolphins 14, Redskins 7
Punt Returns
Washington       No.  FC  Yds.  LG   TD
 TED VACTOR       0    2    0    -    0


---