Hard-nosed Husker heritage is sinking into bog of "balance"
10-24-2015
By Tad Stryker
It's hard to say that Nebraska football is becoming soft, but it needs to be said.
For decades, the Nebraska football team mirrored the hard-working blue-collar ethic of the Cornhusker State. Those days are slipping away.
Andy Janovich is the exception. His feel-good story is one of the few bright spots of 2015 for the Big Red. He's a Nebraska-born walk-on fullback, which used to be a big part of this program's identity. Janovich has had a pretty good season, although he was almost invisible against Northwestern. But I can't find what historically has been the strength of the Husker program – a hard-running I-back making yardage behind an effective offensive line. And it won't be found unless someone makes it a priority.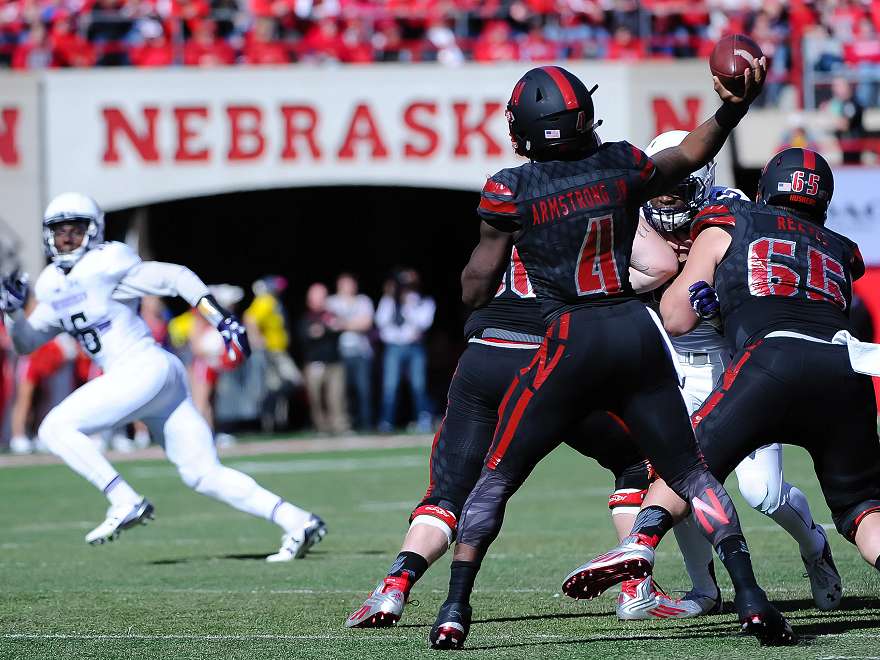 Steven Branscombe-USA TODAY Sports
Tommy Armstrong put up 48 passes against Northwestern as the Huskers couldn't get a running game going.
Nebraska has sunk into the mushy middle of the Big Ten. And that may be giving the Huskers too much credit. When you consider their 1-3 record against division foes, it's entirely possible they are stuck in the marshland of the Big Ten West.
It will take focused effort to extricate the Huskers from this bog and it will not happen overnight because simply put, Nebraska is not a physical team. Northwestern is no longer the 98-pound weakling on the Big Ten beach, but the Wildcats are really not a physically dominant team, either, which makes a game like Saturday's 30-28 setback that much harder to take. Nebraska is a soft team, at least on the offensive side of the ball. The question is whether Riley and offensive coordinator Danny Langsdorf are taking any practical steps to make it a physical team. There's distressingly little evidence that they have plans to do so, at least this fall.
It would be great to have all-conference performers to make the running game sing like it did 20 years ago. It's not on hand, but there's easily enough talent here for Nebraska to contend for this year's West Division title if it had been used correctly.
During October, had the Huskers allowed Janovich to do more lead blocking – had they simply lined up with Janovich at fullback and freshman Devine Ozigbo at I-back and run the ball 12 to 15 more times per game, they would be no worse than 4-4 overall, and 2-2 in Big Ten play. They would have defeated Illinois, and likely beaten either Wisconsin or Northwestern. I don't like the establish-the-pass-to-set-up-the-run approach taken by Riley and Langsdorf, and I think it's costing the Huskers victories.
Toughness missing
It's hard to understand why Terrell Newby gets so much playing time, given his inability to get tough yards. He is effective in the open field, but considering the lack of blocking up front, there will be precious little open field to work with this fall. Why the absence of Ozigbo, who obviously was the hardest-running I-back during the first half of the season? It's evident that Riley and Langsdorf prefer an I-back who can chip block a defensive end to one who can break tackles and get tough yards. That's where we disagree philosophically. The Huskers desparately need a dependable running game.
I recognize that Tommy Armstrong is piling up impressive passing yardage figures. I'm not blaming him for Nebraska's 3-5 record, but I think his coaches' over-reliance on the pass is damaging the Nebraska football program. The question is this: do they have the wisdom and humility to recognize it and change their approach? I applaud their use of Janovich, but the fullback is best used as a change of pace in any running attack. They should bench Newby, run toss sweeps, inside zones and counter plays with Ozigbo and let Armstrong and Ozigbo team up in the option game.
A couple of weeks ago, Dr. Rob Zatechka, the former Academic All-America offensive lineman, used his "Doc Talk" podcast to question whether Riley-Langsdorf combination is more committed to winning games or to simply executing their balanced offense. It's a serious charge. I'd like to accuse Zatechka of over-reaching, but I'm afraid he has a good point.
The Northwestern loss was more evidence for the old adage that a rushing yard is worth much more than a passing yard. It does something dangerous to the psyche of a football team when its offensive line spends more time backpedaling than it does charging ahead.
I'm aware that the Huskers dropped nine passes Saturday. Proponents of the balanced attack would argue that if only those passes had not been dropped, the Huskers would have developed better rhythm and would have scored more points. That's certainly a possibility. But here's my view – this is the best bunch of receivers Nebraska has had in almost a decade, and they're still dropping passes at an alarming rate. A run-heavy team is more dependable than a pass-heavy team, period – especially on the Plains, where uncertain weather is a certainty in October and November. So yes, I'm arguing for a significantly heavier ratio of run to pass. The balanced attack is not working well.
Nebraska's play selection against Northwestern – 38 runs, 48 passes – screams "trouble," even on a mild, sunny day where the wind was not a real factor.
Momentum-killer
Northwestern played good defense and deserved to win this game. In fact, the Huskers are lucky the margin of victory was not more. If the Cornhuskers had any momentum after a 23-point win at Minnesota, it evaporated quickly. Funny how rushing for only 82 yards tends to suck the momentum right out of a program.
O-line coach Mike Cavanaugh has opted to keep the same five linemen on the field almost the entire season. The exception is freshman right tackle Nick Gates, the most talented of all the NU linemen, who unfortunately has missed the last few games with an ankle injury. It will be good to see him return.
The seniors on the o-line have been a disappointment this season. I can understand Cavanaugh's desire to build his line into a cohesive unit, but the results say his experiment has not worked well. It makes sense to start investing in the future of this program and let underclassmen like Jerald Foster and David Knevel get a lot of snaps with the first unit.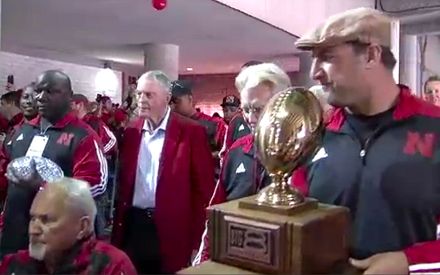 Courtesy of Huskers.com
Nebraska's 1995 national champions, whose running game and menacing defense were the stuff of legend, were honored at Saturday's game.
As for the present, it was a depressing day at Memorial Stadium, because the home team seemed to get very little inspiration from the festivities honoring the 1995 national champions. Frankly it was unfortunate that the 1995 squad was honored on this day, because it makes it far too easy to compare them with the 2015 Huskers, who are not even a shadow of that team. I sat near a few of the 1995 team honorees in the South Stadium; they stoically watched the disppointing performance in much the same way as other fans near me. One of them expressed surprise at Riley and Langdorf's lack of commitment to establishing the running game. Another told me he thinks the Huskers' talent level has dropped off dramatically. "Riley has to get the type of players he wants," was his comment.
So what kind of players does Riley want? I tend to focus on the line of scrimmage. He has a decent defensive line already. The offensive line is where the major problems lie. My observation of Riley-Langsdorf tendencies lead me to predict they'll want linemen who can pass block first, and run block second. The "balanced" approach to offense puts a lot of pressure on offensive linemen. It works in the NFL, where they pick the cream of the crop. But a relatively few offensive linemen at the college level can both run block and pass block well.
Issues of talent
Riley has run a pro-style offense most of his career. So has Nick Saban at Alabama. Saban's offense works because of the talent he brings in at running back and offensive line (four- and five-star recruits who generally can run and pass block equally well). If Riley insists on sticking with a pro-style attack at Nebraska, his success will depend on his ability to bring all-conference and All-America-caliber offensive linemen and running backs to Lincoln. Even if Patrick O'Brien enrolls in January and becomes the best passer in Nebraska history, if he doesn't have a strong running game to operate behind, the Huskers will struggle to stay above .500 throughout the rest of this decade.
It's much more important at Nebraska to have all-conference-caliber running backs and offensive linemen than it is to have all-conference-caliber wide receivers. We saw that today with De'Mornay Pierson-El (two drops against Northwestern), who is probably Nebraska's best NFL prospect. If Pierson-El doesn't get the ball in his hands and turn upfield, he's virtually useless.
It was confounding that Nebraska held an 18-minute advantage in time of possession, yet it was the weaker team in the fourth quarter. So often we hear that the reason a defense collapsed in the fourth quarter is because it was simply on the field too long. Well, the Wildcat defense was on the field way too often Saturday (Nebraska ran 86 plays to Northwestern's 56), but it held up pretty well. Meanwhile, the allegedly fresher Blackshirts wilted down the stretch. Northwestern outyarded the Big Red 144-72 in the final quarter. My conclusion: the Huskers' strength and conditioning program has a long way to go.
Nebraska is on the verge of having its first losing season at home since 1968. A loss to either Michigan State or Iowa would clinch it. Not even the 2002, 2004 or 2007 teams had losing records in Memorial Stadium. Sorry, but that makes me feel a little unbalanced.
Formerly the sports editor at the North Platte Bulletin and a sportswriter/columnist for the North Platte Telegraph, Tad Stryker started writing for this website in 2008. You can e-mail him at tad.stryker@gmail.com. Stryker is a freelance writer, favoring topics related to Nebraska history or Christianity. You can buy his recent book at this link.
---