C O M M E N T A R Y
T A D S T R Y K E R
December 12, 2009

I'll never be able to think about the 2009 Nebraska football season without that familiar cry, "S-U-U-U-U-U-H-H" as a backdrop.
How good a season did Ndamukong Suh just have? Quite possibly, one that's better than any defensive tackle will ever have again.
I hoped that Suh would lead a revival of the Blackshirts this season. I my mind, that meant clogging the middle of the line, creating opportunities for teammates to make tackles, and maybe helping get the Cornhusker defense into the top 25 in key categories.
Nebraska is No. 2 nationwide in scoring defense, No. 9 in total defense and No. 17 in turnovers forced. I'd say that the Nebraska defense is back in business, all right. The Blackshirts did far better than almost anyone in Husker Nation had dared hope.
It's as though your car had stalled out on a busy street and refused to start. You hope that someone will stop, help you push it out of traffic, and maybe give you a jumpstart. Instead, he arrives, diverts all the traffic from your lane, rolls out a comprehensive set of tools and replaces your battery and alternator, gives you a quick tuneup for good measure, closes the hood and tells you, "Give it a try now and let's see what we've got."
Suh provided much more than a badly needed spark to the Blackshirts this season. He flat-out dominated opposing offenses. He totally changed game plans. He made excellent offensive players look downright silly at times.
I figured that Suh, facing a constant barrage of double-team blocking all season long, naturally would have a mediocre year, statistically speaking. I believed that Suh would be doing awfully well to record 50 tackles and half a dozen sacks. I predicted that Suh's greatest worth to the NU football program would be his ability to make others around him into better players.
Did Suh exceed our expectations, or what? He didn't have the freshman or sophomore seasons that guys like Grant Wistrom or Trev Alberts had, but he finished stronger than any NU Blackshirt in history.
The House of Spears restored Nebraska's honor on a national stage.
There were quite a few national college football observers last August who weren't convinced that the Blackshirts would be able to recover from the depths of the Bill Callahan era. But if those experts thought Nebraska was in for another season of 45-35 and 40-31 victories and 62-28 defeats, they realized by mid-October just how wrong they were.
The Big 12 was a wide-open, fast-break, whoever-scores-last-wins type of league in 2007 and 2008, but in 2009, Ndamukong Suh and the Pelini brothers started swinging the pendulum back toward defense. Sure, they had a lot of help from players like Larry Asante, Jared Crick, Barry Turner and Prince Amukamara, but the Pelinis were the brain trust and Suh was the catalyst.
Suh provided leadership, no doubt about it. He helped make Crick, Turner and Pierre Allen better ballplayers, but he did it while raising his own game an astounding level in prime time, first on the ESPN Thursday night game at Missouri, and most notably, in the Big 12 Championship. A national ABC-TV audience watched as Suh sacked Colt McCoy four times while being held by overmatched Longhorns seemingly on every series.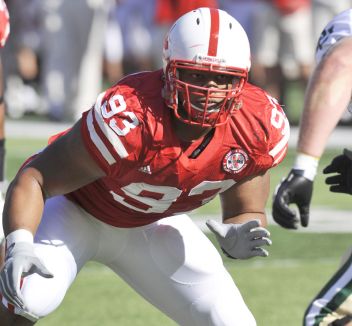 Dennis Hubbard photo


Suh single-handedly kept McCoy from winning the Heisman Trophy. Colt was playing the best football of his career and had built a lot of Heisman energy before Suh smashed all that momentum like a papier-mâché pony.
Now he has his own hardware to immortalize his senior season for all time. The Outland Trophy. The Lombardi Award. The Bednarik and Nagurski awards. A fourth-place finish in the Heisman balloting. That a defensive tackle would be so highly decorated simply boggles the mind. But then, what DT ever led his team in tackles two seasons in a row?
No Nebraska player has ever won four major postseason awards. This is not just the best season ever by a Nebraska defender, it is one of the finest in 140 years of college football history. Suh is a 6-foot-4, 300-pounder who rips through double-teams and makes tackles with power, speed, agility and an increasingly nasty attitude, and there are several NFL general managers wondering how they can put themselves in a position to draft him next April.
Suh took the tarnished reputation of the Blackshirts and restored it to elite status. Not bad for a player who was so discouraged after suffering through two seasons of Kevin Cosgrove that he almost transferred to Oregon State. Maybe Bo Pelini's greatest accomplishment at Nebraska so far was simply keeping Suh on the roster.
The meteoric rise of the Nebraska defense has been stunning. But as everyone knows, there is a lot of work to do on the other side of the ball.
The Huskers' total transformation from all offense, no defense in 2007 to all defense, no offense in 2009 is equally stunning, and frankly it should be profoundly disturbing to Nebraska's offensive coaches.
Is it a lack of talent, or a lack of coaching? Is it both? Who will step forward to help the offense even half as much as Suh has helped the defense?
Those are questions the Huskers must answer very soon. It's a topic that will hang around for months to come, long after Suh is taken in the first round of the NFL Draft.
Formerly the sports editor at the North Platte Bulletin and a sportswriter/columnist for the North Platte Telegraph, Tad Stryker is a longtime Nebraska sports writer, having covered University of Nebraska and high school sports for more than 25 years. He started writing for this website in 2008. You can e-mail him at tad.stryker@gmail.com. | Archive