Stryker: Stability would be a step up for Frost, Huskers
So now, entering Year 4, does the favorite son finally feel at home?
That's not a question I anticipated asking about Scott Frost in 2021, but the answer has profound implications as he tries to shape his beloved Nebraska Cornhuskers into a Big Ten contender.
The first half of spring football has provided some big-picture optimism, as it often does, but a couple of new developments are truly encouraging. The fact that Frost openly acknowledged he's emphasizing fundamentals during spring drills, and that his strategy apparently has shifted from a finesse-based to a power-based offense are welcome news. So is Zach Duvall's progress in developing bigger, stronger linemen.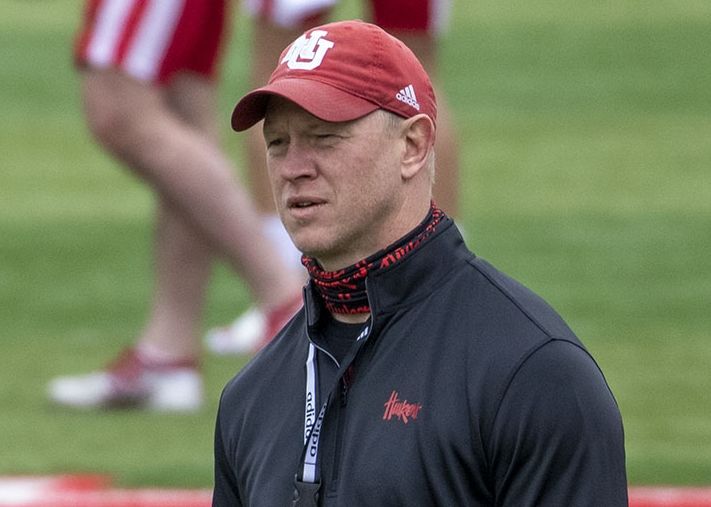 As Urban Meyer so often says, it all starts on the offensive line. There's a ton of potential on the Huskers' offensive front, and there's reason to believe Greg Austin has this unit heading in the right direction, but I'll withhold full-bore optimism, pending evidence of improved footwork and agility to go along with that power.
I liked what I saw at Saturday's open practice in Memorial Stadium. There's no denying the wide receiver corps provided the big news of the day. Omar Manning looked great. He will be watched even more closely than he was coming in as the No. 1-rated junior college receiver prospect of 2019, simply because of what he could to to light a fire under Nebraska's offense. Montana University transfer Samori Toure has accomplished more than Manning has thus far while playing at the FCS level. Boy, did they both look smooth in workouts. What will they do against Big Ten defenses?
It was a master stroke to have a workout open to the public. It was a small step toward establishing a normal Nebraska football program, absolutely the right move by Frost. But it's not the highlight of this spring.
You know what I liked better than Nebraska wide receivers strutting their stuff during an open workout? (I mean, besides having more than half the running back room healthy and ready to play.) I liked hearing Cam Jurgens envisioning an "aggressive, mean" offensive line that sets the tone for the game and cuts down on penalties. Well, as my grandpa used to say, "Saying and doing are two different things." Nobody's convinced that anything profound has happened until the Huskers prove it on the field, but at least it's good to finally hear those words coming out of a veteran offensive lineman's mouth and believe he just might be able to back it up. Wouldn't it be something to see the Huskers run the ball downhill and throw the ball downfield?
The Huskers need to become steady before they aim for spectacular. Winning the line of scrimmage is Job 1. Frost hasn't accomplished Job 1 yet. I think he's realized he needs to check that box before wide receivers can prosper, and certainly long before anything like a high-scoring UCF offense could ever happen in Lincoln.
You don't win games in the spring, but you can prepare to win. And I'll say this — there seems to be a steadiness of demeanor surrounding Frost, a steadier vibe surrounding the program. I like his plainly-stated emphasis on fundamentals this spring. Making sure your team is rock-solid on the basics continually drives a good coach. It's much more important than having the best scheme. It's taken Frost a while to embrace that notion. Sometimes less is more, and it's essential to understanding how to prosper in Hayes/Schembechler country.
I've heard some say that NU should return to the Big 12, or even drop down to the Mountain West Conference, where it "has more in common" with other teams. That would be a mistake. Now is no time to turn tail and run from the Big Ten. It's time to acquaint the Big Ten with old-style Nebraska blue-collar values.
Frost remembers those values. He may not yet feel like he's home, but at least he sounds more like it. The hotshot new coach stage has long since ended. Husker Nation is ready for a steady, focused Frost.
For 40 years, Nebraska football was stability. For the majority of the last 19, it's been shaky. It wouldn't be the worst thing in the world to return to stability again. It could be that the rest of the conference will find it much harder to game plan for a steady Nebraska football team. An emphasis on fundamentals points to increased discipline. If week after week, the Huskers roll out a powerful, agile o-line that rarely commits penalties, then we'll have something. At that point, we'll have a Big Ten West contender, and we'll be ready for hotshot wide receivers to take us up another level.
Frost needs to develop some street cred in the Big Ten. He could do it this fall if he builds enough stability into his offense and special teams to allow the Blackshirts to go out and win a bunch of games. The new demeanor suggests he might be willing to do it, at least in a year where he has nine returning starters on defense. I surmise that Frost will feel more at home once he beats a rated team or two, even if it's 28-24 instead of 56-45.
A longtime Husker fan, sportswriter and history buff, Tad Stryker started writing for this website in 2008. You can email him at tad.stryker@gmail.com
---
---
---