Stryker: Rumors of Frost power infusion have nation talking Huskers
It's still too early to say Nebraska football is nationally relevant again. That has to be earned on the football field, something that cannot possibly happen for at least five months. And it's premature to say the Cornhuskers are ready to contend for the Big Ten West title this fall.
But it's time to say that Nebraska will be taken seriously once again in 2018. Scott Frost hasn't coached his first game yet, and he already has the Big Red back in the mix.
People are talking about Nebraska like they haven't for a long time. The testimony of dispassionate outsiders makes it clear that something is changing — after all, 4,000-word Sports Illustrated articles with positive themes about NU football don't grow on trees these days. The theme — reclaiming Nebraska's identity — touches a chord across the nation. People have missed that blue-collar brand of aggressive defense, combined with a powerful running game.
When was the last time the coach of any well-respected football program was worried about Nebraska? Did anyone outside the Cornhusker State take 2016's momentary Top 10 rating seriously? Was Al Golden worried about Nebraska when the Huskers rolled into Miami in September 2015? Was Bret Bielema intimidated by the Huskers' six-game run to close the regular season in 2012? Not really.
What do NU's opponents have to worry about this fall? Mainly, Frost's short but impressive coaching record, and his ascending reputation. There's also the possibility that Big Ten West coaches realize Mike Riley, Danny Langsdorf and Bob Diaco had some decent talent to work with, but did nothing more than waste a year of their eligibility last fall, and those players might be highly motivated to prove they're better than they looked.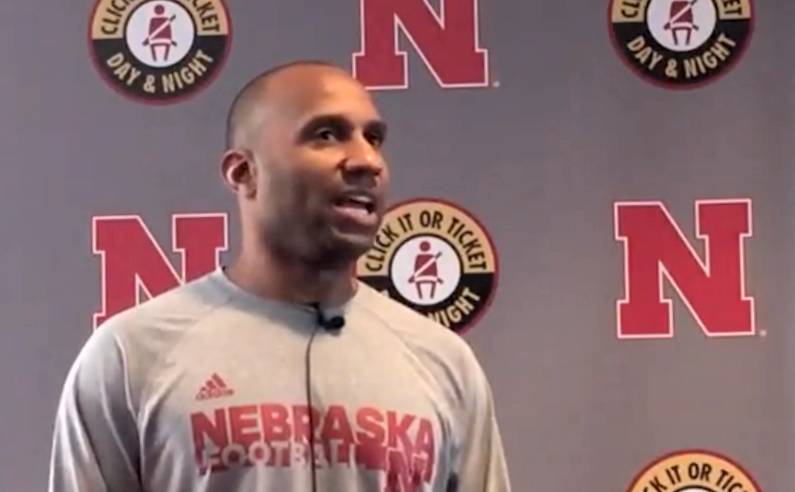 Offensive coordinator Troy Walters sounds like he's ready for some Husker Power.
You're not going to hear coaches going out of their way to pump up Frost, not the way they did Riley. Nobody said a discouraging word about Mister Rogers, and for good reason. Increasingly, he represented a guaranteed win. But all bets are off with Frost, because Nebraska's new head coach represents a threat. You might even hear a few of them talk smack about him. It's going to happen before the Michigan game, if for no other reason than Frost's postgame Orange Bowl speech is still ringing in Wolverine ears. That might be the one thing that gets Michigan fans to unite behind Jim Harbaugh in 2018.
And there's one more thing that might concern future Husker opponents. It's the possibility that something unique might be brewing in Lincoln. There's a rumor about a combination of speed, power and passing skill to a degree not seen at the University of Nebraska since Turner Gill, Mike Rozier and Irving Fryar ran wild in 1983.
Well, there's a long way to go to rekindle those kind of memories. Yet the SI article paid a lot of attention to combining the Chip Kelly-Scott Frost Oregon scheme with old-school Nebraska power. That likely won't happen this fall, at least not consistently. The quarterback position won't be ready to roll in 2018, but things will be much improved in 2019.The college football world wants a look behind the curtain.
From 1993-1997, Tom Osborne put together the best five-year run in college football history, and he did it without a decent passing game. In 1970-71, Bob Devaney won a pair of national titles with a dominating, ball-hawking defense combined with a solid running game and just enough passing, but didn't have a lot of speed outside of Johnny Rodgers. In the mid-70s, Osborne had good passers in David Humm and Vince Ferragamo, but the power game had waned. The Huskers had home-run threats at I-back in Roy Helu / Ameer Abdullah (2010-14) and I.M. Hipp / Jarvis Redwine / Roger Craig (1977-81), but lacked a steady passing game.
Lately, the Huskers' consistency has fallen far short of any of those teams. They've been a soft-tinted shadow of their former selves on both sides of the ball. Could Frost and his staff really build something special out of that? He has pledged to bring back the physicality to Nebraska football, and his coordinators talk it up.
What would a tougher, harder-hitting Husker team look like? We've been told that those who want to see more of the 1990s from the Husker offense under Frost will be disappointed. Yet there's no question that the coaches are at least paying lip service to the 1990s.
On defense, it'll be simpler to figure out. Just watch Lamar Jackson.
Jackson, blessed with length and talent at cornerback, appeared to be paralyzed with fear of making a mistake last season, and he shied away from contact. He wasn't alone in those things, but he has the highest ceiling and he could be the quickest advertisement for any success that Eric Chinander's defense achieves. Improved toughness and speed at linebacker  — enough to contain Badger outside zone runs — also will be a factor, as will a pass rush. Yes, a real, honest-to-God pass rush.
Defense is not hard to imagine, although it could be tough to execute. It's a bit harder to grasp how the offense could look. We can visualize the pass game under Frost, with its array of routes and receivers coming from all angles. We know he demands a quarterback who combines precision passing with a legitimate option running threat.
"The mentality, the culture, we want to get back from when Frost was here (as a player)," Troy Walters said in a recent Husker 247Sports story. "It's not going to be with the fullback, but we want to be dominant up front, come off the line, be physical, but when there's a crease, take it to the house."
We know what the UCF offense looked like under Frost. It was more speed than power, no question about that. So what will the Nebraska offense look like under Frost? If he is to succeed long-term in the Big Ten, I don't think he'll be able to roll out a carbon copy of his UCF offense. I have to confess, it's hard for me to imagine a consistent Husker running game without a lead-blocking fullback trotting onto the field once in a while. I'll be watching like everyone else.
A longtime Husker fan, sportswriter and history buff, Tad Stryker started writing for this website in 2008. You can email him at tad.stryker@gmail.com
Stryker
---
---
---