Stryker: Recent coaching hires can work if innovation happens
College football fans nationwide worry about their teams and second-guess the head coach. Nothing newsworthy there, but nobody I know does it quite as well these days as observers of the Nebraska Cornhuskers.
Few people are as passionate as Husker football fans. Believe me, I hear from them, as does anyone else who writes about the program. I almost never refer to those emails in this column, although I've published a few texts over the past decade from my friend, Mr. Glass-Is-Two-Thirds-Empty Husker Fan (who clearly sees everything that could possibly have gone wrong for the Big Red and occasionally is pleasantly surprised when it does not).
I haven't heard as much from him lately, but several folks have bent my ear about coach Scott Frost and the the staff moves he's made in recent days.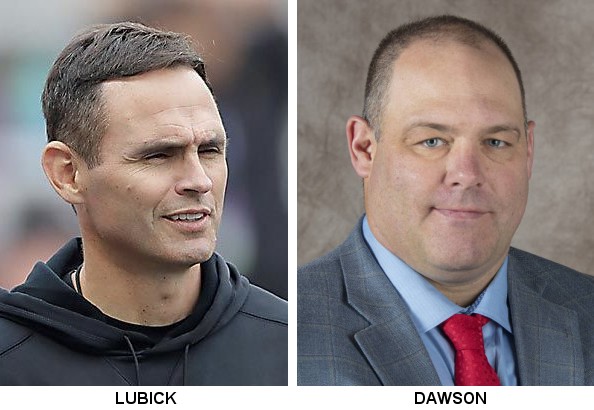 First, some background: after back-to-back losing seasons, plenty of Husker fans were convinced that Frost would not give his staff a serious self-analysis, that he would continue to keep all his "buddies" onboard in the name of staff consistency. They seemed perturbed about that, although frankly, I would not have been alarmed had Frost stood pat one more season. But instead, Frost made a couple of moves, replacing outside linebackers coach Jovan Dewitt with Mike Dawson and replacing offensive coordinator/wide receivers coach Troy Walters with Matt Lubick.
Both moves are net gains, as far as I can tell. It looks to me like Frost addressed what he believed were deficiencies on the staff. And it appears he tried to do even more. The Athletic reported that Frost tried to hire away Mickey Joseph from LSU as receivers coach, passing coordinator and associate head coach. When Joseph turned him down, (according to The Athletic), Frost had a solid backup plan in Lubick. Or maybe, just a convenient backup plan, if you see it in a different light. Like a couple of my readers do.
However you interpret Frost's actions, they really worked up these two. Their opinions seem symbolic of the section of Husker Nation who is rapidly losing patience with Frost. I'll summarize their arguments:
• "Too quick," said someone who views Frost through the grid of his own long, successful experience in management and finds the Huskers' favorite son wanting. In essence, he claimed Frost didn't look long enough for a good offensive coordinator and showed poor judgment in hiring someone he was familiar with. What's more, he said Joseph was smart to avoid working under Frost. (So I wonder: would anyone else Frost was unfamiliar with have been smart to avoid him, also?)
Like several others who write me, he says Frost's third year is pivotal. "Either the program makes the leap, or the wheels come off." He predicted the latter will happen, largely because he sees Frost failing to develop the players he inherited.
I disagree. Sure, bringing back Dawson sounds a lot like getting the old band back together again. But if Frost only wants to work with his buddies, why did he go after Joseph at all? I'm convinced Frost wants to improve the Huskers' recruiting footprint all over the nation, so he took a home run swing at Joseph, who has the added advantage of being a Husker legacy. The fact that Frost whiffed big time does not discourage me. I agree that 2020 will be crucial (the season-opener against Purdue will be pivotal). Yes, Frost's learning curve — and that of his staff — needs to improve quickly, but think they will ultimately succeed in player development.
• "Frost misrepresented the coaching situation to JD Spielman and his family." That's the essence of the argument presented by someone else who says he has insider knowledge, alleging that Frost deliberately waited until after the mid-January filing deadline for the NFL Draft to dump Walters, insinuating that Spielman would have declared for the draft had he known Walters would leave Lincoln. He also claimed that Wisconsin is using Frost's alleged deceitfulness to negative-recruit highly regarded 2021 Iowa prep stars Thomas Fidone of Council Bluffs and Brody Brecht of Ankeny.
This is not a new rumor. Last year, just minutes after Nebraska lost its season finale to Iowa, I heard Chris Schmidt of 1480 AM Hail Varsity Radio speculate that Spielman would enter the transfer portal. It could still happen, but that line of thought sounds odd to me. Not the Wisconsin negative recruiting bit. But why would Spielman want to leave a system where he's prospering and stands to break a bunch of Husker records next fall, especially with reinforcements like Omar Manning joining the receiver room to help draw coverage away from him in his senior year?
I trust Frost and his staff more than these two, although no doubt I'm more skeptical than many in Husker Nation. There are some folks out there who will completely exonerate Frost, and go to extremes to make excuses.
One reader points out (quite rightly) that only "six or seven programs," including Alabama, Clemson, Georgia, Ohio State and Oklahoma — have dominated major college football the past 15 years. He says their recruiting advantage is unfair and insurmountable, and proposes the NCAA must "drive parity into college football" by coming up with some way to regulate how many 5-star recruits can be taken by any team in a single recruiting cycle. I guess he wants to see something like the NFL Draft at the college level.
It's an interesting idea, but I've got problems with it. The one that most quickly comes to mind is the bald-faced interference with freedom to choose your own college that's inherently bound up in such a scheme.
Ironically, the writer came up with the best solution, one that Nebraska needs to implement.
"Tom Osborne is truly a legend and a pioneer and his teams won by outworking, outsmarting, outcoaching, out-innovating other teams and programs," he recalled.
Yep, I agree, and I say that has to happen again if Nebraska is to reprise a Devaneyesque rise to relevance. Frost and his staff have to find a way to outwork, outsmart, outcoach and out-innovate the opposition once again, using whatever advantages and opportunities they can get their hands on. But let's not tell a lineman from Mississippi he can't go to Alabama, Georgia or Clemson because they already have their quota of 5-star talent. Let's give him a reason to look elsewhere.
If coaches and programs are cheating, by all means, nail them to the wall. But don't penalize them simply for being successful. Starting in 2008, Dabo Swinney built Clemson from fairly humble stock. It can be done again in Lincoln. Husker coaches must find creative ways to convince elite recruits to come play ball for Frost. And let's find ways to develop those 3- and 4-star athletes into all-conference performers, and turn one or two walk-ons into solid starters each autumn.
The Lubick hire is a step to better develop wide receivers while improving the way the position groups work together. Dawson needs to work in conjunction with Barrett Ruud in developing a disruptive linebacker corps. The Huskers desperately need some tough, fly-to-the-ball-and-tackle guys, some real run stuffers at inside linebacker. And they are dying for one — it would take just one — elite pass rusher at outside linebacker. The Huskers' 3-4 is schemed to keep blockers off linebackers, so in Erik Chinander's defense, the linebackers absolutely must thrive. They cannot settle for almost getting the job done, as they so often did in 2018 and 2019. They must be deal-closers. Continuing to allow 5 yards per rush will keep Nebraska mired in second-division oblivion.
We've all had enough of that. Just ask the second-guessers.
A longtime Husker fan, sportswriter and history buff, Tad Stryker started writing for this website in 2008. You can email him at tad.stryker@gmail.com.