Stryker: Moos flirts with disaster by messing with OU game
It looks as though an army of Husker Nation first responders have talked Bill Moos down from the ledge.
In perhaps the quickest mobilization in more than 130 years of Nebraska football, the army formed and took action when word spread that Moos was pondering something that orthodox Big Red fans would consider the unforgivable sin: refusing to play Oklahoma.
As we approach the 50th anniversary of Nebraska's 1971 "Game of the Century" win over the Sooners, the impression was that Moos was making a cowardly deal behind the scenes to mortgage Nebraska football's soul for a few million bucks and an easier home game. The predictable snickers and potshots from the national media started to make their way through the 24/7 news cycle, and the immediate outcry of rage from Husker fans nationwide was almost palpable.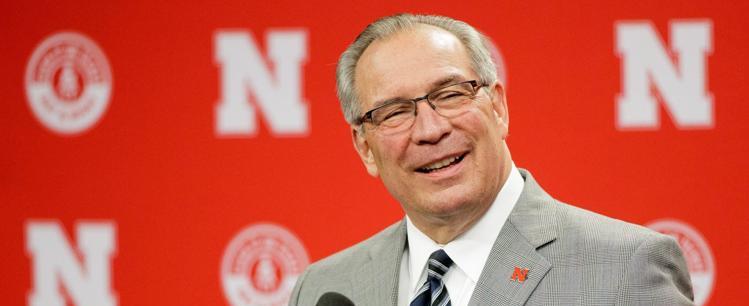 It played out in dramatic fashion March 12 when Stadium's Brett McMurphy reported that Nebraska was trying to back out of its Sept. 18 football game against Oklahoma in Norman, so it could play an extra home game against either Old Dominion or a Mid-American Conference team. Later in the day, CBS Sports reported that Nebraska officials had indeed been "calling around" to MAC officials, trying to set up a September home game. And just after 3 p.m., Moos admitted as much in an official statement, which said the main point was to "mitigate cost-cutting measures and provide a much-needed boost to our local economy." He announced that the OU game would be played as scheduled.
Moos walked back the damage, but it may take a while to assess whether he actually stopped the bleeding. NU's reputation took a big hit because for more than six hours on a dreary Friday in Lincoln, Moos didn't say anything. One thing's for sure: a mountain of phone calls, e-mails and tweets landed with a resounding thud in the athletic department office, and they likely changed his mind.
Those gut-wrenching six hours provided an interesting look into the Nebraska athletic administration and the Husker fan base. Maybe someone will do a sociological study of this day's events. I don't doubt that four years of losing records has stoked some apathy in Husker fans, but while monitoring the "Nebraska opting out of Oklahoma game?" forum on HuskerMax, I was reminded about the pride and depth of passion this fan base still has.
I've been hearing for years that it's time to put the Devaney-Osborne era in mothballs, that the 1990s are gone, that living in the past is holding back Husker football. I've been hearing that recruits don't give a rip about the program's past glory, that it's overblown, that we should let it go. Well, suddenly it's obvious that line of thinking is way off base. If the national media thought that Nebraska's expectations should be lowered because of the past two decades, this story would not have received the nationwide attention that immediately flared up among Husker friends and foes alike.
Dozens of coaches and thousands of players spent a lot of blood, sweat and tears building an honorable blue-collar reputation in the world of college football, and that reputation still matters to college football observers nationwide. That's encouraging, but it's scary to think how close NU football came to disaster.
For six hours, the Husker football program stood in dire risk of losing its most important asset — its fan base, which has supported the program as well as any fan base has ever supported a program. The fan base that gives and gives and gives some more despite relatively little payback in terms of wins and championships. The fan base that keeps selling out Memorial Stadium and buying Husker merchandise despite a two-decade championship drought.
This is the fan base that Scott Frost keeps referring to as his biggest recruiting advantage, the Husker brand that Frost's assistants say still gives them instant recognition when they walk into a school, despite four consecutive losing seasons. This is what Moos, whether inadvertently or not, came close to tossing out with the bath water.
The stakes were huge. If the Big Red had really backed out of the Nebraska-Oklahoma game, Husker Nation would have started thinking of the NU football program as "them" instead of "us." That would have been a catastrophe, not only in national reputation and self-respect, but financially as well, when you consider how that would have affected future donations.
On the other hand, it's reasonable to ask what pressures led Moos to get up on the ledge in the first place. He cares a great deal about the Nebraska brand. But it's obvious from past statements that he — and Frost — are rightly concerned about Lincoln's economy, which took a sizeable hit from last year's COVID-19 cancellations. I don't think that Moos is clueless about Nebraska's heritage. The fact that he talked with several schools about scheduling a game indicates he is under considerable pressure to restore financial order in Nebraska athletics, which is one of few programs nationwide to ever operate in the black without receiving tax money or student fees.
I think scrapping the Oklahoma game ultimately would have done more financial harm than good to Nebraska athletics, but taking drastic measures to improve your revenue stream during a financial crisis is something that most CEOs would at least seriously consider. The thing is, most CEOs would not have the contents of their phone calls leaked, as just happened to Moos.
If, however, the main motive was that NU could swap out a likely loss for an easy win by scheduling a patsy, that's another matter entirely. The most unsettling thing about the whole drama is that Big Ten coaches will be all over this scenario, telling recruits that Nebraska has no confidence in its ability to win tough games.
This is the story sweeping through the college football world and, in the week leading up to the game, whether true or not, it will make Nebraska an even bigger target for criticism by national commentators. One wonders whether it will be a motivation or a hindrance for the Huskers, who will enter the game as big underdogs.
Frost's job may be in peril; he desperately needs to win at least six games this fall to slow down some of the wolves who are already hot on his trail. If Frost signed off on backing out of a game against Nebraska's respected historic rival, with his hand-selected fourth-year quarterback on the roster and nine starters coming back on defense, that would indeed have been the low point in Cornhusker history. For the record, there's no evidence at this point that Frost was involved. I don't think he was. But this whole episode will stink until Nebraska beats a team it's not supposed to beat.
Just wondering: how much would it change the aroma if that team were Oklahoma?
A longtime Husker fan, sportswriter and history buff, Tad Stryker started writing for this website in 2008. You can email him at tad.stryker@gmail.com
---
---
---