Stryker: Is there a playmaker in the house? NU defense needs to show up
So, that West Coast trip idea didn't turn out real well for Nebraska.
Looking back, here's a list of what the Cornhuskers accomplished Saturday night as they fell 36-30 to UCLA, dropping to 1-1 on the season:
• Getting beat up on both sides of the line of scrimmage in the second half by a pastel-tinted football program that has a well-deserved decades-old reputation for backing down from a fistfight. Check.
• Converting fewer than 10 percent of your third downs on offense. Check.
• Losing the kicking game to a team that has an erratic, half-scared freshman placekicker. Check.
• Laying an egg in front of California recruits and their families, plus a national television audience. Check.
If you think you were embarrassed by the way the Nebraska defense played Saturday night in Pasadena, think about defensive end Cameron Meredith, who came up with more than 200 tickets to get his friends and relatives into the Rose Bowl to watch him and his Blackshirt teammates get schooled by the inexperienced but athletic UCLA offense.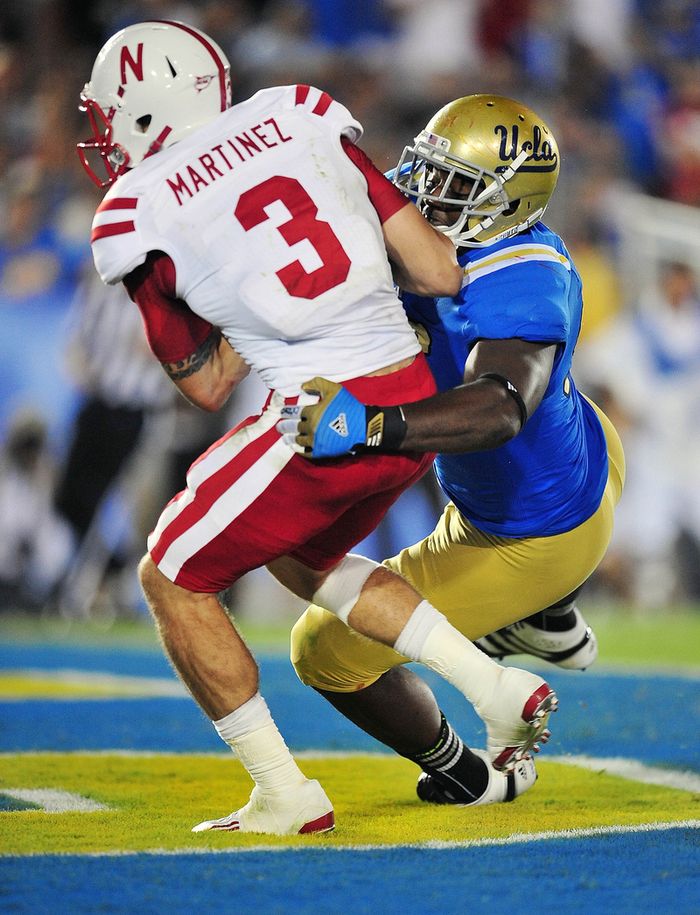 It boggles the mind. UCLA piled up 653 yards of total offense. That's an end-of-the-Bill-Callahan-era figure. If anyone and everyone associated with the Nebraska defense wants to avoid lifelong comparisons with Kevin Cosgrove's 2007 "Blackskirts," they have a lot of work to do.
To be fair, it's obvious that this UCLA – which came into this season with a 48-54 record since 2000 – is well on the way to becoming a much more physically and mentally tough outfit than it has been lately. But this was a very winnable game for the Big Red.
If you want to point fingers, start with two seniors who have been mentioned as potential all-conference selections: Baker Steinkuhler, who supposedly anchors a defensive line that got pushed around much of last season and looks even worse after two games in 2012. Steinkuhler had one tackle against the Bruins, and it came at the end of Johnathan Franklin's 54-yard run in the fourth quarter. Or safety Daimion Stafford, another California native who was out-positioned and outfought on several occasions by UCLA receiver Joseph Fauria, most notably on a 4-yard touchdown reception in the second quarter. And add Meredith, who seems to have all the physical gifts you could want but has never been a disruptive force coming off the edge his entire career.
Along with middle linebacker Will Compton, those are probably the most talented upperclassmen on the defensive side of the ball. That's a bit frightening as you look ahead to Wisconsin, Ohio State, Michigan and Michigan State.
Nebraska did not put much defensive talent on the field against UCLA. That in itself is not a big surprise after losing Jared Crick, Lavonte David and Alfonzo Dennard. But coming into the season, we heard a lot about how the seniors had come together and were showing leadership, plus looking much improved on the field of play. My hope was that their experience, cohesiveness and communication would offset their lack of talent. But when you give up 344 yards rushing, it really calls into question just how much stomach you have for the game of football.
Nebraska is not very physical up front on defense. That's very disappointing, when you stop and consider how much emphasis Bo Pelini put into building up his offensive and defensive lines in his last few recruiting classes. Pelini's recruits simply are not doing the job on the defensive side of the ball.
Pelini redshirted most of his 2008 recruiting class, and they are fifth-year seniors now. They should have provided a lot more leadership and consistency than they showed against UCLA. If there are any playmakers on defense, now is the time to step forward. If there are some promising underclassmen in the wings, they'll need to make their presence known very soon.

Formerly the sports editor at the North Platte Bulletin and a sportswriter/columnist for the North Platte Telegraph, Tad Stryker is a longtime Nebraska sports writer, having covered University of Nebraska and high school sports for more than 25 years. He started writing for this website in 2008. You can e-mail him at tad.stryker@gmail.com.
---