Stryker: Huskers start a defensive youth movement?
Now is a chance to start building goodwill in the Husker Nation.
Nearly endless negativity was flowing throughout the kingdom last week in the wake of a disappointing loss to UCLA in Pasadena. Then we heard that Bo Pelini had been taken by ambulance from Memorial Stadium at halftime of the Arkansas State game. We saw the Nebraska defensive unit – torched by the Bruins the previous week – start to figure things out by holding a good offensive team to no touchdowns and about half its average of total offense. Then Tom Osborne stood in front of the post-game press conference to announce that Pelini will be just fine, back to work soon.
That's good. There's a lot of work to do.
Nebraska put together a decisive 42-13 win Saturday using some faster, younger players on defense. This is one of those moments that you can build on – if you do it right.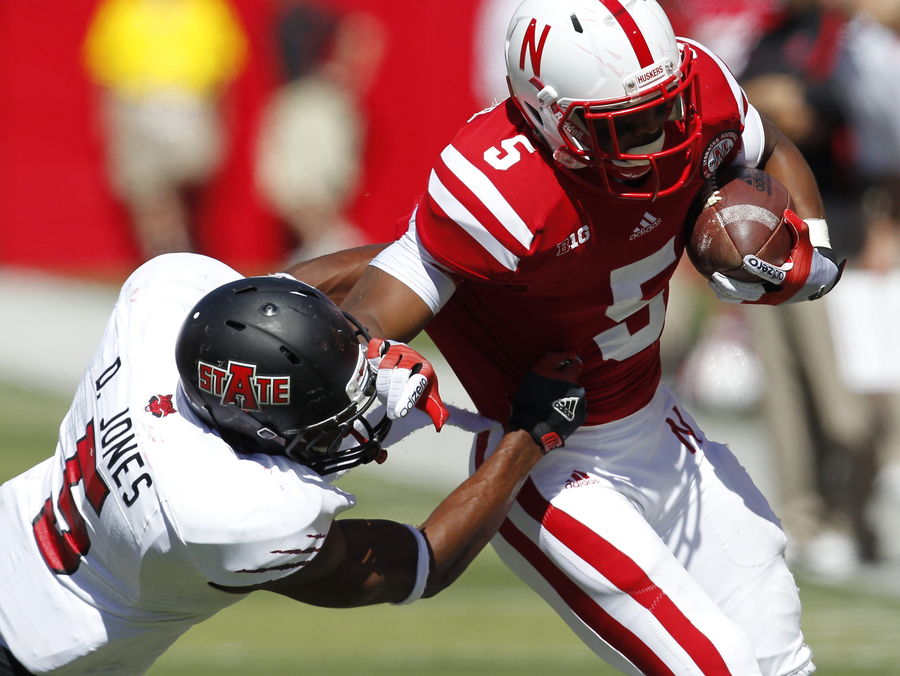 Braylon Heard takes a hit from Arkansas State's Don Jones in the second half. | Bruce Thorson-USA TODAY Sports
Maybe Pelini is overstressed. I immediately thought of Urban Meyer and his stress-related heart problems when I heard that Pelini was in the hospital.
There's no question that Bo, his staff and his players have taken a lot of heat in the past week, some of it well-deserved. The defense looked slow and tackled poorly against UCLA, the kicking game has been erratic and the offense didn't respond well to the Bruin coaching staff's halftime adjustments. With one more pedestrian opponent coming to Memorial Stadium to finish the non-conference schedule, and since they play in a conference whose reputation has taken a big hit, there's no chance for the Huskers to win style points anytime soon.
So the they have to forget about style points and focus on becoming a consistent football team. They have a nucleus of seniors to provide leadership. And now maybe they have some youngsters to provide some much-needed speed to the Blackshirts. If so, there's a good possibility of steady improvement.
That will be easier said than done, though. Nebraska still struggles with fuzzy focus in Year 5 of the Pelini regime. And there are no clear answers for why a quartet of four-star recruits have bolted the program since the end of spring practice.
Those are questions too big to be answered on a single sun-splashed Saturday afternoon in Lincoln. They will be answered slowly, week by week. Skepticism still abounds in the kingdom, and for good reason. The Huskers don't seem to have much staying power; have developed a bad habit of going stale soon after they play a good game.
This was no mountaintop experience, but there were enough encouraging signs to give many Husker rooters a boost of hope.
It was a day of significant growth for defensive coordinator John Papuchis, who stepped up and showed some leadership. His defense held the Arkansas State to 89 total yards in the second half even as he put some new faces on the field.
Junior college transfer Zaire Anderson got his first start at linebacker and redshirt freshman David Santos got a lot of snaps backing him up. Each made three tackles. Redshirt freshman Todd Peat Jr. entered the rotation at defensive tackle. Mohammed Seisay, a promising cornerback who many think can become a starter, overcame nagging injuries and stepped onto the field for the first time.
Papuchis and offensive coordinator Tim Beck followed Osborne to the press conference podium. Papuchis, who has known Pelini since their days at LSU, did the majority of the talking. He called it a "trying, emotional week," and said the team showed a lot of character, hoping to overcome its crisis of confidence after losing at UCLA.
Both Papuchis and his defense showed some life. P.J. Smith made an interception early and Eric Martin got a strip sack and fumble recovery in the fourth quarter. Everyone held steady when a freakish muffed punt set up Arkansas State with a first down at the Husker 15-yard line. There were no big plays by the ASU offense.
"I thought (our defense) played a very good football game," Papuchis said. "This week was about getting our most athletic guys on the field."
Will those younger, more athletic players be ready for the Big Ten season? We'll soon see.
Nebraska had only four penalties for 34 yards, including just one by the offensive line, which has committed only two penalties thus far in 2012. Brett Maher looked much better punting the ball, netting 46.5 yards per attempt.
OK. Enough sunshine.
One of my best friends, Mr. Glass-Is-Two-Thirds-Empty Husker Fan, correctly pointed out to me immediately after the game that the strength of the team – the offense – is still searching for consistency, that turnovers continue to plague an erratic Taylor Martinez, that key blocks were missed. No one in his right mind would suggest the Husker defense is back – Pelini and Papuchis are not confident enough about their players to attack the opposing offense very often, even on third down.
But 34-year-old Papuchis and his younger Blackshirts started to get to know each other better in the unexpected absence of their head coach. That is something positive to build on.

Formerly the sports editor at the North Platte Bulletin and a sportswriter/columnist for the North Platte Telegraph, Tad Stryker is a longtime Nebraska sports writer, having covered University of Nebraska and high school sports for more than 25 years. He started writing for this website in 2008. You can e-mail him at tad.stryker@gmail.com.
---