Stryker: Husker senior Blackshirts come up big against Michigan
Bo Pelini had reason to celebrate as he walked off the field at Memorial Stadium Saturday night.
Just a couple weeks after being on the brink of completely losing control of a season that was headed downhill fast, Pelini has his team in good position to win the Legends Division. This was a game he absolutely had to have, and his defense showed up.
In fact, the Husker seniors actually looked like seniors. Safeties Daimion Stafford and P.J. Smith got key interceptions, Baker Steinkuhler was effective, Eric Martin was disruptive and this bunch of linebackers played better as a unit than they ever have. Lavonte David, now a Tampa Bay Buccaneer, was watching from the Husker sidelines, and he must have enjoyed what he saw. Alonzo Whaley was consistent and had eight tackles. Sean Fisher, looking healthier and quicker than ever, had the game of his life. Fisher – a 4.0 pre-med student – is now a top candidate for Academic All-America after getting seven tackles, including two for loss.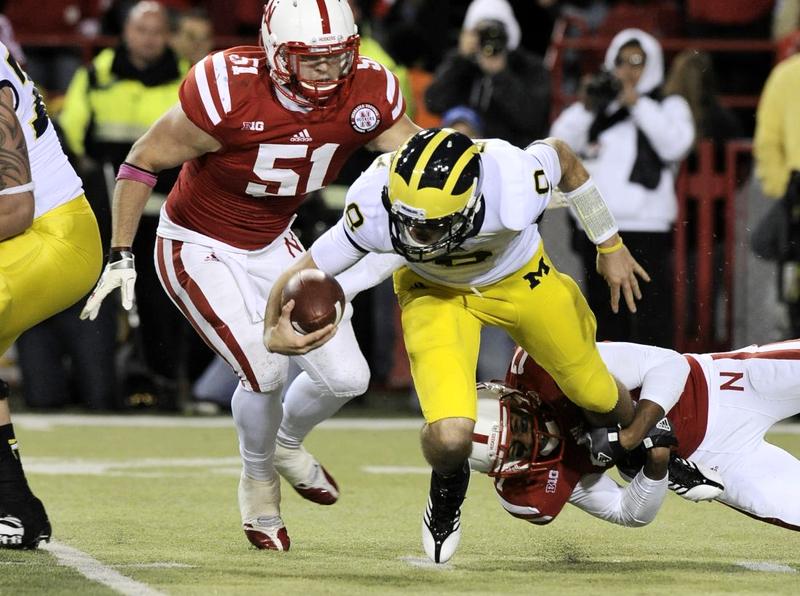 The Blackshirts take down Michigan quarterback Russell Bellomy. | Dennis Hubbard
Redshirt freshman linebacker David Santos made 10 tackles, including six solo stops and one tackle for loss. He is gaining confidence, and his speed is important to have on the field.
And speaking of the new kid on the block in the Big Ten, Pelini has a split against the conference's two longtime bullies, Michigan and Ohio State, plus the most recent success story, Wisconsin, by sweeping the games at home and losing all three on the road.
Winning the division, of course, means continuing to acknowledge that the Huskers have some "things to clean up," as Pelini has been saying all season. He's right, of course, but for the first six games, it really looked like he wouldn't be able to do much about it. The penalties and turnovers were coming too thick and fast at Pasadena and Columbus, and when the Huskers fell behind by 12 points in the fourth quarter against Northwestern, things looked brutally pessimistic. Things are starting to look up, although Nebraska still must face the reality of eight penalties for 104 yards, including three major fouls on the same third-quarter drive which gave Michigan a field goal it didn't earn. Acknowledging the problem is important, but it still needs to be solved.
The best omen for the future was that although Pelini gave some fist pumps to the cheering Husker fans in the North Stadium who were celebrating a physical, old-school Big Ten-style 23-9 win over Michigan, his players looked matter-of-fact – maybe even businesslike – in their demeanor. That's appropriate, since they have not proven themselves over the long haul. Having crashed more than once after a big win, they seemed to realize that their work is far from over.
It was crucial win for the Huskers (6-2, 3-1 Big Ten), who now hold the tiebreaker over Michigan (5-3, 3-1). A Husker loss would have all but assured the Wolverines a place in the Big Ten Championship. You could tell that Pelini wanted to make sure a big play or two by the explosive Denard Robinson didn't wreck his team's chances.
Pelini and defensive coordinator John Papuchis devised an effective bend-but-don't-break strategy to hold Michigan in check in a first half which could best be described as "cautious." But it worked. Coming into Lincoln, Michigan had 36 plays of 20 or more yards in seven games. Against Nebraska, they got just one – a 32-yard pass from Denard Robinson to Roy Roundtree. After Robinson departed with an injured elbow, the Blackshirts blitzed his replacement, freshman Russell Bellomy, and it worked.
Holding Michigan to no touchdowns and 188 total yards – only 52 in the second half – is worth a fist pump or two. And learning how to beat the Wolverines, who are to the Big Ten what Texas is to the Big 12, is no small matter. Yes, I know the Huskers have struggled on the road in the Big Ten under Pelini, but you have to get well at home first, and the Huskers did that against Brady Hoke and his bunch.
And the national media's preoccupation with Robinson missing the second half? Don't forget that all this happened with Rex Burkhead watching the entire game from the sidelines. Sounds like a wash to me. Nebraska would have punched in a touchdown after Smith's 53-yard interception return to the 4-yard line had Burkhead been full speed. NU probably would have converted a few more third downs as well. As it stood, Nebraska (4-for-12) played Michigan (5-for-15) even in third down conversions and went plus-1 in turnovers. I like Nebraska's chances against anyone in the Big Ten, including Ohio State, when the Huskers at least break even in turnovers.
Next up is a trip to East Lansing, and I don't think the points will come any easier for the Huskers, especially after Michigan State's overtime win at Wisconsin. The next step is full of quicksand, and the Husker defense will have to be every bit as rugged as they were in shutting down the Wolverines.
A few weeks ago, Pelini assured us all he has not forgotten how to coach defense. Maybe he was right. On Monday, he'll finally hand out black practice jerseys to his defensive starters (Pelini said he tried to do it after the Northwestern game, but the players told him they hadn't earned them yet). There's a lot more out there for this team to earn.

Formerly the sports editor at the North Platte Bulletin and a sportswriter/columnist for the North Platte Telegraph, Tad Stryker is a longtime Nebraska sports writer, having covered University of Nebraska and high school sports for more than 25 years. He started writing for this website in 2008. You can e-mail him at tad.stryker@gmail.com.
---