Stryker: Has Martinez left 'erratic' in rearview mirror?
Nebraska's second-biggest come-from-behind victory was a lot like its first, and Taylor Martinez was right in the middle of both.
Last year, when NU roared back from 21 points down to beat Ohio State, Martinez had a forgettable first half and a memorable second.
It was the same story Saturday night in Memorial Stadium, where Nebraska scrambled from 17 down to hand Wisconsin a disheartening 30-27 defeat. Martinez had another rocky start with his arm, but then turned around the game with his legs. The erratic-but-explosive T-Mart detonated in a big way during Nebraska's 17-point third quarter, and his 38-yard touchdown run on a quarterback draw was the game's pivotal moment.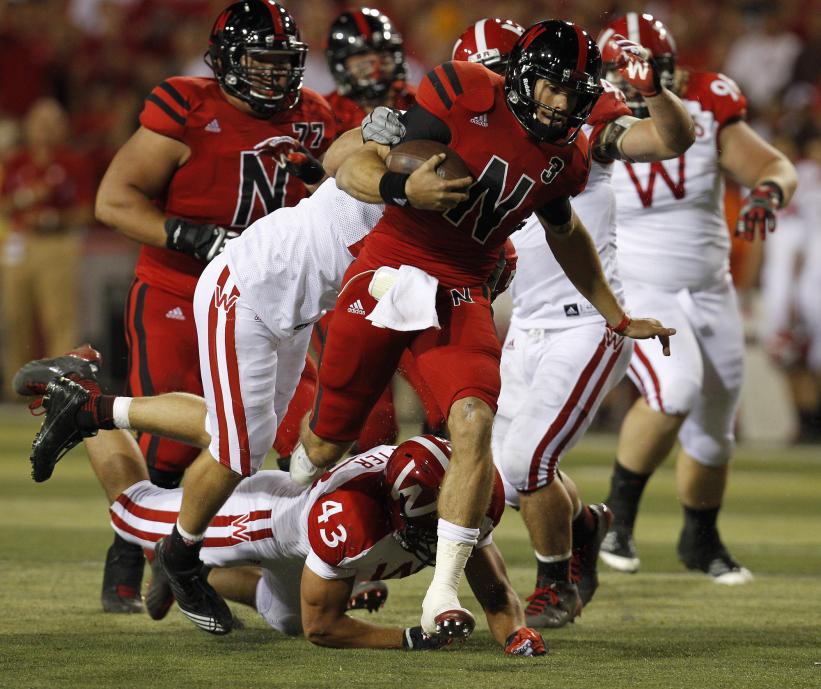 Taylor Martinez runs over Wisconsin's Michael Trotter. | Bruce Thorson-US PRESSWIRE
After a rocky, mistake-prone first half, a fuming Bo Pelini was rehearsing the same speech he's used half a dozen times over the past year. "We've got to clean some things up and stop shooting ourselves in the foot," he told the Husker radio network reporter at halftime. Nebraska players seemed tight and tentative, and seniors were making mental mistakes. When Rex Burkhead, the Huskers' best running back, and Spencer Long, their best offensive linemen, collided and Burkhead fumbled the ball away to give Wisconsin a short field, an easy touchdown and a 14-0 lead, Memorial Stadium seemed to settle into a disbelieving stupor.
But the crowd recovered when Martinez did.
The junior quarterback moved the chains when the Huskers desperately needed him to, converting on four of eight third downs in the second half and he did it on a big, noisy stage. Once the Huskers gave them something to work with, the crowd of 85,962 played a key role in the comeback, making the old stadium rock and showing that you can make a big difference while staying classy.
Frankly, this was a must-win game for a Cornhusker team that has aspirations of a Big Ten championship in what has turned into Tom Osborne's last season as athletic director at Nebraska. And it was gratifying to see Martinez perform in a high-pressure atmosphere with a lot at stake. If Nebraska loses to Wisconsin at home, it has very little chance of winning the Legends Division, let alone the conference title game.
The whole team overcame adversity, but none more dramatically than Martinez.
Nebraska handed Wisconsin the short field to set up two touchdowns and kept a third scoring drive alive with an untimely roughing-the-kicker penalty. In fact, the game started exactly the way the Badgers needed it to, and they were set up to chew clock with their running game after going ahead 27-10 with 10:29 left in the third quarter. But in their finest performance of the season, the Blackshirts wouldn't allow it, holding the Badgers to only 84 total yards in the second half, including minus-8 rushing yards.
Martinez missed wide-open receivers on several occasions in the first half and was getting outplayed by Wisconsin redshirt freshman Joel Stave, but he didn't lose heart. He kept throwing and started leading and – once the Husker running game started working – he was able to complete some critical passes. He found his tight ends over the middle and checked down to his running backs. He seems to be developing a better pocket sense and is learning to keep plays alive with his legs.
Burkhead and the offensive line came alive after intermission, and the Huskers got 191 of their 259 rushing yards in the second half as the normally tough Wisconsin defense started to wear down. Martinez got better pass protection the longer the game went on, and he made Wisconsin's secondary pay, completing 17 of 29 passes for 181 yards and two scores with no interceptions. Just as importantly, he ran for 107 yards and another touchdown.
Possibly the biggest play of the game (as far as long-term implications are concerned) was Jamal Turner's diving catch of a 27-yard pass on a deep curl route in the third quarter. Turner has always seemed like an athletic playmaker who can never quite get out of his own way, and that catch may give the sophomore just the confidence boost he needs to become a big-play threat.
Four plays later, Martinez hit Kyler Reed on a 10-yard scoring strike that got Nebraska within three points at 27-24.
Two late field goals by the reliable Brett Maher put the Huskers over the top.
Now they look ahead to a pair of road trips. The first, to Ohio State, looks very tough for a Husker team that has not yet learned to put together four solid quarters of football, let alone two solid conference games in a row. As Pelini made it clear after the game, it's nice to be able to win when you're not playing your best, but Nebraska has a lot of improving to do if it wants to keep winning.
So does its quarterback. Is Martinez finally prepared to leave his old nemesis, Mr. Erratic, in the ditch and keep moving down the road?

Formerly the sports editor at the North Platte Bulletin and a sportswriter/columnist for the North Platte Telegraph, Tad Stryker is a longtime Nebraska sports writer, having covered University of Nebraska and high school sports for more than 25 years. He started writing for this website in 2008. You can e-mail him at tad.stryker@gmail.com.
---