Stryker: Change the theme or change the scheme
Yards, but not points. That's a deadly theme for a football team, and sadly enough, a familiar theme for an inconsistent, mistake-prone football team.
Those are the themes of Scott Frost's Nebraska offense after 26 games. Changing that theme will be the main goal of the rest of this virus-ridden 2020 season. If he can't change the theme, Scott Frost may have to change his scheme, because he's nowhere near making the Big Ten adjust to him. Frost has zero margin for error if he's to avoid his third consecutive sub-.500 season.
Frost's offense has become a parody of itself under Adrian Martinez, who can pile up statistics but has a devil of a time getting his team into the end zone. The most alarming thing about the Huskers is the offensive line, which returned all its starters from last season and really should be the strength of this team. Surprisingly, Nebraska's completely new defensive line has played much better than the o-line. The defense has some issues, but Frost came to the Big Ten planning to outscore his opponents if his defense could just get a few stops and turnovers. Eric Chinander's defense did that, and more, against Northwestern.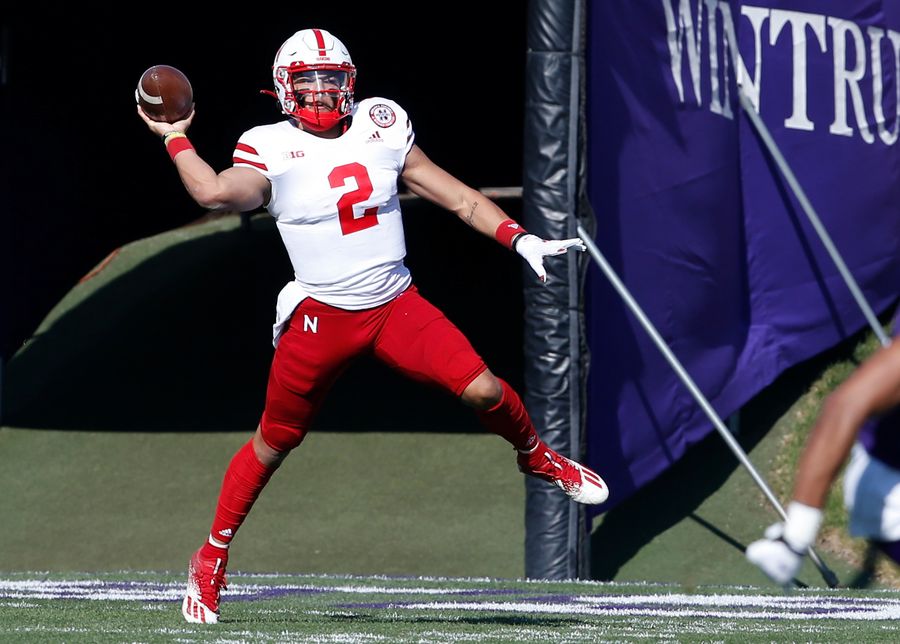 The silver lining surrounding this game was the work of young players on defense, especially Myles Farmer, who started at safety for the suspended Deontai Williams. Farmer, who had two interceptions, made a fearless play before halftime, undercutting a sideline route and set up Nebraska's only touchdown of the day by returning his pick 37 yards to the 3-yard line late in the first half.
Sophomore linebacker Luke Reimer led the team with 10 tackles, including 1.5 tackles for loss. Redshirt freshman Ty Robinson was disruptive on the defensive line.
The offense? It played its role perfectly in Pat Fitzgerald's game plan, which was to cover deep, and make Nebraska drive the length of the field, counting on the Huskers to commit penalties and turnovers. Five first-half penalties set the tone, and two devastating second-half interceptions sealed Nebraska's fate.
The saving grace of the Huskers' 21-13 loss at Northwestern Saturday is that some of the players making the mistakes are extremely young. But not all of them. A big disappointment a bunch of seasoned offensive linemen making more than their share of errors, and they couldn't atone by punching the Huskers in for a score even after two pass interference penalties set them up with numerous opportunities deep in the red zone.
It's time to question the lack of leadership and execution from Adrian Martinez and the lack of development in the offensive line. I understand that the Northwestern defense is tough and well experienced, but Nebraska has a lot of returning starts on the o-line. It simply wasn't a factor in this game.
Nebraska had the single most explosive player on the field, but Wan'Dale Robinson was nearly a non-factor as well, which is almost as troubling.
Dedrick Mills, supposedly the "bell cow" of the offense, has to do much better than 59 yards on 19 carries.
In his first two tries as run game coordinator, Greg Austin has produced nothing that resembles a north-south ground game. The Huskers are overly dependent upon speedy quarterbacks scrambling for big gains. That's not going to cut it in the Big Ten. What happened to the offense that shredded the Wisconsin run defense last season?
Frost played some of his young wide receivers, too little and too late. Marcus Fleming and Zavier Betts looked promising. Omar Manning had only one target. Will they become factors?
This team is still weak on fundamentals in every phase of the game. Laying aside the failures of the offensive line, the Huskers have way too much trouble throwing simple slant routes, and their utter inability to make their wide receiver screen game work is astounding. Frost's offense will not keep any defensive coordinator awake at night if they can't execute those basic plays.
Kickoff and punt coverage will be fruitless if players who cover kicks cannot break down and make a secure tackle. This happened twice in the second half, and both times it set up Northwestern with a short field and a touchdown drive.
The defense will continue to leak crucial third-down conversions if its most experienced players, Williams and Cam Taylor-Britt, keep trying to shoulder-bump their opponents instead of wrapping up. They both missed tackles on Northwestern's fourth-quarter touchdown drive. On this day, the Blackshirts would have been better off if Chinander had played Farmer and Quentin Newsome more in the second half.
I thought that by his junior year, the game would start to slow down for Martinez, but he continues to show a lack of field vision. Since the end of his freshman year, he has produced more turnovers than touchdown passes. It happened again on his final snap of the day, when he failed to see a teammate who appeared to be open for a 25-yard touchdown. Instead, he waited a couple of extra seconds and tried to get the ball to Austin Allen in the back of the end zone. Northwestern safety Brandon Joseph made the interception with 1:56 left in the third quarter, and Martinez never saw the field again.
It's hard to say whether that interception was worse than Luke McCaffrey's hard-to-fathom deflected pick with six minutes left in the game. McCaffrey was under almost no pressure, but tried to force the ball to a covered receiver on a quick slant, and hit one of his offensive linemen in the head. Like Martinez, he showed he could move the team down the field, but could not close the deal.
At pivotal moments, the Huskers go wobbly in the knees. Nebraska outyarded the Wildcats 442-317, but had an ugly 4-for-16 day on third-down conversions and scored only one touchdown on six trips into the red zone. Nebraska needs to finish drives, regardless of who lines up behind center.
Nebraska heads into the Penn State game with two talented but unsteady quarterbacks and a reputation for shooting itself in the foot. It has a lot of talented redshirt freshmen and sophomores who will emerge. The question is when, and how. It's time for the Huskers to overcome their reputation. Who will lead the way?
A longtime Husker fan, sportswriter and history buff, Tad Stryker started writing for this website in 2008. You can email him at tad.stryker@gmail.com
---
---
---
---