Stryker: Buckeyes' Miller outclasses Martinez, Blackshirts
This football team is in no condition to travel.
A challenging road trip requires a dependable vehicle, but dependability is in short supply on the Nebraska football team.
Ohio State's offense, which had struggled throughout the unbeaten Buckeyes' first five games, suddenly got quite healthy indeed against the Cornhuskers in a 63-38 rampage,
It seems hard to believe that this game actually got off to a pretty good start. The offense shrugged off a early pick-six thrown by Taylor Martinez and got rolling behind Rex Burkhead and the offensive line In fact, the Huskers were a well-oiled machine for one quarter, outgaining OSU 137-17, but after Martinez threw another interception early in the second quarter, they careened wildly into the ditch.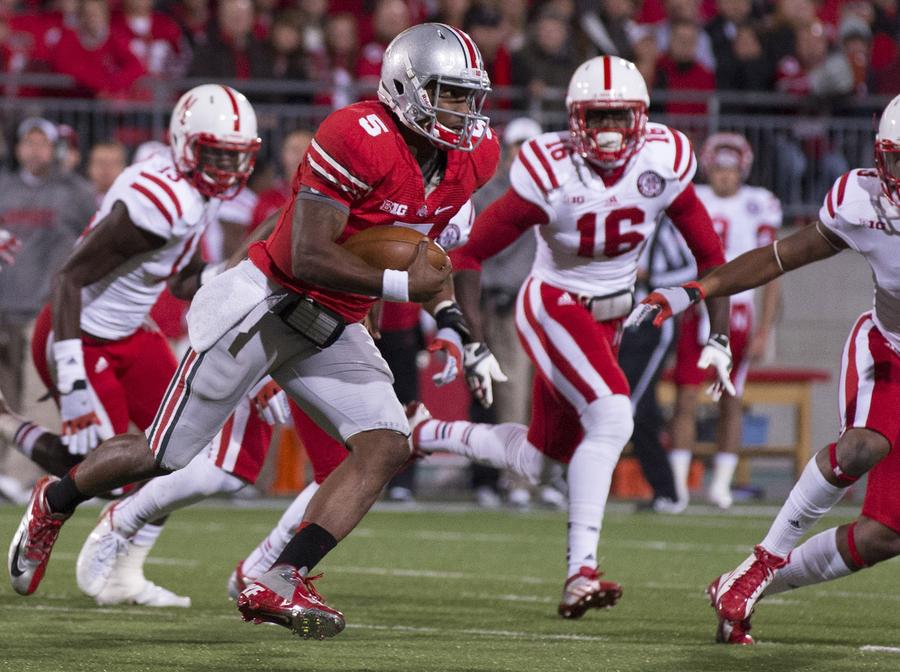 Braxton Miller breaks through the Nebraska defense on a 72-yard run. | Greg Bartram-USA TODAY Sports
The Huskers were completely outclassed, undone and left in the dust by Braxton Miller.
It doesn't take a mechanic to know that a vehicle follows the lead of the man behind the wheel. Miller played like a Heisman candidate against Nebraska, rushing for a career-high 186 yards and starting the the Huskers on a downward spiral of confusion by applying continual pressure and driving the Huskers to distraction until the Blackshirts caved. Meanwhile, Martinez reprised his all-too-familiar role of distracted driver.
Inconsistency still reigns in Lincoln. The blowout losses are still happening in year five of Bo Pelini's tenure. The 2012 Huskers reverted to their bad habits of last year – a rollercoaster defense that stuffs a good running game one week, then looks like it's wearing cement shoes the next, a anxiety-ridden offense plagued by penalties and turnovers, and serious breakdowns on special teams.
The two quarterbacks came into the game almost as mirror images of each other – both erratic and explosive. But Miller never came close to turning the ball over.
Meanwhile, Martinez ran his own offense off the road with four crippling turnovers. His two first-half interceptions set up 14 easy points for the Buckeyes. In the third quarter, Martinez seemed bothered by more than just the onrushing Ohio State defense when he badly underthrew his receiver at the OSU 10-yard line for his third pick of the night despite having almost no pass rush to worry about.
The Husker offensive line came a little more unglued with each Martinez miscue. By halftime, after a rash of illegal procedure penalties, it was in desperate need of a stabilizing influence. But that influence – Burkhead – had to leave the game when he re-injured his left knee early in the third quarter. That left T-Mart to run things by himself, and it didn't work out very well in front of a record Ohio State crowd.
It's a foregone conclusion that Martinez will break all-time total offense and passing records at Nebraska – if for no other reason than longevity. But numbers aren't everything. Leadership is more important – especially in a big game in a hostile environment. Just one week after showing improvement in this category against Wisconsin, Martinez offered very little leadership against Ohio State.
With more than 30 starts under his belt, Martinez is no longer young or inexperienced, but he looks that way quite often when on a big stage. He had his good moments Saturday night, passing for 214 yards and a touchdown, but sometimes the game seemed to be moving a little too fast for him.
He wasn't the only Husker to stumble. The entire Husker defense suffered multiple system failure, allowing five consecutive touchdown drives midway through the game and looked completely lost trying to tackle the elusive Miller, who effectively cut back against the grain and left unblocked Huskers grasping air all night long. Second-string tailback Carlos Hyde rushed for 100 yards for the second consecutive year against Nebraska and scored a career-high four touchdowns.
Pelini had few answers – neither on the sideline during the game nor in the press conference afterward. All he can do is prepare for the road trip to Evanston, Ill., to face Northwestern Oct. 20. One of his main jobs will be to get his players to communicate better with each other on the field.
This football team is in no condition to travel. But it needs to get ready.

Formerly the sports editor at the North Platte Bulletin and a sportswriter/columnist for the North Platte Telegraph, Tad Stryker is a longtime Nebraska sports writer, having covered University of Nebraska and high school sports for more than 25 years. He started writing for this website in 2008. You can e-mail him at tad.stryker@gmail.com.
---