Stryker: Blackshirts' five interceptions help finish off Wyoming
Stryker: Blackshirts' five interceptions help finish off Wyoming
Now Riley gets possibly his best shot at longtime nemesis Oregon
It's inevitable that Tommy Armstrong's fingerprints were all over the wreckage of the Wyoming Cowboys after Nebraska's 52-17 win Saturday. Armstrong deserves cheers for setting the Nebraska career record for touchdown passes (his 57 TDs eclipse the old mark held by Taylor Martinez). More career passing records will fall. But it was NU's defensive backfield that made Wyoming crash and burn.
Five pass interceptions — all in the second half — gave Nebraska the fuel it needed. Not since the Idaho game in 2010 have the Blackshirts picked off that many passes. Nate Gerry got two; Aaron Williams, Kieron Williams and Chris Jones got one apiece.
Traditionally, Wyoming gives Nebraska a hard go of it whenever it comes to Lincoln. They caused plenty of anxious moments for two national championship-caliber Cornhusker teams (1994 and 1983). Two less memorable Husker squads (2013 and 1968) had to sweat out three-point decisions over the Cowboys.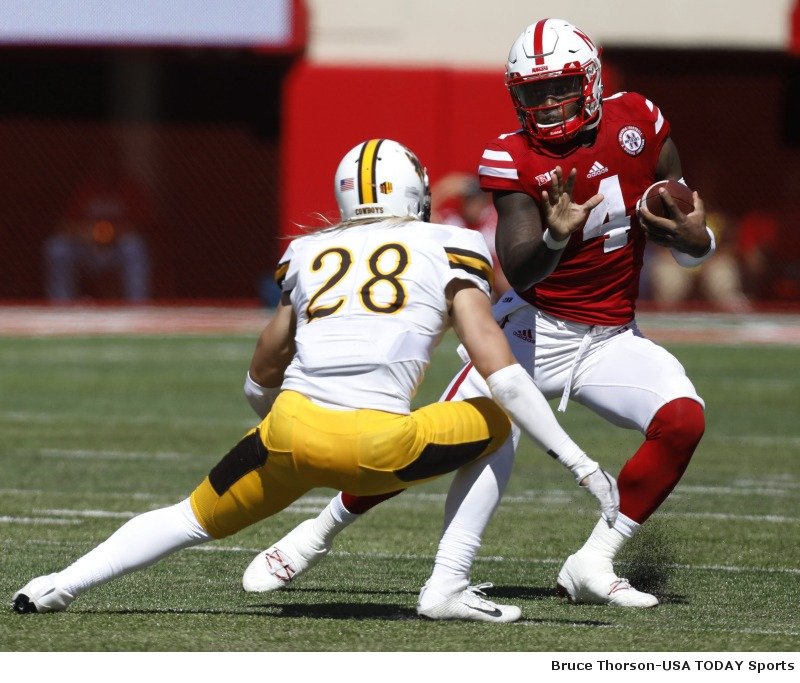 ​
For three quarters, that pattern held true. The Cowboys trailed by only a touchdown, largely because of an untimely end zone interception thrown by Armstrong and their own run-blitzing success that rendered the NU ground game ineffective. The Huskers were caught in the doldrums, floundering on offense, committing four of their seven penalties in the third quarter and generally having trouble getting out of their own way. In fact, the score would have been tied had it not been for Kieron Williams' brilliant 23-yard interception return for a touchdown late in the third quarter.
Then something very non-traditional happened. Nebraska buried an opponent by grabbing takeaways. Defensive coordinator Mark Banker called it a "finish-finish-finish" mentality. Whatever the label, it certainly ended the Cowboys' chances for an upset. Three more picks and Ross Dzuris' alert recovery of a fumbled lateral set up three easy touchdowns for the Big Red, which has been living in negative territory on turnover margin for so long, they scarcely know how to play downhill. For the second consecutive week, a big fourth quarter turned a tense situation into a blowout win for Nebraska, which now can focus on what surely will be a pivotal game against Oregon.
NU is plus-seven in turnover margin after two games. Let that sink in for a moment, and then ponder whether that is a trend or just an aberration. For all the noise made by Armstrong and his impressive stat line (20 of 34 passes for 377 yards, three touchdowns and that one interception) the relative steadiness and stoutness of the Blackshirts is the story thus far. But they haven't faced team speed like the Ducks will throw at them next week.
The Husker defense allowed 320 total yards, mostly because it gave up a few big-chunk play (notably a pair of jet sweeps that went for 42 and 28 yards, and a 35-yard TD pass from Josh Allen to Tanner Gentry with eight seconds left in the first half), but they avoided killer big plays, and put together six three-and-outs (or better).
The Davis twins — first Carlos, then Khalil — took turns filling in for Mick Stoltenberg at defensive tackle and held up well. Kevin Maurice has been steady, as has the linebacking unit.
Coach Mike Riley said his team, which struggled with the 11 a.m. time slot last season, showed more energy this time out, although the seven penalties reval a lack of focus and are still a matter of concern. They'll tee it up at 2:30 next Saturday against Oregon.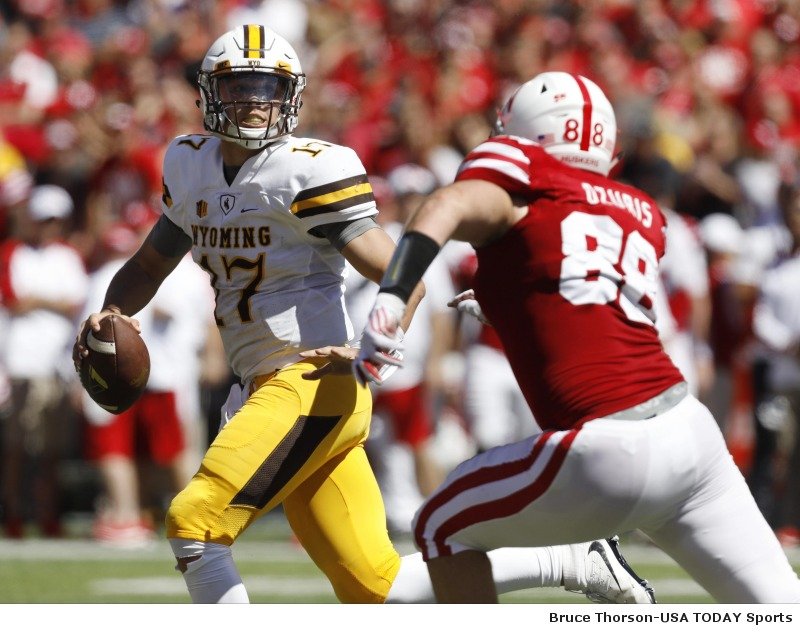 ​
After the game, Riley did not sound like a coach that was satisfied. He and his staff — most of them having coached together at resource-strapped Oregon State — have to be eager for a shot at the Ducks on a more level playing field than they've had for many years. The upcoming week will be a real test of their preparation and teaching skills.
It's hard to say whether they'll lean more heavily on the run or the pass against Oregon. Wyoming's success against the run (the Huskers rushed 43 times for only 138 yards) forced the Huskers to the air early and often. Ten players caught passes for Nebraska, including four apiece by Jordan Westerkamp and Terrell Newby, and three by Alonzo Moore, who had another long touchdown catch on a beautiful slant route that broke clean for 63 yards in the second quarter. Nebraska's 550 yards of total offense should at least get the attention of Oregon's defensive coordinator, Brady Hoke.
After the game, NU offensive coordinator Danny Langsdorf hinted he expects Oregon's first-year DC will cook up something unexpected for the Huskers, who ran well but passed poorly against Fresno State, then ran poorly but passed well against Wyoming.
The Huskers will need a better — maybe "steadier" is a more appropriate word — game out of Armstrong, who has completed 56.8 percent of his passes this year. He made good decisions early against the Cowboys, but he inexplicably threw a first-and-goal pass directly to Wyoming free safety Andrew Wingard at the goal line in the second quarter. In the first six minutes of the third quarter, he had one of his bad stretches (including a fumbled handoff, missing a wide-open Cethan Carter and then throwing a likely pick-six that was dropped by a Wyoming defender. Those warning signals could turn into something worse against Oregon.

Formerly the sports editor at the North Platte Bulletin and a sportswriter/columnist for the North Platte Telegraph, Tad Stryker started writing for this website in 2008. You can e-mail him at tad.stryker@gmail.com. Stryker is a freelance writer, favoring topics related to Nebraska history or Christianity. You can buy his recent book at this link.
---
---
---