Stryker: After edging Northwestern, Huskers on the brink of something
That sinking feeling in your gut late Saturday afternoon was Nebraska's proud football program teetering on the brink of irrelevancy in college football. Then again, that surge of pride – and relief – was Nebraska getting up off the deck and throwing punches, staging two gutsy fourth-quarter drives that showed resilience and character in a game where everything seemed to be collapsing around the Cornhuskers **– mostly because of self-inflicted wounds.
The Huskers (5-2, 2-1 Big Ten) avoided a slide that leads to the lagoon where .500 football teams live. They also put themselves in good position in the Legends Division race, setting up a high-stakes game against Michigan next Saturday night in Memorial Stadium.
This time the Huskers won a road game against a team with a mobile quarterback.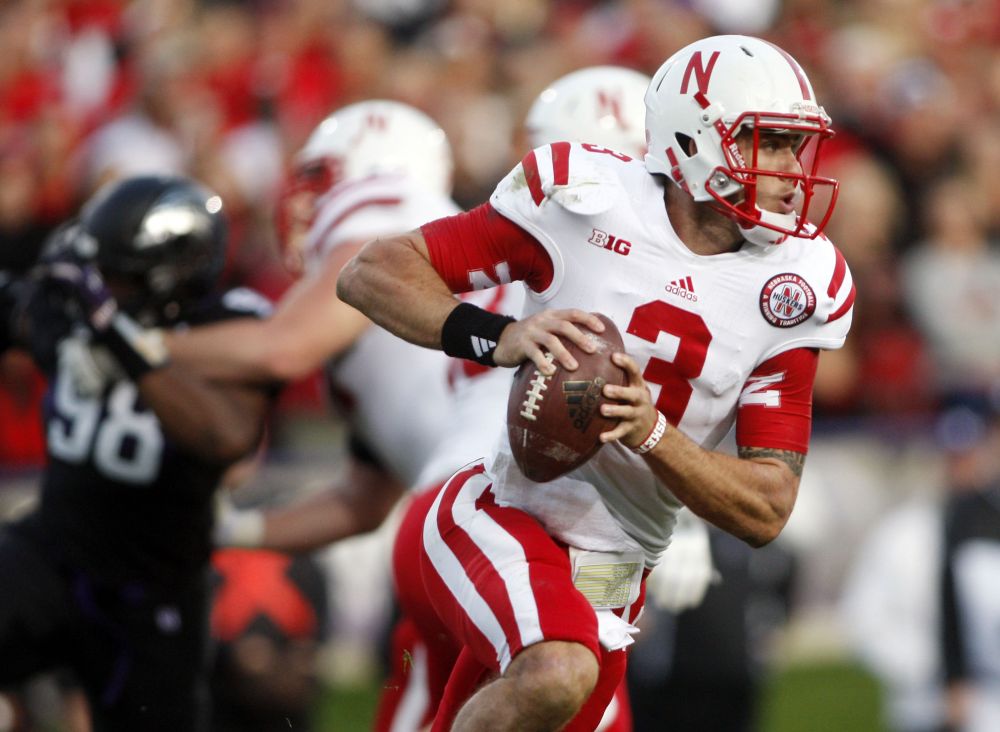 Taylor Martinez scrambles during the fourth quarter. | Jerry Lai-USA TODAY Sports
This time, Taylor Martinez played the role of effective dual-threat QB. He was not the one making the errors; he was the one overcoming them.
This is a devilishly hard team to figure out, let alone have confidence in. You've got seniors making unsettlingly sophomoric mistakes, usually involving fundamental communication breakdowns. You've got coaches who sound surprised at what they get from their team on a weekly basis. In his postgame press conference, Bo Pelini vaguely referred to a "lack of awareness."
Nebraska's players are mentally tough enough to come back from two daunting second-half deficits in Big Ten games. Yet they often appear confused. Stunningly, the Husker offensive line sometimes looked like five people who had just met each other for the first time. On more than one occasion, Nebraska tackles and tight ends allowed defenders to pass between them unmolested, like a shortstop and third baseman permitting a pop fly to drop between them. There was an alarming amount of confusion on a veteran offensive line during the fifth year of Pelini's coaching tenure.
Yet the Big Red piled up more than 500 yards of total offense, largely because of Martinez, who overcame shaky pass protection to find and an increasingly brilliant set of wide receivers often enough to give the Wildcat secondary nightmares.
We know this for sure: the Huskers have won two of three as they travel through we all thought would be a make-or-break five-game stretch.
The Husker defensive line showed improvement while the o-line took a step back. The linebackers showed improvement even as the running backs were largely held in check by the Northwestern defense.
This team needs stability in a big way. It often has come from Superman – but Rex Burkhead aggravated his left knee injury and barely played at all. When Burkhead is out, the team suffers a leadership deficit. There are other disconcerting issues. ABC-TV cameras caught a shouting match between Pelini and senior cornerback Antonio Bell after Bell was flagged for a defensive holding penalty on Northwestern's final touchdown drive.
On Saturday, the oft-erratic Martinez provided stability, although a good effort by the Blackshirts against Northwestern's zone-read offense may have been the story of the day. The Huskers forced 10 three-and-outs and their run defense was gashed only once – on an 80-yard scoring run by Venric Mark in the third quarter, and gave up a respectable 301 total yards. Pelini and John Papuchis came up with a good game plan. Ciante Evans, who held Kain Colter to three catches and 17 yards as a pass receiver, is becoming the best player on the Husker defense.
Allowing Colter only 69 total yards was a major victory for the Blackshirts. I was surprised that Colter lined up under center as little as he did.
On the other hand, the Huskers did not force a single turnover. They even found a way to give away a takeaway, when Daimion Stafford allowed himself to be drawn into a meaningless shoving match on punt coverage and was whistled for personal foul. This team won't win often going minus-3 in turnovers.
Yet there were encouraging signs. The defensive backs look increasingly comfortable in press coverage. Redshirt freshman linebacker David Santos made an athletic tackle for loss on Colter's option run in the second quarter. Jamal Turner has improved at wide receiver each week this season.
This is a team and coaching staff on the brink of something. Does anybody have a clue what that something is? Maybe clarity – and confidence – will come calling after the Michigan game.

Formerly the sports editor at the North Platte Bulletin and a sportswriter/columnist for the North Platte Telegraph, Tad Stryker is a longtime Nebraska sports writer, having covered University of Nebraska and high school sports for more than 25 years. He started writing for this website in 2008. You can e-mail him at tad.stryker@gmail.com.
---
---
---
---