Stryker: A cameo by the old master and consistency on the horizon
There was a time not so long ago when Nebraska was a football program that could pretty much disregard what other teams were doing. If Nebraska was right, it really didn't matter how poorly or well the other guy was playing. It was only a matter of time before he'd fall to the Big Red. That was the process; if the Cornhuskers prepared like they should, if they controlled what they could control, all was well.
That's what consistency can do for you. It's been an elusive commodity for the Huskers since Osborne announced his retirement as head coach in 1997. When it's there, when it's happening week after week, it's rare theater, something that can bring grown men to tears.
There were glimpses of consistency Saturday as Nebraska smashed Minnesota 38-14. Laying aside the coincidence of NU's 16th consecutive win over the Gophers (who haven't beat Nebraska since the Eisenhower administration), there are signs that the Huskers are going to be very tough for anyone to beat as the 2012 season winds down. Start with Taylor Martinez.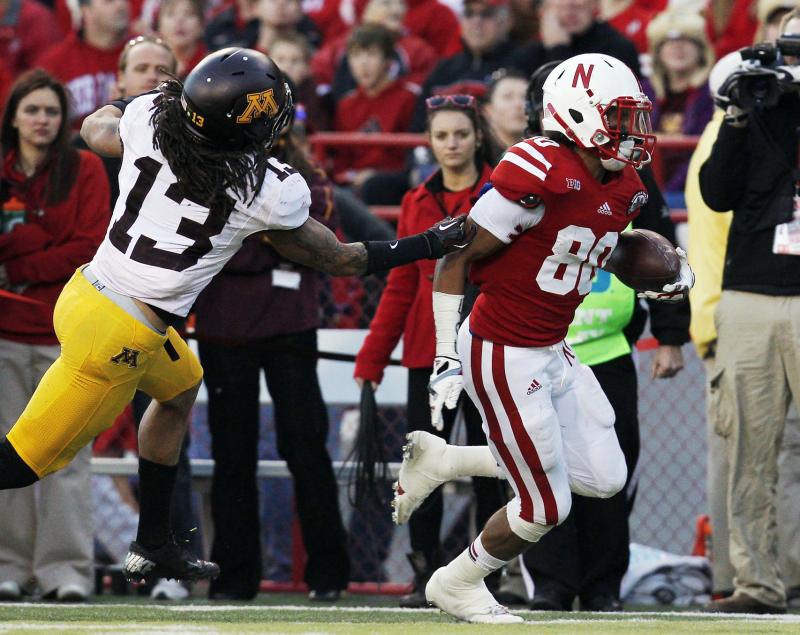 Kenny Bell catches a touchdown pass against Minnesota's Derrick Wells. | Bruce Thorson-USA TODAY Sports
Ignoring the south wind that gusted up to 28 mph, Martinez sliced up Minnesota by completing 21 of 29 passes for 308 yards and two touchdowns. Long characterized by his explosive but erratic play which has enabled him to pile up impressive statistics but no championships, Martinez has come to the threshold of a new phase in his career. Can he lead the Huskers through the passageway that leads to a title?
Enjoying good protection, Martinez looked comfortable and in control as he audibled his team into effective plays all afternoon before sitting out the fourth quarter with the game long decided. His accuracy was never in question. It was the third 300-yard passing day of the season for Martinez, which may not seem like much to younger Husker fans who don't realize that no Nebraska quarterback had ever passed for 300 yards in a game until after Osborne ended his coaching career.
His go-to wideout, sophomore Kenny Bell, was just as consistent. Bell made nine catches and scored a pair of touchdowns, assuring himself of a first-team All-Big Ten selection. Bell has at least one reception in 23 consecutive games, the third-best streak ever by a Husker.
Martinez didn't need the normally-potent Husker running attack against Minnesota, and Bo Pelini held Rex Burkhead out of the game another week with a trip to the Big Ten Championship against Wisconsin looking more and more likely. Burkhead should be ready by then, and possibly by Friday's regular-season finale at Iowa City. In the meantime, Ameer Abdullah, the best backup in the conference, pushed his season rushing total over the 1,000-yard mark, and freshman Imani Cross scored two touchdowns.
Then there was part played by Jerry Kill, the Minnesota coach, who paid tribute to the Blackshirts, saying that his team was whipped up front.
"We got dominated at the line of scrimmage," Kill said, reprising a theme that used to fall from the lips of nearly every opposing coach who ventured into Memorial Stadium. Among the most encouraging story lines were the performances of Baker Steinkuhler and Cameron Meredith, a pair of seniors who have had middling to above average careers but are hitting their stride at just the right time, along with the rest of the Husker defense. Middle linebacker Will Compton, the leader and signal-caller on defense, had a team-high 10 tackles to celebrate Senior Day with the first class signed by Pelini.
The Blackshirts are getting better. This is the bunch that was soft up the middle last season and still looked suspect early this year after being gashed by UCLA and Ohio State. But holding a respectable Minnesota team to 177 total yards is a good sign, coming right after encouraging home performances against Penn State and Michigan. Toss in a manageable five penalties for 47 yards and an even game in turnover margin and you've got some significant momentum building.
This Nebraska team is a long way from mid-1990s form, but it has a playmaking quarterback and a defense that's improving by the week. That's a winning combination right there, something you need to win a conference championship.
Nov. 17, 2012, will long be remembered in Lincoln as the day Dr. Tom made his encore appearance. Even though it was just a cameo, it was one more glimpse of the old master – a thing of beauty. It will also be remembered for another flash from the past. Nebraska wrapped up an undefeated season at home, going 7-0 in Memorial Stadium. That's what championship teams do, but the Huskers hadn't done it since 2001, Eric Crouch's senior year. It's a solid mark of progress for Pelini.
One milestone has been achieved, and more are within reach. Can Nebraska rediscover the strong finish? It was a staple of Pelini's first two seasons. With the win, Nebraska improved to 15-4 in November games under Pelini, including 9-1 at Memorial Stadium. With Ohio State on probation, the Big Ten is there for the taking, but any significant misstep will prove very costly. Now the Huskers must stay focused on the process – a priority that Osborne handed down to Pelini, but something that has proven very hard to master.
Osborne's final run onto the turf at Memorial Stadium brought a lump to the throat of most of the sellout crowd on hand to witness it. It was an obvious bit of theater to bring out the man who has meant so much to the Husker program, who was honored for his 500th football game as a coach or athletic director at NU – that's more than 40 percent of the football games Nebraska has played since 1890. But it was no slam dunk for the self-effacing Osborne to agree to do it.
Likely the Hall of Fame coach deferred to Pelini, who persuaded him to step into the spotlight one last time.
"I asked Coach to do it," said Pelini after the game. "He was reluctant to do it, and I thought it was the way it should be. I told him it'd mean a lot to me and to the football team and that it's the way I think it should be. Not just for us, but I think the fans wanted to see him walk out of there one last time. I think it's obvious why that should happen."
It was an unforgettable moment for Husker fans, a fitting moment for Osborne, but also a great one for Pelini, who showed the confidence and humility needed to gain traction as CEO of the Nebraska football program. And maybe to bring some consistency to a program that has been dying for it.

Formerly the sports editor at the North Platte Bulletin and a sportswriter/columnist for the North Platte Telegraph, Tad Stryker is a longtime Nebraska sports writer, having covered University of Nebraska and high school sports for more than 25 years. He started writing for this website in 2008. You can e-mail him at tad.stryker@gmail.com.
---