Sneak Peek of Day by Day Husker Movie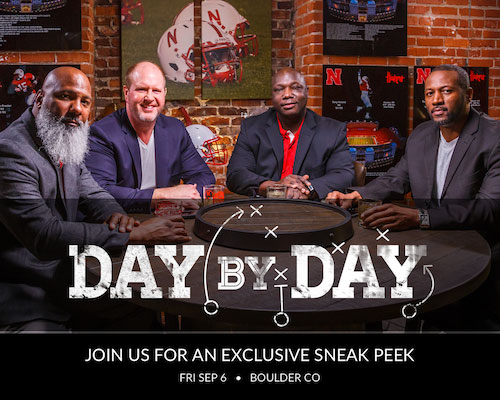 The first exclusive Sneak Peek of the movie Day By Day will be shown Friday Sept. 6, at The Embassy Suites in Boulder, CO from 6 PM – 10 PM.  A story when Nebraska reigned supreme above all others from 1993-1997. Only 400 tickets are available.
The evening will be MC'd by Ahman Green and attended by a number of former Nebraska players and fans.  Kicking off the evening, Alumni CAP will be presenting Career Achievement Plaques to several former Husker Football players.  The CAP serves as a living memorial and standard of commitment to the recipient's school, teammates and coaches.
The evening continues with a sneak peek of the movie Day by Day where the producers will show parts of the film and behind the scenes footage.  Producer Justin LePera will take you through an interactive interview with the coaches and legends who played on these teams with behind the scenes footage, out takes and the team and coaches personal stories.
Former Husker players felt it was important to partner with Hollywood's premier Sports Documentary filmmaker and producer, Justin LePera to tell this story.