Gameday events & info
ESPN College GameDay
The University of Nebraska will host ESPN's College GameDay on Saturday in Lincoln marking the show's first trip to Lincoln since 2007.
ESPN will originate the show on the east side of Memorial Stadium, just outside the Nebraska Coliseum. College GameDay will air live on Saturday morning from 8-11 a.m. CT, with live segments from Lincoln on other ESPN platforms beginning at 6 a.m.
ESPN's College Football Live will originate from Lincoln on Friday afternoon at 2 p.m. from the same location.
In order to accommodate College GameDay, Husker fans should be aware of the following parking information:
All football donor lots will open at 6:00 a.m. Saturday morning, with the exception of Lot 12.  Donors with valid parking permits will have their parking permit stubbed upon entry into the lot.  Donors will not be allowed to exit the lot and re-enter after having their parking permit stubbed, and should plan to park in public parking cashiered locations for a fee if planning to exit and return closer to game time.
Donors who wish to park near Memorial Stadium Saturday morning, attend ESPN's College GameDay show, and leave at the conclusion of the show, should plan to utilize public cashiered parking locations surrounding Memorial Stadium.  All general public cashiered parking will be available beginning at 6:00 a.m.  This includes Haymarket Park lots, the Pinnacle Bank Arena Festival Lot, and some UNL Campus Parking lots.
Donors holding Lot 12 parking passes will receive direct communication from the Huskers Athletic Fund staff.
University of Nebraska students who are interested in watching the show from College GameDay's Pit will have access to that area beginning at 5:30 a.m. on Saturday. Students who enter this area will be screened and must adhere to all of ESPN's rules for being located in the pit area. No food or drink is allowed in the area, and screening will include bag checks and inspection of all signs. Sign restrictions include: no vulgar, political or religious signs. Also, signs can't promote outside brands or websites.
For fans who do not want to be part of the pit area, there will be plenty of space outside the East Stadium to enjoy the show, and come and go as they please.
And the guest picker in Lincoln is … 👏👏 https://t.co/8ln48RD0Vd

— College GameDay (@CollegeGameDay) September 26, 2019
Nissan Heisman House Tour
The "Nissan Heisman House Tour" heads to Lincoln on Sept. 28 when the Cornhuskers take on No. 5 Ohio State in a Big Ten matchup.
WHO: NU football greats, along with ESPN's Mike Golic Jr.:
1972 Heisman Trophy winner Johnny Rodgers, who made his mark as one of college football's most electrifying players, will appear from 2:00 p.m. to 3:30 p.m., participating in both a Chalk Talk session with ESPN's Mike Golic Jr. and a photo session with fans.
2001 Heisman Trophy winner Eric Crouch, one of the best option quarterbacks in college football history, will appear from 4:00 p.m. to 5:30 p.m., participating in both a Chalk Talk session with Golic and a photo session with fans.
WHAT: Nissan and ESPN invite fans to "Get to know the Heisman Trophy Winners" during a pre-game experience that celebrates college football's most outstanding players. The Nissan Heisman House Tour is making stops at nine marquee matchups this season. Admission to the tour is free.
Fans will have the opportunity to:
Take a picture with the Heisman Trophy, the most prestigious award in college football
Win Heisman-themed prizes by participating in interactive games and sharing your experience on social media
Strap on a headset in the Armchair Quarterback Virtual Reality Experience, as you interactively spot your targets to determine the outcome on the game's final drive
Watch live interviews between ESPN talent and some of college football's most outstanding players
Participate in a photo session with gridiron greats
WHEN: SATURDAY, September 28, 2019 – 11:00 a.m. to 6:00 p.m.
WHERE: Husker Nation Pavilion on Ed Weir Track, northeast of Memorial Stadium, outside Gate 18
More Saturday events and info
Husker Nation Pavilion to Open at Special Time – 11 a.m.
The Husker Nation Pavilion located at Ed Weir Track & Field Stadium will open at a special time – 11 a.m. Saturday – seven-and-a-half hours in advance of the Nebraska football team's game with Ohio State at Memorial Stadium.
Husker Nation Pavilion will be located just steps away from the ESPN College GameDay stage, and will provide a fun space for fans to continue pregame festivities prior to Nebraska's kickoff with Ohio State, which is set for 6:30 p.m.
The family-friendly options at the Husker Nation Pavilion include inflatable games, face painters, balloon artists and the HyVee Autograph Zone. In addition, two live bands will be playing during the day inside the Pavilion. Starting at 3 p.m., Chick-Fil-A will be selling sandwiches inside Husker Nation Pavilion.
East Stadium, College of Business Huskers Shops to Open at 11 a.m.
The Huskers Shop inside East Stadium, at the University of Nebraska College of Business, and at the satellite store (Fanatics Trailer near Stadium Gate 22) will open at 11 a.m. on Saturday. Other outside locations for the Huskers Shop will open at 1 p.m.
Top of the World Hat Company  — Offering Special Customization Offer
Top of the World Hat is offering free customization for any fan who purchases a Top of the World Hat on Saturday. A table will be set up outside the Fanatics Trailer (Gate 22) and fans can choose from hundreds of customization options, including area code or Gameday patches, while supplies last. The customization generally takes less than one minute. The Fanatics location will begin offering the customization at 11 a.m. on Saturday.
360, Ultra-High Res, Interactive Fan Panoramic Photo Offered Saturday
Husker fans also will have a special opportunity on Saturday to find themselves in an ultra-high resolution, 360-degree panoramic fan photo taken during the game. Fans who would like to star in this interactive fan photo with the ability to rotate, zoom, tag and share online, in addition to being entered to win prizes, can text HUSKERS to 800-334-7266 to receive a notification when the photo is ready.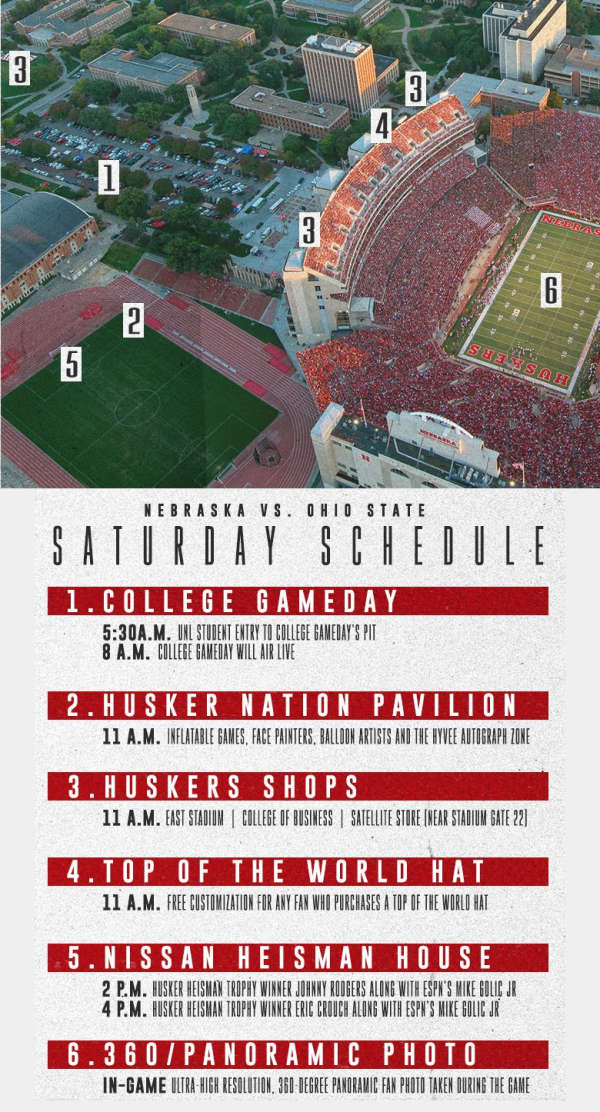 Courtesy of Nebraska Athletics
---