Recap & postgame notes: 2003 Nebraska football vs. Kansas
---
Nebraska Stays in Thick of Big 12 Race with Road Win at Kansas
Nebraska returned to its script for success during the 2003 season last Saturday, using a power running game and an opportunistic defense to post a 24-3 victory over Kansas in Lawrence. The victory before a sold-out KU Memorial Stadium extended Nebraska's mastery of the Jayhawks to 35 straight games, the second-longest winning streak against an opponent in Division I-A history.
The Husker defense forced four turnovers in the victory, including three interceptions, while Nebraska ground out 290 rushing yards, including 173 in the second half. Nebraska controlled the early stages of the game with its rushing attack. The Huskers' opening drive stalled after an untimely penalty, but the NU defense forced Kansas three-and-out on its next series. Nebraska responded by marching 54 yards in 10 plays, capped by a 28-yard David Dyches field goal for a 3-0 lead.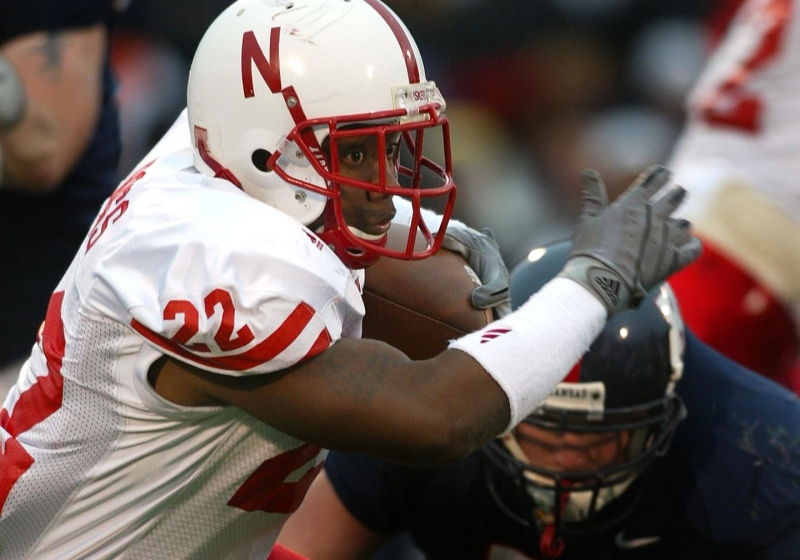 All of Cory Ross's 108 rushing yards came after halftime. | Courtesy of Nebraska Athletics
Kansas quarterback Adam Barmann was intercepted by Jerrell Pippens on the second play of Kansas' next possession, and Nebraska converted. The Husker offense marched 58 yards in 10 plays, including nine rushes, with fullback Steve Kriewald covering the final yard for a touchdown and a 10-0 lead. Kansas controlled the clock for the remainder of the second quarter with its ball-control passing game. The Jayhawks got on the board just before halftime on a 20-yard Jerod Brooks field goal to cut NU's lead to 10-3. The Jayhawks drove inside the Husker 10, but linebacker Demorrio Williams ran down Barmann on third-and-goal to force KU to kick a field goal. The initial Jayhawk kick attempt was blocked by Pippens, but an offside penalty gave KU a second opportunity.
Kansas was poised to tie the game on the first possession of the second half, but NU safety Daniel Bullocks picked off a Barmann pass at the NU 1. Sophomore I-back Cory Ross provided the NU offense with a needed spark, but the Huskers squandered a scoring opportunity of their own, as Kriewald fumbled at the goal line and KU recovered in the end zone. Nebraska wasted no time getting back in the Jayhawk red zone. Josh Bullocks intercepted his nation-leading ninth pass at the Kansas 38, and Nebraska scored four plays later on a four-yard Judd Davies touchdown burst. Davies capped the scoring with a three-yard touchdown with 8:49 to play.
Williams recovered a KU fumble deep in Nebraska territory in the final five minutes for the Huskers' fourth takeaway of the day. Nebraska limited a high-powered Jayhawk offense to just 292 yards of total offense, while NU finished with 400 total yards, including 108 yards rushing by Ross and 195 yards of total offense by Jammal Lord.
Source: Nebraska Athletic Department
Game notes
The victory was Nebraska's 35th straight win over Kansas, including 18 straight wins in Lawrence. The 35-game win streak over Kansas is the second-longest in Division I-A trailing only Notre Dame's 40-game win streak over Navy.
Sophomore I-back Cory Ross rushed for a career-high 108 yards on 19 carries, all in the second half. Ross doubled his previous career high of 54 yards against Iowa State earlier this season, while his most carries before Saturday were nine attempts twice in his career.
The four takeaways against Kansas marked the 10th straight game this season that Nebraska has had at least two turnovers gained. Nebraska now has 39 takeaways in 10 games this season, the most under Frank Solich and the fifth most in school history. Nebraska has not had more takeaways since 1981 when it forced 42 turnovers.
Nebraska intercepted three Kansas passes on Saturday, marking the seventh straight game the Huskers have had at least two interceptions. Nebraska has 24 interceptions this season, its most in 32 seasons and the third most in school history. The NU defense has had at least one interception in all 10 games this season, including four games with three or more interceptions.
The Huskers converted KU's four turnovers into 14 points, and has now converted 39 opponent turnovers into 124 points in 2003.
Senior linebacker Demorrio Williams had a career-high 14 tackles, running his season total to 97 tackles. Williams also had a career-best four tackles for loss, including 1.5 sacks. Williams recovered his fourth fumble of the season, a Husker linebacker record and had a pair of quarterback hurries, including one that caused a Jayhawk interception.
Junior linebacker Barrett Ruud posted his fifth-straight game with 10 or more tackles, making 14 tackles. Ruud also had a fumble caused and made a tackle for loss. Ruud ran his season tackle total to 109 stops, the first Husker in five seasons to top the century mark in tackles. Ruud's tackle total is the most by a Nebraska player since Mike Knox had 125 tackles in 1983. Ruud also moved into the top 10 on NU's career tackle list.
Senior safety Jerrell Pippens made his first career start and responded with a career-high 12 tackles, a pass breakup and a first-quarter interception, his second of the 2003 season.
Sophomore free safety Josh Bullocks intercepted his NU record ninth pass of the season in the third quarter to set up a Husker touchdown. He now has 10 career interceptions, good for a tie for seventh on the Husker career list.
Josh's twin brother, Daniel Bullocks intercepted his first career pass, ending a Kansas scoring threat in the third quarter.
Senior quarterback Jammal Lord accounted for 195 yards of total offense in the game, pushing his career total to 4,782 yards, good for sixth on the NU career list. Lord passed his position coach, Turner Gill, and 1983 Heisman Trophy winner Mike Rozier in Saturday's game.
Senior fullback Judd Davies scored a pair of rushing touchdowns, the second time in his career he has rushed for two touchdowns in a game, also against Baylor in 2001. Davies now has 13 rushing touchdowns in his NU career, tying the position record for touchdowns, also held by Joel Makovicka (1995-98).
Fullback Steve Kriewald scored his first touchdown since Nov. 23, 2001, (Colorado) and NU's three touchdowns by a fullback marked the first time NU fullbacks have produced three TDs since Joel Makovicka (3) and Willie Miller (1) combined for four in a 69-7 win over Oklahoma on Nov. 1, 1997.
Source: Nebraska Athletic Department