Recap & postgame notes: 2003 Nebraska football vs. Kansas State
---
Nebraska Suffers Rare Home Loss at Hands of Kansas State
Kansas State scored 24 unanswered second-half points to break a 7-7 tie, and the Wildcats used a big performance by quarterback Ell Roberson to defeat Nebraska, 38-9 at Memorial Stadium. The Huskers dropped to 8-3 overall and 4-3 in the Big 12 with the loss, while Kansas State took the North Division lead with a 5-2 conference record.
Nebraska received solid rushing performances from I-back Cory Ross and quarterback Jammal Lord, who both topped 85 yards on the ground in the losing effort. Ross, who was making his first start of the year, carried 16 times for 87 yards, while Lord toted 21 times for 88 yards. The Husker quarterback threw for 98 yards and a touchdown, but completed only 8-of-26 passes through the air.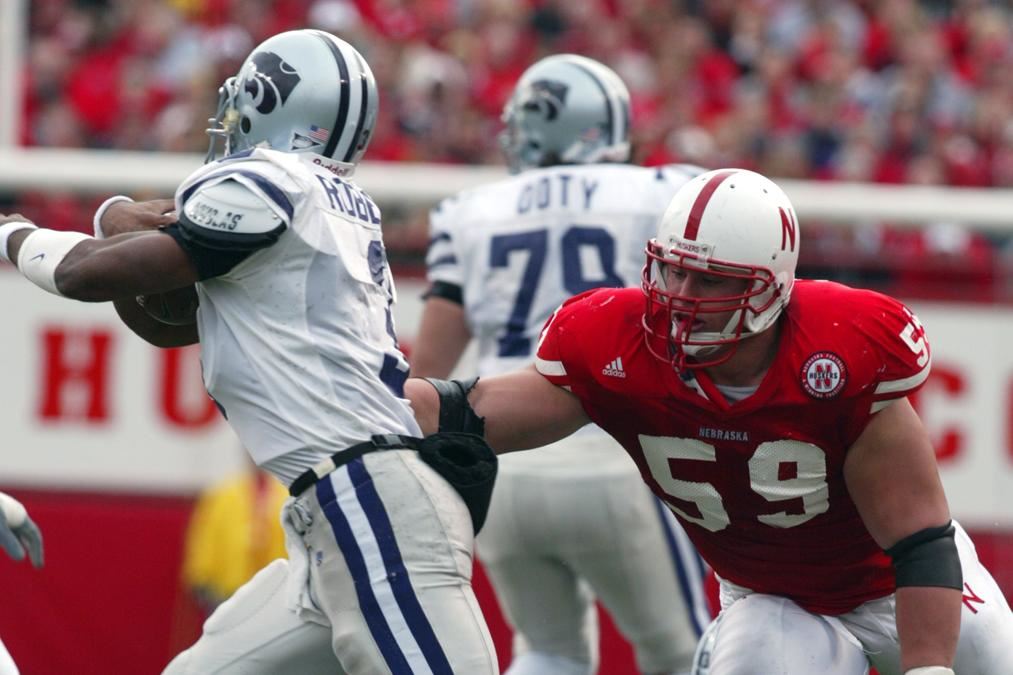 Nose tackle Ryon Bingham pursues KSU quarterback Ell Roberson. | Courtesy of Nebraska Athletics
Meanwhile Roberson guided a balanced K-State offense, helping the Wildcats win in Lincoln for the first time since 1968. The senior completed 15-of-28 passes for 313 yards and two scores against a Husker defense that led the nation in pass efficiency defense entering the game. He also rushed 22 times for 90 yards and a touchdown, helping the Wildcats to 248 rushing yards.
On NU's first possession of the second half, Bryan Hickman's sack and strip of Lord gave KSU possession at the NU 23-yard line. Roberson broke the deadlock three plays later, as he scored on an 11-yard touchdown run. The scoring run gave the Wildcats the lead for good before KSU added a pair of fourth-quarter touchdowns, as Roberson found James Terry for touchdown strikes of 63 and 37 yards.
The Wildcats struck first late in the first quarter, going 74 yards on five plays, capped by Darren Sproles' 22-yard touchdown run. The drive was keyed by a 40-yard pass from Roberson to James Terry to the NU 22-yard line for the reception. Kansas State drove into Husker territory early in the second period, but the threat was snuffed out by a Josh Bullocks interception in the end zone, his school-record 10th pick of the season. The Thorpe Award semifinalist returned the ball 41 yards, giving the Huskers excellent field position.
Nebraska followed with its best drive of the afternoon, marching 59 yards for the tying score, as Lord found Mark LeFlore in the end zone for a 6-yard scoring strike. Ross keyed the drive with two carries for 21 yards and a 26-yard pass reception for a key third-down conversion.
Each team missed a scoring opportunity later in the second quarter with K-State missing on a 27-yard field goal, while the Wildcats blocked a 30-yard David Dyches field goal attempt, leaving the game knotted at seven at halftime. The Huskers forced three turnovers in the contest, running their nation-leading takeaway total to 42, including 27 interceptions.
Source: Nebraska Athletic Department
Game notes
The loss snapped Nebraska's 17-game win streak over the Wildcats in Lincoln. Before the setback, Kansas State's previous victory at Memorial Stadium was a 12-0 victory in 1968. The loss prevented the Huskers from posting a perfect home season and was just NU's sixth loss at Memorial Stadium in the past 16 seasons. Kansas State's victory was its second straight in the series, marking the first time the Wildcats have posted back-to-back victories against the Huskers since 1957 and 1958.
Sophomore free safety Josh Bullocks extended his school and Big 12 interception record to 10 with a second-quarter interception. He tied his career-best with a 41-yard return, setting up Nebraska's only offensive score of the day. Bullocks now has 11 career interceptions, good for a tie for third on the Husker career list.
Nebraska intercepted three Ell Roberson passes to run its season total to 27 interceptions, three off the school record. Nebraska has had at least one interception in all 11 games this season, has had at least two picks in eight straight games and three or more interceptions five times this season, including each of the last three games.
The three takeaways against Kansas State marked the 11th straight game this season that Nebraska has had at least two turnovers gained. Nebraska's 42 takeaways are tied for fourth-most in school history and are just five from the school record of 47 in 1971.
Senior linebacker Demorrio Williams had a career-high 16 tackles, running his season total to 113 tackles. Williams now has 73 unassisted tackles this season to establish a Husker season record, surpassing Jerry Murtaugh's 71 solo stops in 1970.
Junior linebacker Barrett Ruud posted his sixth-straight game with 10 or more tackles, making 15 tackles. Ruud ran his season tackle total to 124 stops, the most by a Nebraska player since Mike Knox had 125 tackles in 1983. Ruud continued his climb on Nebraska's career tackle list by moving up three spots to sixth with 264 career tackles.
Ruud and Williams became the first pair of Nebraska players to top the century mark in tackles in the same season since linebackers Steve Damkroger and Brent Evans both topped 100 in 1981.
Junior cornerback Lornell McPherson picked off his fourth pass of the season and now has six career interceptions.
Sophomore I-back Cory Ross made his first career start and responded with 87 yards on 16 carries. Ross' yardage total was his second-best career effort, trailing only his 108 yards at Kansas the previous week. Ross had a season-long 16-yard run in the game and his 26-yard second quarter reception was the longest of his career.
Senior quarterback Jammal Lord accounted for 186 yards of total offense in the game, running his career total to 4,968 yards to move into fifth place on the Husker career total offense list. Lord attempted a career-high 26 passes in the contest and had a career-high 47 total offense attempts.
Senior Josh Davis had six kickoff returns for 120 yards in the game to run his season total to 532 yards in kickoff returns. Davis now has the top three single-season kickoff return yardage totals in school history and has amassed 2,201 career return yards.
Senior nose tackle Ryon Bingham tied his career high with 10 tackles in the game.
Source: Nebraska Athletic Department