Preface & Intro: Anatomy of an Era
Preface & Intro excerpted from No Place Like Nebraska: Anatomy of an Era, Vol. 1 by Paul Koch
Prelude to a Miss
or
A Providential and Fortuitous Confluence of Events
Place-kickers aren't normally prone to run this fast. "Yeee-haaw! Shit-fire, you sonsabitches! Shit-fire!!" Adrenaline coursing, tongue cursing and legs furiously back-pedaling across the grass, Byron Bennett crosses the 30, the 35, now to the 40, he's to midfield. Hands drawn as mock gunslinger's pistols, he blazes the broad span of the Florida State Seminoles' far sideline with imaginary fire, "Yeah baby! Woo-hoooooooo…!" His orgasmic celebration swiftly concludes as a horde of teammates in red, white and grass-stained regalia consume him in a brutal yet joyous embrace, his having split the uprights with a screaming 27-yarder bound for the Keys; the go-ahead field goal serving as a fine exclamation point to a Texas kid's Nebraska football career on a gridiron in south Florida's urban armpit.
Our wristwatch reads 11:13 p.m. on a muggy and maniacal January 1st, 1994 in the middle of Miami's Little Havana District. The shifty air is moist and heavy, rain having fallen for a brief spell earlier this afternoon. The turf –or, more appropriately, the swatches of Bermuda Grass sod intermingled with the loose, painted, teal-colored sand of the old Orange Bowl- looks as if a massive herd of elephants crossed an African savanna on their jaunt to a watering-hole. Wait. Let me re-phrase that: A herd of elephants actually did cross the turf earlier that evening, albeit as part of the famed "Red, Hot and Orange Halftime Extravaganza" for the 81,536 fanatics in attendance and the millions of Americans transfixed to their television tubes. All eyes awaited the crowning of a new king: it would be either the University of Nebraska's Tom Osborne or Florida State University's Bobby Bowden, each man relishing an opportunity to finally knock a King Kong-sized monkey off his back after careers full of wide-rights, out-of-bounds receptions and tipped two-pointer conversion attempts. College football-lovers keyed-in on the event this night also yearned -perhaps subconsciously- to find who would be on the winning end of an ideological, organizational, geographic and even demographic waging of a modern day civil war, more or less. Much hangs in the balance as this war-like scrum is played out in the sweep of a sixty-minute span.
Byron's imaginary Colt .45's were the only firearms unholstered this dark night, although a seemingly unending fusillade of body-shots resounded in bloody, sweaty, spit-filled & bruising series of volleys, each consisting of botched assignments, missed calls, spine-jarring collisions and vulgar jawing for a better part of the evening. And now? Byron's kick resulted in a scorekeeper's tally of 16 to 15, with the game's lead and decisive edge going to the farm-state Cornshuckers. The victorious end was near! Oh, so near. Triumph, finally! After more than two painful decades of Husker post-season bowl heartbreak, elusive victory was in the grasp. Almost. Can you feel it coming in the air tonight?
Only one minute and sixteen seconds remained on the end zone scoreboard's clock: 01:16. Let's think about that for a moment. Let it sink in. A minute-sixteen…76 seconds: a span of time such as this normally passes without the blink of an eye. But in this situation? This situation? It's an eternity. Because –to borrow a line from Tom Petty- because sometimes the waiting is the hardest part.
To understand the context of this historic spectacle, recall that the State of Nebraska's beloved and top-ranked Cornhuskers entered the game a disgustingly disrespected 17-point underdog by the odds-makers in Vegas; this despite being undefeated, unbroken and untied since August of 1993. Rarely one to comment on anything outside the rubric of family and football at the time (much less the shadier aspects of sports society) Doctor & Nebraska Head Coach Tom Osborne replied in response to a reporter's question about the contest's larger-than-proper point-spread,
"The gamblers bet with their dollars and not with their hearts. And you play the game with your heart… so we'll see who's right and who's wrong."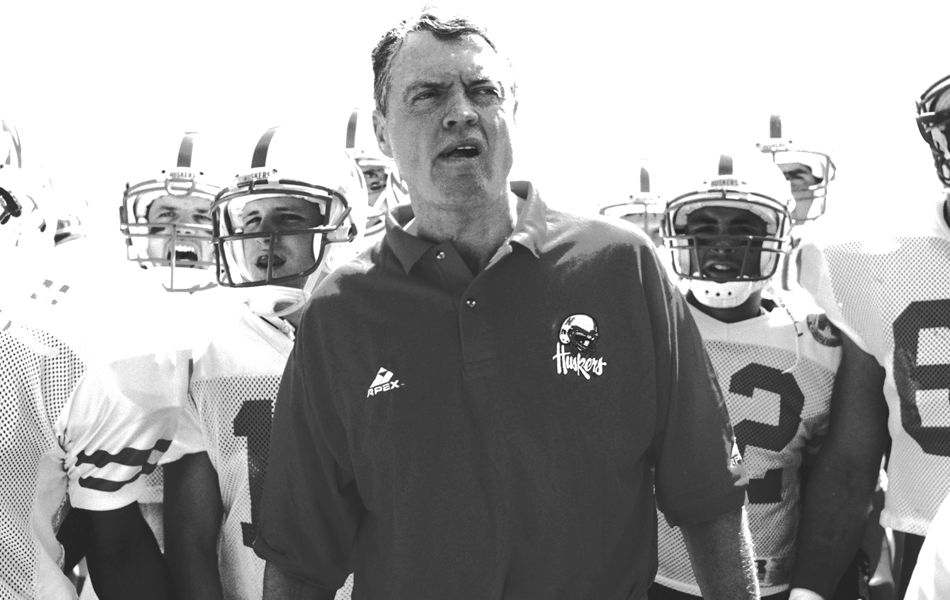 It was no sure bet, this much is true. For a Husker team approaching so near the pinnacle, the mountaintop, the Everest of college football, to suddenly and swiftly bow out in defeat after such a grueling and hard fought contest would seem unfathomable, unbelievable, pure fiction. The road here had been too long, too arduous, too taxing for most human bodies and mortal spirits. The mountainous trail to this New Year's Day 1994 was a full twenty-two years of trudging, of painfully plodding uphill, tweaking and massaging the University's program here and there, an ever-evolving team of young men yearning, burning, striving for an existence as the elite of the sport. The Scarlet Brotherhood's once tanned but now ruddy and weather-beaten faces –simple, red N's on their helmets signifying this unique tribe– they had ventured much too far on this annual journey to the temperate climes of southeast Florida's bowl venue to return home with another black eye, to once again hang their heads in defeat until memory fades with springtime's renewal. Even more, the mood and tenor of an entire state's inhabitants rested on these boys' shoulders and their push to victory as it always had for years long before. Springtime seems a lifetime away, the sharp sting of death so near the front door's exterior in the snow and the ice and a bone's frigid, winter chill. A full season's dreams and aspirations have steadily built to a crescendo in this football championship game. Much is at stake as the collective cabin fever of a long Nebraska winter arrives at a dark, Januarial head. Because -as we all know- the bitter winters remain historically steadfast in their refusal to surrender a grip on the freshly birthed pages of newly hung calendars. But now? But now the fog has lifted. Sunlight gleams on the eastern horizon. A victory celebration is only seconds away, this tenuous one point lead firmly in hand as a result of Byron's kick.
But then? It happened: The Unthinkable. With only 1:16 on the clock and against false hope, all fears were realized. And it wasn't one bit pretty. The team summarily shot itself in the foot when the ensuing kickoff rolled out of bounds: "Fifteen yards," said the official. Near game's end there wasn't much gas left in the tank for these boys, for a defensive pass rush was mustered but brought low by waning legs. Then there was a "Dead Ball. Personal foul. Late hit out of bounds..," shouted the official, the result of a Barron Miles' nudge on freshman Seminole running back Warrick Dunn as he scooted into the sideline morass, "Fifteen yards and first down, Florida State." And then –unbelievably- an overthrown ball resulted in a sketchy pass interference penalty against defender Toby Wright. "Half the distance to the goal," rang the referee's voice over the soon-to-be-demolished old stadium's bicentennial era sound system.
Now the ball -this oblong, brown, leather spheroid- sits on the Nebraska three yard line. Surely a quick dive play off center will end the battle once and for all for the young men from Tallahassee, giving them the win they so desire. But it was thwarted! The gritty Blackshirt defense stuffed the run play for a one yard loss at the 4! Denied entrance to the end zone's no-man's land by the fleetest defense afoot, perhaps a kick could undo the Scarlet and Cream once and for all, saving the odds-makers, plungers and bettors some small, slight face. An impending field goal try would be a veritable chip-shot. Gift-wrapped, in a word. Like shooting fish in a barrel. With a shotgun. Big fish at that.
So out trots a cherubic freshman kicker, a Sports Illustrated coverboy from the recent yet also seemingly long gone summer of 1993, crowned a possible savior for Coach Bowden's heretofore frustrated title aspirations. His teammates shut out of the end zone by Cornhusker Defensive Coordinator Charlie McBride's cunningly barbaric, brisk and brash defense, he'd converted three field goals already tonight, only missing a first quarter try from all of 47 yards out. And now came this. This? A piece of cake. He could pull this one off with both eyes closed, were he so inclined.
And he did it. The kid absolutely nailed it for three easy points. The score now? 18 to 16, the decisive edge now going to the Seminoles! Sunshine State hysteria fills the bowl's floor with the Florida State players swarming the field, engulfing the slight-framed kicker, the weight of them bearing down and pressing him and his holder firmly to the midfield turf. A rear-assaulting Gatorade bath envelopes Coach Bowden, his eyeglasses fogging into a semi-blind haze of jubilation concurrently mixed with disgust, as he suddenly realizes time remains on the clock: "The celebration can wait! Get back here on the sidelines, you dummies! Get back here!"
Now it's Bobby who's put on the defensive for his coaching chops and a triumphal conquest. His magic number? 00:22. Twenty-two seconds remain. Nothing to bear much cause for concern -it's no minute-sixteen, mind you- but still nothing to scoff at considering the genius on the far sideline and his assorted generals up in the press box. And, oh yes, Coach Bowden respectfully shakes his head, "Those dang Nebraska boys! Osborne's gritty bunch out there just don't know the meaning of the word 'quit,' do they?"
Could Coach Bowden's bunch hold on and hold out for a mere twenty-two ticks of the Timex? "That rascal Tom," Bobby mutters to his conscience, "…what does he have hidden up his dad-gum sleeve?" For a split-second, the coach rues the dispatch of two defensive assistants to his good friend and adversary's Lincoln offices the previous spring to teach them the finer points of this 'speed defense' commonly known as The Four-Three. But they've been friends and admirers for years, coexisting as leaders and educators of some of America's most talented young gridiron greats, so this contest means all the more. Braggin' rights, you know. Off-season dinner banquets are heck of a lot more enjoyable when you've finally got a shiny new national championship ring to wear on that long-empty right ring finger. But he forgets all of that in a moment, turning his attention back to the field of play…
And suddenly, in an 'it-ain't-over-'til-it's-over' display of bravado and balls flying, sophomore Cornhusker quarterback Tommie Frazier floats arms-length from the pocket's scrum and heaves a perfect, frozen-rope spiral downfield to tight end Trumane Bell who's thirty-four yards removed, as he contorts his arms and lanky 6 foot 3 inch frame at the out-of-bounds mark. It tickles his fingertips, but a garnet & gold Seminole shadow foils the pass attempt, the ball falling earthbound and incomplete. Now only 8 seconds remain on the clock. "Quick! Call the next play!" Coaches Frank Solich and Milt Tenopir bark play-call options down from the stadium's spartan little sweatbox upstairs to T.O., Ron Brown, Turner Gill and Dan Young on the sideline below, "Okay, this one has to do the trick…" We see slotted receivers wide out right, shotgun formation, one running back in the backfield. "We only have ten guys out there!" a voice fretfully bellows. "Bell?! Trumane! Get out there!" On a moment's notice Trumane bolts onto the field to make it an even eleven versus eleven once again. He's motionless in his stance for a slender sliver of time.
The ball is snapped. The speedy receivers set out blazing downfield like a shotgun blast on full-choke. Seminole Linebacker Derrick Brooks hesitates for a split-second and turns a shoulder toward the left flat. Trumane, seeing this, cuts a straight path downfield, making a running lane of the hash marks. Suddenly the ball is airborne and number 80 catches it mid-stride! Now time -and yards- are in a race to the finish: "Can't… run …fast enough!…" Trumane's world becomes slow motion, "or… far enough!" The lunging swipe of an outstretched linebacker's arm results in a shoestring tackle. Trumane's body, like the downward death-spiral of a gunned-down quail, alights accrumpled on the 29. Two seconds precariously hang on the clock as his knee impacts the ground and, for all intents and purposes, stops the clock. But wait! "The clock is still ticking!," Husker Nation blurts in horrified disbelief. It counts down to triple zeros. "Is it over? Is it really over?!" Was this last gasp for naught? "It can't be! It just can't! No freaking way! There was still some time left on the clock!", scream the hordes of Husker fans glued to the tube at home.
Again, the hysterics. A mob of Seminoles again pours onto the field, the stands erupt, and Referee John Soffey and his team of Big East officials are caught with their figurative pants down: "Was he tackled with time remaining? Are there one or two seconds left? Get these cameramen off the field! Where was he tackled? The 35 yard line? The 27? Can't these Florida State Troopers help out a little here? Get these damned kids off the field! Holy crap! What to do?! Oh no, Osborne is shouting this way and pointing a finger to the turf. What's he saying? "One second left? Twenty-nine yard line?""
Tom Osborne and Nebraska Receivers Coach Ron Brown are beckoning a full fifteen yards out of their sideline coaching box & sharing their spot-on recall with the addled officiating crew. "Get the #@ off the field, old man!", a hulking Florida State offender bellows at the stately Osborne. But Coach is deliberately oblivious to the remark, busy with more pressing matters of breathing life into this drive, this game of a lifetime, this last lunge for victory by gaining one more offensive snap. Just… one… more… snap of the ball. Offensive tackle Zach Weigert, though, is nonplussed at hearing the coarse comment, helmet in hand and threatening to dismember the jerk's head right on the spot, "Don't you ever talk to Coach that way! I'll &*ing kill you! No one talks to Coach that way! No one!" T.O. swiftly extends a hand and urges Zach to calm himself and make haste to the sideline before an unsportsmanlike penalty makes it all but finished, this last gasp for the win, for hard-fought glory, for a championship. For what seems a swirling eternity, chaos rules.
Then, after a time, anarchy slowly regresses. Pandemonium recedes. Calmer heads prevail. The sidelines are filled once again. What is the call? Ears are on edge, tingling in anticipation. The referee strikes a pose and clicks his microphone… it's announced over the tinny Orange Bowl loudspeakers, "There is one second remaining on the clock." A cry promptly goes up from the Nebraska ranks: "Field goal! Field Goal unit! Get out there! Go, go, go!" This is where we encounter our man Byron Bennett once again.
Poor Byron. Number 13 was not expecting this encore. In his mind he'd already won the whole damned ball of wax a minute and fifteen seconds ago."Ho-leeee shit!", he thinks to himself, "…what kinda mess have I gotten myself into?" It's gonna test his abilities: he must now boot the ball 45 yards and then some through the yellow stanchions on the dim and ever-thickening Orange Bowl horizon. Quarterback Tommie Frazier attempts an abrupt motivational session, grabbing Byron by the jersey lapel and urging, "Just do it," before an official sends him scurrying to the sideline. Byron leaves the huddle and sets up. "Hey-sooos Cripes!" he holds convention with himself, "So this is how it all ends, huh? National Champs or Bust?…a hero or a zero? Well, alright then, dammit. Let's give it a shot. Gonna need a lot of leg. The wind's been all over the place tonight. Shit fire." Shit-fire, indeed.
We close in tightly now for one microscopic biologic moment in time: it's the lactic acid, adenosine tri-phosphate and phospho-creatine stores of cellular bodies bulging, it's norepinephrine surging, it's a million nerve synapses heaving, pulsating, slowly and ever so surely coming undone in the pit of one's gut. It's a time he'll always remember, a time he'd love to forget."Man, it's sooo loud in this place," whispers a small silent voice deep in the belly of Byron's brain. "Focus, now. Focus…" as he attempts to zero-in on the task. He can't hear holder David Seizys calling out the snap count from a mere 3 yards away. He wonders how the hell long-snapper Aaron Graham, twice the distance removed, can even pick up David's voice barking out the call. He likely can't. There's no way! Hopefully the guy reads lips, because it's gonna take something extra to pull this thing off without a hitch. "Well," summoning all his courage, "here goes…"
The ball is suddenly snapped! The line of scrimmage flexes and yaws… footholds give… grunts abound as sand and turf scatters along the trench… arms tangle and furiously slap, elbows jerking out a frantic tango… a lone defender in the Florida State backfield takes to a stratospheric air, arms stretched overhead in an attempt to block the field goal attempt… and Byron? What about our man Byron?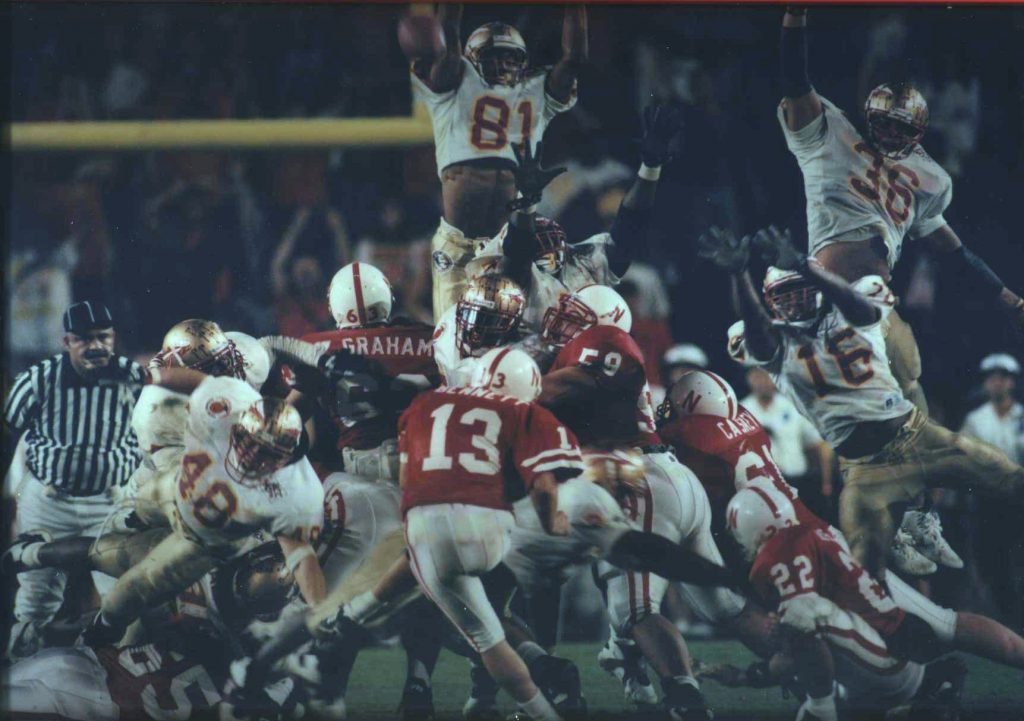 He hears nor sees none of it, eyes instead fixated on this little patch of grass at #22, his holder David Seizys' foot. Byron's world suddenly becomes its own small, vacuum-like, muted kind of dream sequence. "The ball will soon be here…" He lunges forward and plants his foot. "Head down", he reminds himself, his leg whipping fiercely, forcefully forward toward the ball, "Follow through, now…" And then… Contact!! It's airborne. Now comes the hardest part: the waiting, the watching. "Where will it go?" A slicing defender suddenly crashes in off the line's outer edge and knocks our holder David Seizys from his crouch, sending him sprawling wildly onto his backside. "That should draw a penalty flag," thinks the kicker. "Move the ball forward and re-try? The game can't end on a defensive penalty. That's the rule…" But there's no flag. Not yet. Not a yellow hankie anywhere to be seen. Another millionth of a second passes. Still no flag? None? "Are these officials blind?! Crooked!? Or just plain incompetent?! Who the hell are these clowns, anyway!?"
Oh, the ball, you say? Did it perfectly and forcefully split the uprights? Is victory finally ours? Has the jinx been lifted? The pox extinguished? Is there finally, eventually, the long-awaited glory, the emphatic triumph, the elation of conquest, the emotional release? Well…?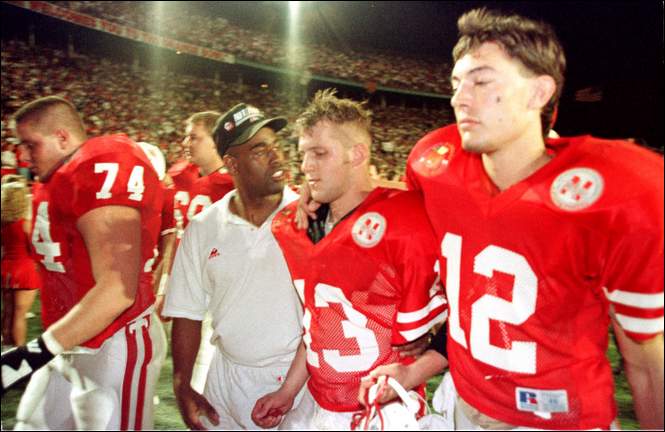 We know all too well how this scene ends. In the aftermath, 1,800 miles away on the North American Plains more than a few quite worthy television sets have been quickly reduced to tomorrow's trash heap. Many a radio has played its last Kent Pavelka broadcast, its last country song, its last weather forecast, its last commodities report. Hearts are in throats. Countenances fall. Mouths are agape. Grown men clench their fists, eyes welling up with anger and tears. Women weep. Even more so the youngsters, sobbing uncontrollably, their faces buried deep in couch pillows. This ugly moment is seared into their short memory for a lifetime. Shocked. Jilted. Crestfallen. Flummoxed. Anguished. Nauseated. Mere words cannot properly articulate this pain, this empathic suffering, this cosmic sucker-punch another "how-many-bowl-games in a row, now?" Wide lefts can do that to a person. Just ask Bobby.
While the television shot -flickering- goes down to NBC Sideline Reporter O.J. Simpson stalking a drenched, convivial Coach Bowden for a live post-game victory remark, a middle-aged man in a red t-shirt storms angrily out of the house -screen door banging- and into the frigid, deathly, biting Midwestern night air of his farm's front porch. From the icy railing he screams out a most profane litany of profanities at the surrounding snowbanks, questioning his Creator's sense of fair play. "This beer tastes like shit!" he mutters bitterly to no one in particular, settling into a sulk and crudely heaving the can and its contents far, far, far into a vast, dense, blue, moonlit Nebraska darkness.
__________________
But take heart, dear reader, that's not how the story ends. Not so sadly. Not by a long shot.
Truth be told, it's not how the story begins either. This exasperating, drama-filled, seventy-six second snippet in history actually fell 'in media res', smack-dab in the middle of it all, to be precise. Because, as the old saying goes, the sun actually did come up the next day over the Nebraska plains and, well, life did go on. Sort of, anyhow.
Let's just say it was a long winter until the spring's thaw finally arrived, that contest's resultant score perpetuating a private, ever-building, and heretofore untold bounty of tenacity and self-determination that would eventually go down in the annals of history as a most victorious of eras, the residue of that team's resolve begetting a change from sacrosanct darkness to blinding light, coming on in a flash. It was excellence communally personified, and it was glorious.
Some might describe what came later as a providential and fortuitous confluence of events, an assemblage of persons, efforts, premises & presumptions hitting their climax, a harmonic convergence of characters on a hidden quest among the golden fields of corn, far away from the limelight, from the prying eyes, from the calls that heads must roll. Far, far away from most everything, really. Others might call it a hoarding of talents, a type and shadow of the epidemic proportions soon to arrive on the college football landscape, a last gasp at an ever-elusive grasping for greatness in the waning twilight of a coaching lifetime, a fleeting anecdote making a compelling case for seizing and securing a semblance of superiority in mankind's often otherwise droll existence.
It just may have been all of those things rolled up into one, truth be told. The question is, how and why and in what way did the Husker Football team's magnificent rebound from that contest's disappointment come about? What propelled them to repeated conquests of every foe long thereafter?
Well, if you must know? I have the answer. You see, I've learned a few things, I've talked to a few people, I have the inside track. So let me ask a question: Do you want to see, to hear, to find out some secrets? Do you wish to participate in something special? Something grand? Something wholly set apart? Make a choice and make it now! For just this once, be bold. "Yes", you say? Then drop everything and come along. I hold the key. This is where we find ourselves: unlocking and opening the door and boldly, curiously, conspicuously drawing back the dark, forbidden curtain for a taste, a glimpse, to see with our own eyes how it all came to be. Take my hand and hold tight. Firmly now, as the scene slowly comes into focus. This should be a grand sporting adventure. Read on, my friend, to hear an epic saga of greatness and beauty, of pluck and plight and perseverance. Of championships. Of football glories. Read on…
INTRODUCTION
I believe Malcolm Gladwell, in his book The Tipping Point, touched on it best when he wrote, "We need to prepare ourselves for the possibility that sometimes big changes follow from small events, and that sometimes these changes can happen very quickly." You may be thinking the aforementioned Preface's drama involving that 1993 11 win and 1 loss Husker team and Byron's final, wide-left field goal attempt played a large role in later seasons' accomplishments, and you would be rightly so in thinking such. But only to a point, you see. And this is why the word 'Belief' was such a meaningful word to the team culture during that era, for belief can get you out of a tough spot time and again. Of primary note, let's go back to 1990/1991:
The '90 season was a rough one. By Nebraska football standards it was rougher than most, because a team that was traditionally strong year in and year out had somehow lost its gusto, its moxie, its mojo, and faltered to a nine and three record by year's end. Now, don't get me wrong, nine and three is a tremendous accomplishment in its own right, but not in the way it transpired. This was Tom Osborne's Nebraska Football, built on Bob Devaney's decades-old blueprint for championships and the premise that a team well-prepared and well-versed in the schemes and attitudes and efforts that it took to succeed could stand a fighting chance versus any and all foes in any and all arenas, lucky twists of fate notwithstanding. But it was the way in which those three losses transpired that mattered most, grinding at the collective conscious, for it seemed much of the crew of student-athletes were content with a nine win season and a New Year's trip to a bowl game much nearer the equator… and little else. There was a noticeable lack of cohesion, of focus, of discipline, of yearning for higher ideals and expending ultimate efforts, especially the type of effort considered greatest of all: not the effort necessary to win, but the effort to prepare to win.
Not that there were slouches or a lack of talent in that '90 grouping. Oh no, this team was plenty talented, with as many as eight future NFL contributors in that year's ranks of upperclassmen &/or turning pro early. So the lack of success wasn't about the prevailing talent or lack thereof. What was it then? Well, at the time there seethed a shallow undercurrent of team tensions, traces of black liberation theology and subtle race issues both real and imagined being levied via a small contingent of campus educators and student-athletes. Navel-gazing, finger-pointing and charges of most subtle bias were whispered whenever a perceived slight or injustice appeared. William Shakespeare once penned that there was, "something rotten in the state of Denmark." Well, in this case Nebraska Football wasn't far behind, because by the 1990 season's end an eight win run turned into a one and three slide. Those three losses were by a combined 43 points to the opponent's 117, averaging to a 39-14 score in favor of the other guys: most definitely un-Nebraska-like.
And the result? In the national media the team became a paper tiger no less, a Doberman without teeth, a cop without a gun, a switchblade dull as Grandma's old butter knife. Nebraska was a 'name team' that you passed through on your way to a National Championship, as the Colorado Buffaloes and Georgia Tech Yellow Jackets both did that 1990 season.
But something even more profound was amiss, because for the first time in who-knows-when Nebraska football almost fell from the ranks of the ranked. "Unfathomable! Blasphemy!," you might say. But in early 1991 this was the present reality, and something had to be done. The questions emanating from the second floor Coaches' offices of South Memorial Stadium were, "Can something be done? What could be lacking?" If the answers could be determined, then "How can the needed changes be best affected?"
There was a belief that things could turn. And belief is a strong emotion, a driving force, an impenetrable notion. Belief alone has carried man across desserts, across an ocean's vast expanse, to the moon and back. To paraphrase an old Henry Ford quote, "If you believe you can do a thing or can't do a thing, you're right." In the pages that follow you'll find just how proper and powerful and cataclysmic a belief can be.
Making it Worth Our While
But before moving on to the answers in the forthcoming pages I first set a few ground rules prior to embarking on this endeavor, my journey back to the great Why and How of those 60 & 3 teams. First and foremost I promised myself this: Relentlessly seek authenticity. Why authenticity? Because without fully, wholly and unsparingly splaying open any object for inspection and fact-finding the resulting content and conclusions are too often found unoriginal and wanting, dull and uninspiring, lacking. So I yearned to be true to the truth, to flesh out all leads, covering all the grounds, approaching from all angles.
I guess one could say that my respect for you, dear reader, was such that I would hold nothing back, even if it meant that this book may occasionally offend. It's a fine line to walk, I know, but you're owed nothing less. In the final analysis, it's my hope that your sensibilities are not alarmed by what you read in the coming pages. So please forgive if I seem at times flippant or condescending or a grand wise-ass, as this wasn't my intent.
Lastly, I want to share with you an old Indian tale I'd once heard, about four blind men who wanted to learn of the animal known as the elephant. The story goes that a great ruler had gathered the blind quartet all round this mighty & kingly beast, whereupon they were given a brief moment of self-directed discovery. So, while one blind man intently fondled but never strayed from the elephant's ear, another remained fixated only on the beast's trunk, whereas the third only the behemoth's tusk, and the last man explored only the leg. After a moment the elephant was then led away from the sightless crew.
Shortly thereafter a great argument ensued, for the blind man who only caressed the massive creature's ear said, "I now know by experience that an elephant is flat and pliable." "That is incorrect!" said the one who fondled the trunk, "an elephant is long, tubular and flexible!" The third man disagreed all the more, stating, "You are amiss, the elephant is thick and round and immovable!", because he had beheld the leg. The fourth and final tusk-beholder replied, "I disagree fully and in all ways with all of you! This I know: the elephant is smooth and hard, with a sharp, pointed tip!"
The moral of the story? It's a healthy reminder to always cast a sizeable net when gathering information, necessarily maintaining a widened focus though not at the expense of fine & equal detail. So that's just what I did. This anecdote in mind, I resolved to contact as many of my former Nebraska Football Staff confidants, peers, and players of that era to gain a complete answer as to the culture and reasons for their greatness. How many conversations would that entail?
Prepare for Kickoff
Ultimately -after conducting over one hundred interviews with the people who lived out this era in the flesh- I arrived at our destination with many -if not all- the answers, plus some ideas and axioms you might find useful for whatever you endeavor in life. This pending chronicle provides you, dear reader, the rare experience as an all-hearing, all-seeing fly-on-the-wall, transporting you back in time with the benefit of present day perspective and understanding. What follows is a deeply personal journey into the great 90's Nebraska Football dynasty. You may at times become shocked and taken aback, turned to giggling fits of laughter, or even glean some inspiration. In any regard I hope you enjoy the trip, because I sure as heck did.
-Paul Koch, Nebraska Class of '91
Copyright @ 2013 Thermopylae Press. All Rights Reserved.
Photo Credits : Unknown Original Sources/Updates Welcomed
Paul Koch
---
---
---