B I L L J A N S S E N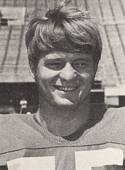 Defensive tackle Bill Janssen was a two-year standout on the Blackshirts and a 1972 co-captain. A fine defender against the run and a tough pass rusher, he was one of the most versatile Huskers, playing defensive end, offensive guard and center before taking over the No. 1 defensive left tackle spot in 1971. There, he played alongside the likes of Outland winners Larry Jacobson and Rich Glover and All-Americans Willie Harper and John Dutton. After coming to Lincoln from Grand Forks, N.D., he lettered on the 1969 team, then sat out 1970 with a broken arm. He was an eighth-round draft choice of the Pittsburgh Steelers in 1973.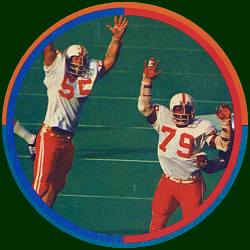 Not many college players can claim two
appearances on the cover of Sports
Illustrated. Here he joins Rich Glover on
the front of the Sept. 11, 1972, issue.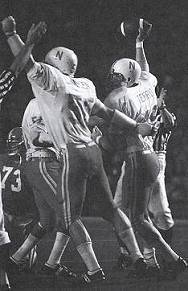 With Bob Terrio as the Huskers
recover an Alabama fumble
in the 1972 Orange Bowl.