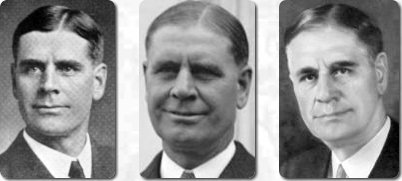 G

EORGE

H

ENRY

D

ERN
Sept. 8, 1872 – Aug. 27, 1936
After the Dern family moved to Utah in December 1894, George seemed to find success at every turn. His father had acquired a financial stake in a mining company, and George began work there as a bookkeeper.
By age 29, he was running the place.
He became known as an adept manager and innovator, helping to develop a process for recovering silver from low-grade ore. Other business interests beckoned, and he would hold executive positions in the banking and power industries.
In his early 40s, he took the plunge into politics. He won election to the state Senate in 1914 and 1918 and displayed a reformist streak, winning enactment of Utah's first workmen's compensation law, among other things. Then came successful runs for governor in 1924 and 1928. As the state's chief executive, he steered Utah toward reliance on the income tax and away from property taxes.
How did this Democrat and Congregationalist get along so well in a Republican and Mormon state? The Times of London said this:
" Dern's success in life was the result of his own ability and perseverance. He possessed charm and good humour, with a gift for efficient administration. Politically he was a man of progressive rather than merely party ideas."
The New York Times noted that he "did not let his wealth prejudice his legislative views, and he sponsored legislation which was opposed to his own interests."
When the Boulder Dam project sparked water disputes among western states and the federal government, Dern led efforts to resolve the issues, raising his national profile. His peers elected him chairman of the National Governors' Conference. It was in that post that Dern became friends with his New York counterpart, Franklin D. Roosevelt. In 1933, the new president tapped Dern as his Secretary of War.
As Dern's biography in the Utah History Encyclopedia notes, "Although matters of national defense were of secondary importance to domestic concerns during these first years of the New Deal, Dern managed to enlarge and motorize the army." In a few years, that would come in very handy for the nation.
Dern's own defenses, meanwhile, were taking a beating, starting with a severe case of influenza while he was still governor. Flu attacks became recurrent and took a dreadful toll on the once-robust outdoorsman. On July 13, 1936, weakened by kidney trouble, Dern entered the hospital for the final time. Death came 6½ weeks later, just short of his 64th birthday.
Dern was survived by his wife, Lottie (a Fremont native), two daughters and three sons. There was also a grandson, not yet three months old. That infant is 75 years old now, and you're probably familiar with some of his work.