G

EORGE

H

ENRY

D

ERN
Sept. 8, 1872 – Aug. 27, 1936
George Dern was born in 1872 on a farm near Scribner, northwest of Fremont, to German immigrant parents. After attending public schools in Hooper and graduating at age 16 from Fremont Normal College, he worked loading lumber and shoveling wheat into freight cars – building brawn as he earned money to attend the University of Nebraska. He enrolled at NU in 1893, and the newcomer was an immediate success on the football team.
Newspaper accounts show he started every game in 1893 at right guard. In a late-November preview of the season finale against Iowa, the Omaha Bee said this about him:
" Dern will play right guard. He is a very light man for that position, but he has met nobody yet who has overmatched him. Dern is a new man, but he plays like a veteran, and by many he is called the best man in the eleven."
Outside of football, meanwhile, he took in a broad spectrum of college life. He joined the university cadet corps (led by Lt. John J. Pershing, the future World War I general) and played alto horn in the cadet band. He was one of the earliest members of the NU chapter of Delta Tau Delta fraternity, and he traveled to Europe with a university group during the summer of 1894.
And yet, he later expressed this lament:
" Football is too all-absorbing. During the season we had no time to think of anything else but the winning of the pennant. … I am heartily in favor of college football, if not carried to such an extreme."
When fall of 1894 arrived, Dern moved to right tackle. He also became team captain, but not without controversy. The players had elected George Flippin, Nebraska's African-American halfback, but coach Frank Crawford voided the selection, saying, "It takes a man with brains to be a captain." (It also takes brains to be a doctor. Read more about the remarkable Flippin here.)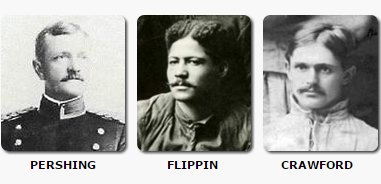 The season again saw Dern start every game, and he scored a touchdown on a short run against the Omaha YMCA in early November. But it was his game against Iowa on Thanksgiving that stood out. His long touchdown gallop on Nebraska's third offensive play of the second half helped turn an 8-0 halftime lead into a 36-0 final. The Lincoln Evening News described the run:
" Captain Dern made sixty-five yards around [Otis] Whipple's end and planted the ball behind the porte. [Wilmer] Wilson accompanied him on his triumphant journey down the field, knocking down Hawkeye men as the small boy knocketh down the late fall apple with the little shinny cane."
A tackle toting the ball? It wasn't unusual back then, when the sport was a closer cousin to rugby. Dern – listed at 170 pounds, lighter than halfback Flippin by 20 pounds – actually had several carries that day, many for healthy gains. On the TD run, the Omaha Bee wrote, Dern "got away with the ball" thanks to "a succession of neat tricks" by end Frank Wiggins and guard Albin Jones.
Nebraska had one more contest to play, but the frolic against Iowa would be Dern's last game. By the time his teammates were slogging through a Christmas Day rematch against the Omaha YMCA, George Dern was going places.