Nebraska Theme License Plates - THE FAN - Nebraska

My father raised me to be a huge Husker fan as he always says that I was born a Husker with my scarlet hair and cream skin. I took an athletic training class while attending UNL because part of the class was going to practice and being a water girl. I also got to hang out in the training room while the guys got ready for practice.
I was in the training room after the 2000 game vs Iowa. Carlos Polk was talking to me and asked me if I had enjoyed the game. I said yes because my favorite player had scored two touchdowns. He said who is that and I said Matt Davison. Carlos said oh you like him because you think he's cute, which really made me mad because I hate when people think that just because I'm a girl I can only like a football player because he's cute. So I asked Carlos if I were a guy and I had a favorite player what would I know. He started asking me all these questions about his stats and I knew everything. He finally said ok if you are really a true fan then you'll know his high school stats. So I rattled the stats off from his junior and senior seasons. Carlos couldn't believe it saying he didn't know his own high school stats. He asked Erwin Swiney if he knew his high school stats as he was standing around in the training room. So Carlos and Erwin said that I could easily know stuff about one player. I responded with your Erwin Swiney #16 Lincoln, Nebraska cornerback, Carlos Polk #13 Rockford, Illinois middle linebacker. Tracey Wistrom was sitting on a table getting taped so I pointed to him and said Tracey Wistrom #87 Webb City, Missouri tight end. I finished with I can start at #1 Thunder Collins Los Angeles, California running back and go down the list numerically if you like. Carlos and Erwin stood there for a minute and one of them said you really are "The Fan". So from that moment on they always referred to me as "The Fan."
That is how I got my nickname as "The Fan".
Stephanie H.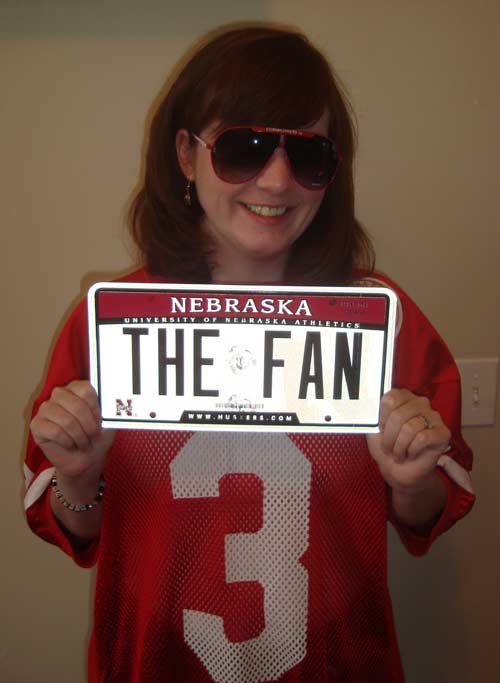 Send your plate image and story to plates@huskermax.com. Return to Return to license plate index.