Nebraska Theme License Plates - RU4NU California and Kansas - 4HSKRS California

I grew up in Beatrice, and graduated from UNL in '89. However, I've never lost my love for Nebraska football, even as I moved around the country. In the early '90's I came out to California for graduate school. I still wanted to show my pride, and was able to come up with what I though was the clever "RU4NU 2" plate. I liked the plate so much that when I moved to Kansas City in '97, I got the same one. Fast forward to 2004, and I was back in Los Angeles. Since I had not paid to keep my original plate available to me, I tried to come up with something different, and was amazed that "4HSKERS" was available.
Now, the other plate you see is from my wife's car. She graduated from UCLA, and I could not help but get her a plate that was similar to my old plate, hence the "RU4UCLA". However you will notice I've "Husker-rized" her car too with a "House Divided" sticker.
And even though you will find a lot of Husker fans in Los Angels, I'm not too sure many have "Come together in love, torn apart by loyalty." I can't wait when the two schools play in the next few years!
GBR!!
Brian Shaffer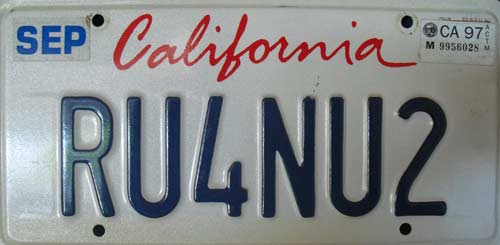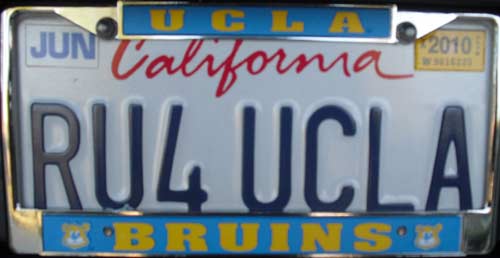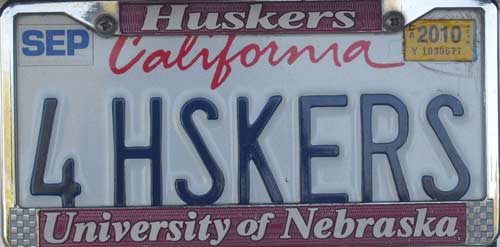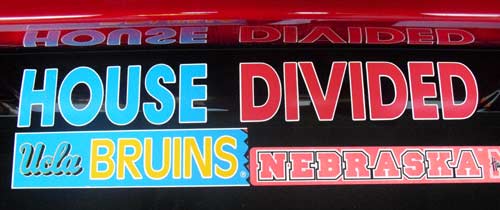 Send your plate image and story to [email protected]. Return to Return to license plate index.