Nebraska Theme License Plates - NHUSKER


When my wife and I first left L.A. to move to Lincoln for me to attend law school, we were big-time UCLA football fans. We arrived in 1987, and the Huskers crushed UCLA on our first visit to Memorial Stadium. The following year, the Huskers traveled to L.A. to play UCLA. This time, the Bruins prevailed, but I had mixed feelings about the victory. By the end of the 1990 season, I had dumped UCLA as my college football team in favor of the Huskers. As such, when I arrived home in L.A. , I just had to get a license plate that depicted my wife and my new allegiance. And I have to give credit where credit is due: she is the one who actually thought of the plate.
Stuart F.
San Diego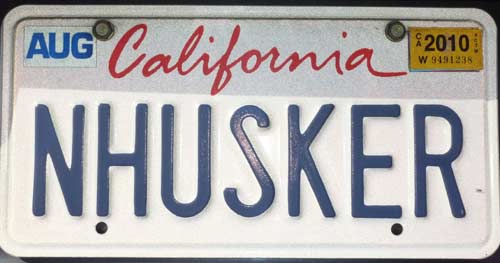 Send your plate image and story to plates@huskermax.com. Return to license plate index.