Nebraska Theme License Plates - NEBR 1 Illinois

Hey Max!
I was born and raised in Columbus, moved to Chicagoland back in 1983. Almost as soon as Illinois began offering personalized plates, I requested these. As luck would have it, I put them on 3 days before we lost at Syracuse(!), and it made me wonder if I jinxed my Cornhuskers!
FYI: it will ALWAYS be the Cornhuskers around here. None of this "Huskers" stuff, if only because my brother-in-law swears that someday we'll be calling them the "skers" if this keeps up.
Walking into the '86 Nebraska at Illinois game, with one of my plates strung around my neck, a girl exclaimed, "So YOU'RE the one with those plates!" No jinxing my team on that night! (since then I've had a picture of the plate put on the back of my Chicagoans For Nebraska t-shirt.. it's a LOT easier!) BTW- the cops working the stadium asked me for my driver's license, so I guess I might be the only person - ever - to have his plates run while inside a stadium attending a college football game.
While I was president of a local car club here in Chicago, I discovered that one of our club's major sponsors was a long-time Nebraska fan, dating back to the Devaney years. In 1995, of ALL seasons, I took him as a guest to his first-ever visit to Memorial Stadium. We walked alongside the band as they marched toward the stadium- he was in heaven. Then he witnessed history- the Washington State game, and for the first time all year- we were BEHIND! haha But, to see his eyes when we walked into that stadium... priceless. I think he was almost crying. Just like a kid on Christmas morning.
Earlier, since "you guys" were in the neighborhood, I took a buddy of mine to the '95 Michigan State game, after he became curious about this "Sea Of Red" disease I suffered from. On the way over to Michigan, he wondered aloud if we were going to be the only ones in the stadium rooting for Nebraska- since we hadn't seen any Nebraska plates on the way. I had to chuckle. We stopped at a Denny's for breakfast and they had a bunch of balloons at the checkout, so I asked if I could have the red one. Thus, I became the ONLY red balloon released after Nebraska's first touchdown. We sat directly behind a Michigan State coach (from a different sport) during the game, and when Lawrence Phillips turned on the jets and left everyone in green sprawled out all over the field, he turned to us and said "We just don't have that kind of speed." Oh yeah, when we turned the corner in Lansing and all you could see were people dressed in red, I think it was that point where my buddy became a believer! My personal highlight of the entire trip was meeting Bob Devaney as he walked around the west side of the stadium. I told him "Welcome Home, Coach." And the coaching legend said "thanks."
My Dad took me to my first game in 1968 and I've been going to at least one or two games per year, more or less, ever since. Even with "you guys" coming this way more often next year, it still isn't going to be the same as being in Lincoln.
Before they secured a gathering spot in the west 'burbs, I was a regular at McGee's (took visiting friends from Columbus there also, plus the Parental Units to see- and experience- the '97 Championship game). Yes, I did buy a beer for the lone Tennessee fan- after telling him we would score on our 3rd possession. Now, my red 'N' flag is (literally) hanging from the walls at the Total Sports Bar in Naperville, but I think I may have to get back downtown to the Kirkwood bar as it is also an Indiana gathering spot!!!
BTW- the front end damage happened on the last snowfall this past winter, but I'm keeping it at least until 10-16-10. It's always fun to see a Nebraska plate around here, honk and wave, and leave them wondering "who the heck is that?" then see their faces light up when they spot the plates. Plus there are times when fellow transplanted Cornhuskers will honk at me and yell "GO BIG RED!" which is just pure adrenalin.
It may be early, but welcome to the Big Ten. Come for the football, stay for the math.
Stan Beckmann
Woodridge, IL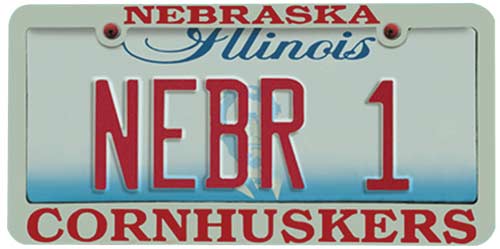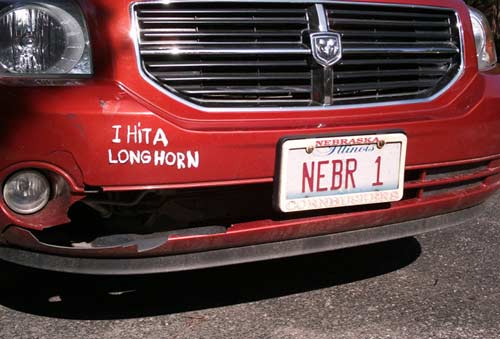 Send your plate image and story to [email protected]. Return to Return to license plate index.