Nebraska Theme License Plates - IMAHSKR HU5KER5 and H5KRFAN South Dakota

David:
Here are my South Dakota plates. I was born and raised in central Nebraska , went to college in South Dakota . One of my friends gave me the idea to find Husker related plates when he got his. SD HSKR. All the good ones were taken until I came up with this one. The lady at the motor vehicle counter was starting to get angry cause she had to check so many different plates to see if they were available.
The first plate is on my 2002 Husker red Silverado pickup that I drive. I have gotten a lot of honks, waves, and number one fingers (the good number one wave) going to Lincoln , when the people see my plates. One time, while on vacation, I was checking into a motel, and on the slip where you have to put yours license plate numbers, I wrote my plate down (IMAHSKR). The gal looked at it and said, hey that's cool, I'm from Nebraska too. She gave me a 20% discount on the room for that night. Awesome.
The 2nd plate is on my wife's 2004 maroon suburban. I had to substitute the 5 for the S because the other one was gone.
The 3rd is on my kids car who will be a incoming freshmen this fall at UNL. A 2008 Husker red Grand Prix.
Great idea and thanks for letting me share my plates.
thecoondog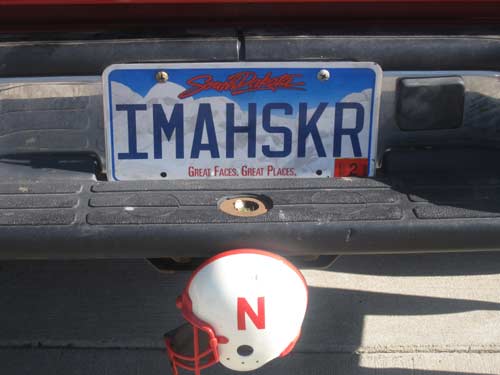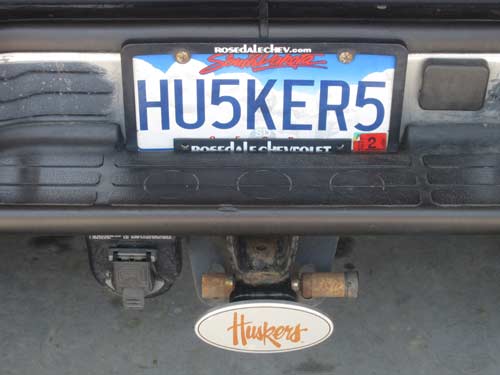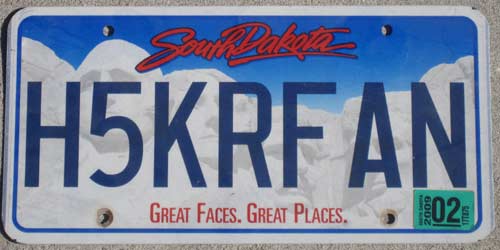 Send your plate image and story to [email protected]. Return to Return to license plate index.