Nebraska Theme License Plates - IM 4 NU Ohio

I got this plate when I moved to Cincinnati , OH in 1997. I had to do something to differentiate myself from all the Buckeye and University of Cincinnati fans around here. As it turns out, my plates became even more valuable with the Huskers joining the Big Ten. Love it...road trips to multiple games and the opportunity to shut the mouths of the Buckeye fans!!!
Kevin von Gillern
UNL Class of '89
Originally from Omaha
Cincinnati, OH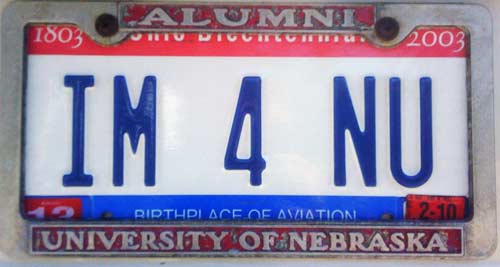 Send your plate image and story to [email protected]. Return to Return to license plate index.