Nebraska Theme License Plates - HUSKER5 Alabama

I moved to Alabama from Omaha about one year ago. I've always been a Husker fan, but never the type of fan that constantly walks around in Husker gear or that wears my allegiance on my forehead. Usually, you would have found me wearing something like a Wake Forest or TCU t-shirt...just to be different. When I moved to Birmingham, I could tell that Alabama was just as football crazy as Nebraska. Almost everyone has a front license plate or stickers denoting "their" team on their vehicle. Alabama, Auburn, Tennessee, Georgia, Florida...you name it. I decided to to check online to see what personalized plates were available. HUSKERS was already taken, so I chose HUSKER5. The "5" can either represent the number of NU national championships or the letter "S". Doesn't really make a difference down here...most people don't know the difference between a "5" and an "S". GO BIG RED.
Troy D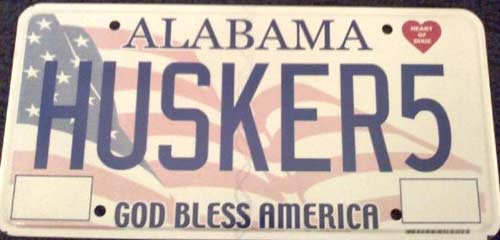 Send your plate image and story to [email protected]. Return to Return to license plate index.