Nebraska Theme License Plates - HUSKER 1 Wisconsin

I moved to Wisconsin in 1991 but the personalized plate HUSKER was already taken. In 1995, the state began issuing 7 character plates, so I applied for HUSKER1. Over the years, I have probably seen 9 or 10 different Husker variations on plates in Wisconsin.
The plate displayed is the 150 year anniversary Sesqentenial edition that was issued in 1998 and still in use today. During the Dark Ages aka the Callahan Years, I found a note on my windshield that read "So, is that the number of wins the Huskers are going have this season?".
Don Jones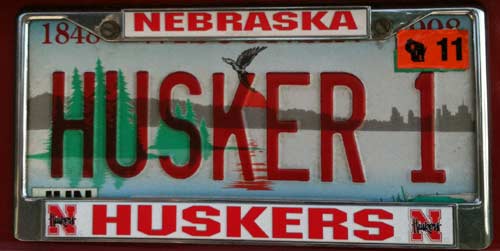 Send your plate image and story to [email protected]. Return to Return to license plate index.