Nebraska Theme License Plates - HU5KERS Pennsylvania

Greetings from behind the lines in Penn State territory,
Can't take credit for this version of Huskers! When I was back in NE/Iowa for my cousin's wedding in 2008, saw this plate on a Nebraska car at a restaurant. Thought it looked great, and the 5 fits in well, especially considering the Big Red's five national football titles. Was pretty surprised it was available after I did the PennDOT online plate search. I've received quite a bit more conversation from the plate now that the Huskers are moving to the Big Ten conference - all positive. Ohio State is the red team they love to hate out here!
Thanks for your awesome website. It's great to stay connected to Husker Nation online!
Ted C
Chamberbsurg, PA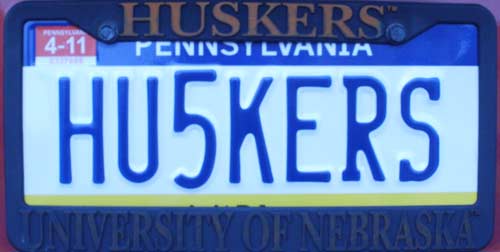 Send your plate image and story to [email protected]. Return to Return to license plate index.