Nebraska Theme License Plates - HU5KERS


Thanks for all the years of supplying us Husker fans a place on the net to go to get our latest news, plus a place to hang out and talk Husker sports and life. Here's my license plate. Have had this almost a full year now. Living in Atlanta, a lot of people are more concerned with the Bulldogs and Yellow Jackets, but this lets them know who I'm rooting for. And of course it goes well with my all red Pontiac G6 GT.
The 5 in the Huskers is because "Huskers" was already taken, so I figured to go with the 5 in the middle for the 5 national titles. Took the idea from a Minn. plate I saw on the BBS. It's also good, because my parents have five sons, and we are all big Husker fans, so it's a reminder of my brothers and my parents.

Thanks, Phil Koehler, Atlanta, Ga.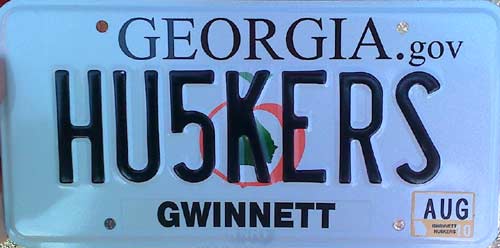 Send your plate image and story to [email protected]. Return to Return to license plate index.