Nebraska Theme License Plates - HSKRFRK California

I was born and raised in the great little town of David City, Nebraska. Moved to California back in late 1984 where my 2 kids and I still live. Although my son Jordan was born in California, like his dad, he is a die-hard Husker fan! A few years ago while I was on a Husker chat site I noticed someones "username" was HSKRFRK and thought that'd make a great license plate. My girlfriend use to tease me and said she thought it should mean "house keeper freak". The funny part is last summer I'm driving down a street in the bay area, come to a stop light, this women pulls up next to me, sticks her head out the window, and asks if I do house keeping! Anyway, I'll always be a Husker fan, better known as a HUSKERFREAK! GO BIG RED!!!

Huskerfreak" from Martinez, Ca
Thomas Wright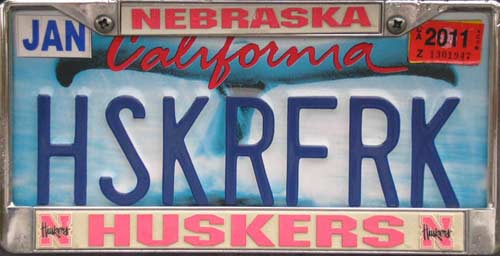 Send your plate image and story to plates@huskermax.com. Return to license plate index.