Nebraska Theme License Plates - GOHSKRS New Mexico

Both my family and my wife's family are all farmers from SE Nebraska, but were raised in the flatlands of Dodge City, KS. After college, we moved to Albuquerque, NM and started a family. With three children we made a point to raise them right, and instilled Cornhusker Pride in them. We decided that living in the desert for a decade was plenty (Too much MWC and Pac-10 Coverage) we are proud to call ourselves Lincoln-ites! Glad to finally be home!
Andrew and Tricia (Allison) Vocasek
Lincoln, NE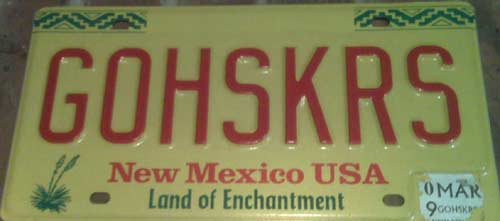 Send your plate image and story to [email protected]. Return to Return to license plate index.