Nebraska Theme License Plates
HSKERS Nebraska and CHGO4NE Illinois

Max, here's my two plates.

My dear wife, a native Chicagoan ignorant of all college football before we met, surprised me for Christmas one year with these Illinois plates. I then took her to the '98 Texas game when the 47 home game winning streak was broken and the '99 loss in Austin decided on a series of untimely UN fumbles in a season full of them. Apparently my post-game moods weren't pleasant, because on the way home from the latter she announced that I could attend with my buddies any game I desired as long as she never had to go again. I loved her even more after that.

I'm looking forward to much shorter road trips around the new conference.

The Nebraska-issued plate was needed because my '85 CJ7 couldn't pass the mandatory Illinois smog test before plates can be issued here. Somewhere around the house I've got a couple older versions with Callahan's AND Cosgrove's autographs on them; really enhanced their value!

Great work, Robert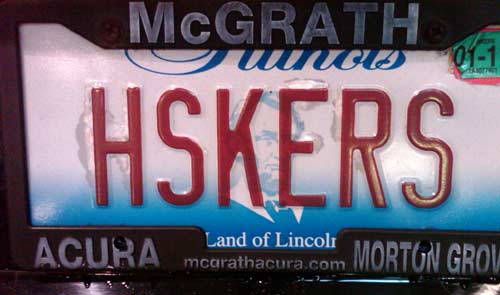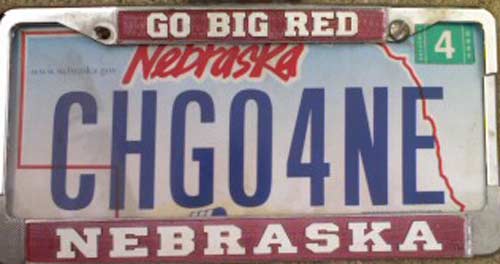 Send your plate image and story to plates@huskermax.com. Return to Return to license plate index.